Bermuda Regiment soldiers are to be sworn in as Special Constables in a bid to boost the defence force's ability to help out the Police Service.
A group of around 30 soldiers, drawn from public order specialists the Operational Support Unit [OSU], Boat Troop and the Regimental Police, have started training under police instructors to earn a warrant card and status – when required – similar to the existing Reserve Police.
Soldiers last weekend started the first phase of training – learning police crowd control and public order tactics as well as classroom-based lessons on the law.
Boat Troop Corporal Tyler Smith said: "We've been learning police tactics and powers of arrest so we can have the same powers when we work with the police out on the water.
"It's been very interesting. It's a new way of looking at where the police are coming from and how we can assist them even more, on water or on land."
OSU Private Donald Smith added: "It's been very enjoyable but exhausting – we've done a lot of training in the law, rights of arrest and things like that.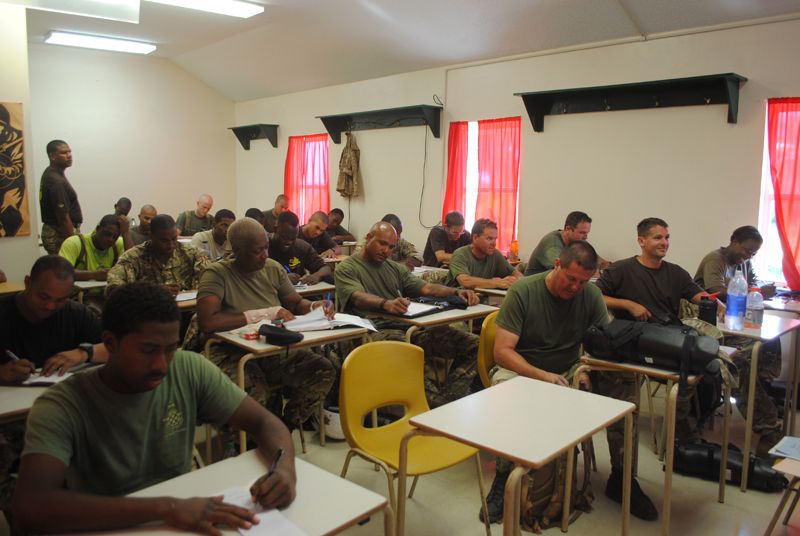 "It's been good and good to see the relationship between the Regiment and the police building and, at the end, we will get more responsibility and powers to help support the police on the Island."
Soldiers spent three days either in classrooms studying for exams or outside, practicing police-style shield drills for crowd control under police instructors Sergeant Michael Thomas and PC Brian MacNab.
The OSU's Lieutenant Paolo Odoli said: "The quality of the training has been really top notch. We were told by the Comissioner of Police that Sergeant Thomas and PC MacNab were the best trainers they have and they've developed a really challenging programme for us."
Sgt Thomas said: "The enthusiasm has been great, especially in these hot and humid conditions. They all wanted to be here and we couldn't have asked for better people to work with."
Regiment Commanding Officer Lieutenant Colonel Michael Foster-Brown added: "We already work closely with the police, but this is a milestone in the relationship between us.
"If our soldiers have police warrant cards, it means they're even more useful in joint operations and one of our aims in the Regiment is to be as relevant as possible."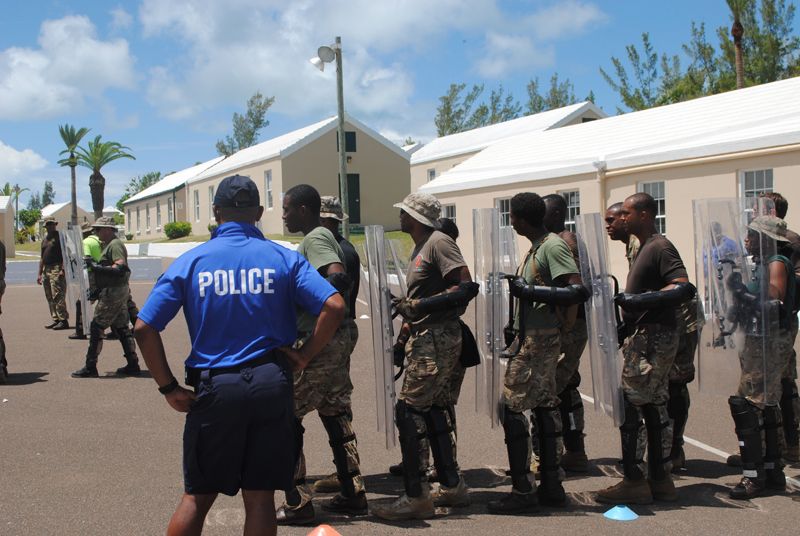 Police Commissioner Michael DeSilva said soldiers will only be authorized to use their police powers when they are directly engaged in a supporting role to police patrols.
Mr DeSilva explained: "The objective is to provide a capacity in the ranks of the Regiment with police powers to give greater support to the regular police."
And he said the extra strength – particularly in the Regiment's Boat Troop – would be vital for major events like the 2017 America's Cup.
Mr DeSilva added: "It will increase the Regiment's ability to help out if we get to the point where the police are absolutely stretched.
"Ultimately, it's not only an advantage to have the extra capacity when we need it, it's also a good thing for the overall working relationship between the Regiment and the police."
And Mr DeSilva said: "The public should be reassured – this is about capacity building so we have enough resources if we ever need them."
Read More About