The Ministry of National Security is congratulating officers from the Royal Bermuda Regiment [RBR] and the Bermuda Police Service [BPS] for completing a specialised training course held earlier this month.
Lt Halston Farley – Cayman, Lt Theo Kelly – Cayman, Lt Gabe Rabess – Cayman, Capt Adrian Parker – Turks and Caicos, Capt Francis Glinton – Turks and Caicos, Lt Jonathan Stone – 3 PWRR, Lt Rob Blackman – 3 R ANGLIAN, Lt Chris Matvey – RBR, Lt Sheldon Fox – RBR, Lt Alex Gibbs – RBR, Lt Andrew Wallace – RBR, A/Capt Travis Stephens – RBR, Lt Ryan Eve – RBR, Insp Andrew Excell – BPS, Lt Col Benjamin Beasley – RBR, Maj Thom Wood – RBR, Maj Pete White – Royal Welsh, Maj Ian Bond – Mercian Reg, Capt Alvin Harvey – RBR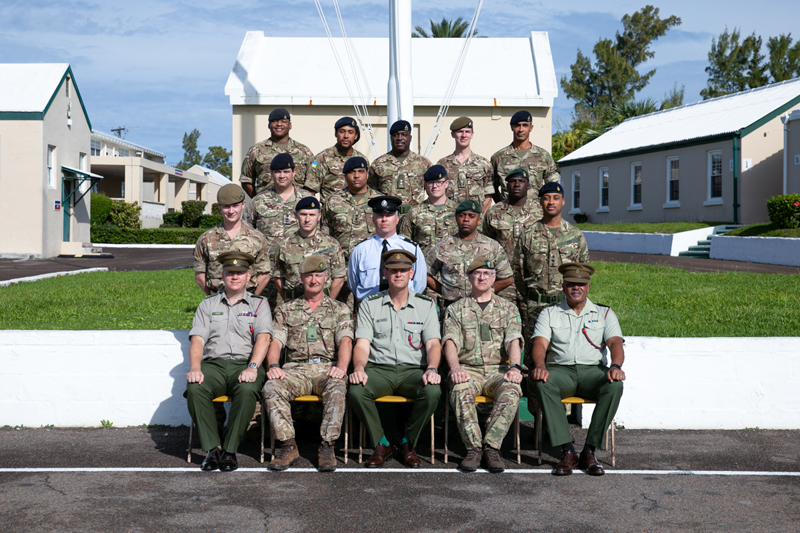 "The nearly two-week course, facilitated by two British Army instructors from the Land Warfare Centre, was tailored to Junior Reserve Army Officers to advance their tactical awareness and leadership," a spokesperson said.
"Ordinarily, students from the Royal Bermuda Regiment would travel to the United Kingdom to undergo the training; however, for the first time, Bermuda was selected as the venue for the course.
A/Capt Travis Stevens and Lt Theo Kelly presenting to the syndicate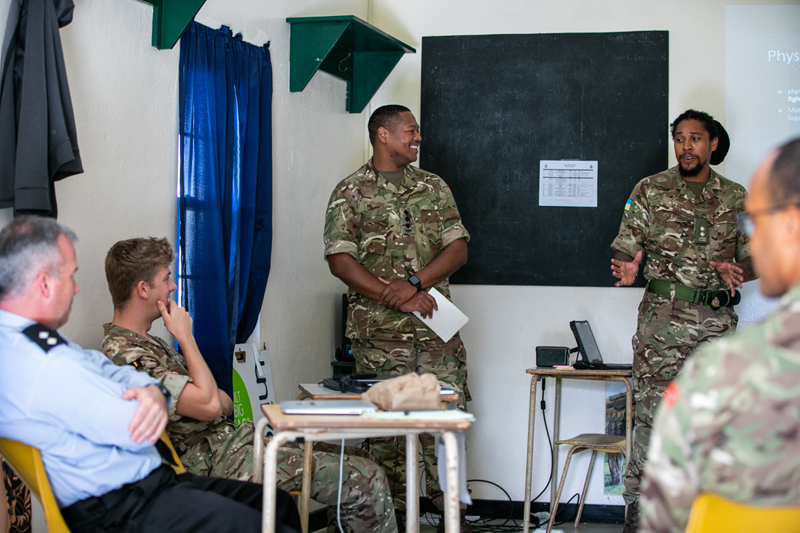 "Two BPS Officers were also able to join the course, building on the long-standing tradition of the two departments working together.
"Officers from the Cayman Islands Regiment, Turks and Caicos Regiment, Princess of Wales Royal Regiment [PWRR] and the Royal Anglian Regiment [R ANGLIAN] were among the students who successfully completed the Junior Officer's Tactical Awareness Course Reserve [JOTAC R] on 21 March 2022."
Lt Andrew Wallace presenting to the syndicate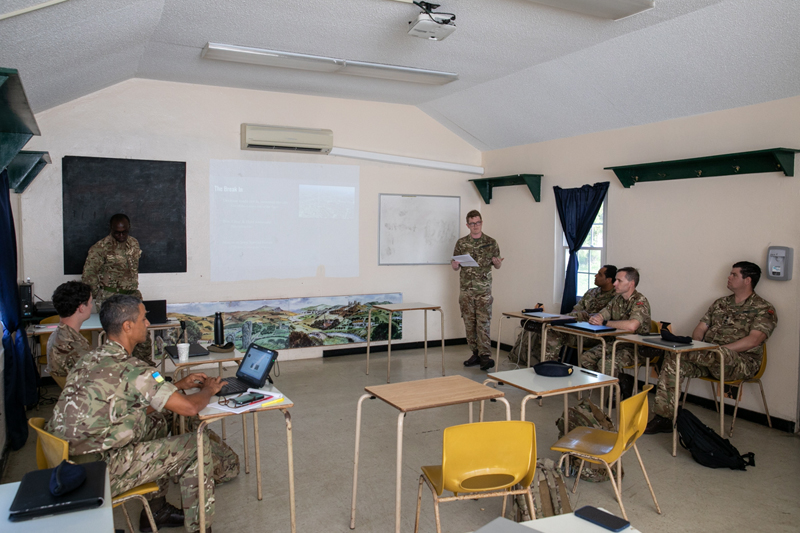 Read More About