On July 4, a four-person relay team that included Bermuda's Jeff Conyers and John Tomlinson swam across the English Channel in order to raise money for four charities, completing the 22-mile journey with a final time of 16 hours, 2 minutes, and 38 seconds.
Peter Weedon and Chris Pitman joined the Bermudians to make up the "All in Your Mind" relay team, enduring cold waters and difficult weather while swimming across one of the busiest shipping lanes in the world.
The team made the crossing under the guidance of Captain Eddie Spelling in his boat Anastasia, with the charities that benefited from the endeavor including Adara Development, Youthnet, SCARS, and KatKids.
The team posted a photograph on Tumblr at the conclusion of the event: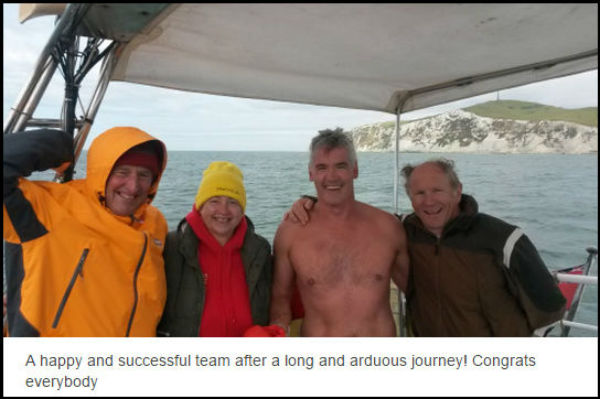 Speaking prior to the undertaking, Mr. Tomlinson said, "We are here to raise money for Bermuda charities and also two charities in Nepal. And that's a very good reason why we are doing it, and hopefully that will inspire people to support the charities that we are endeavoring to promote.
"We were inspired to do it and I'm very grateful that Jeff reached out to me and asked me if he could join the team."
Mr. Conyers said, "When the gravity of the situation came over me, that we are actually doing this, it seemed like we might as well make it a realistic purpose rather than just another middle age crisis, so we thought of the charities and I got two favorites: Adara and YouthNet. John got two: KatKids and SCARS."
Jeff Conyers & John Tomlinson speaking with Bernews before the swim:
"Two, Adara and KatKids, are Nepalese-based; given the earthquake and some of the issues going on there, we would like to support.
"YouthNet is a mentor-based reading program which I'm very near and dear to – I think reading is mission critical in terms of kids getting ahead. SCARS is basically a charity that's focused on kids with difficult homes and abused and trying to raise money for that."
Read More About