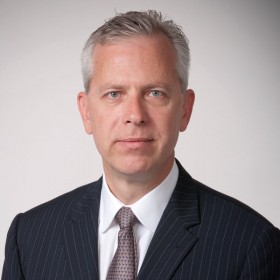 The Bank of N.T. Butterfield & Son Limited today announced the appointment of Michael Schrum as Group Chief Financial Officer with effect from 21 September 2015.
Mr. Schrum joins Butterfield from HSBC Bank Bermuda Limited, where he was CFO. He has more than 20 years of financial services experience in London, New York and Bermuda, mainly in banking, insurance and tax.
He joined HSBC in Bermuda in 2001 and held progressively more senior positions within the bank's Commercial Banking, Strategy, and Finance divisions.
He is a Chartered Financial Analyst and a Fellow of the Institute of Chartered Accountants in England and Wales. Mr. Schrum holds Master's [University of London] and Bachelor's [Southern Denmark Business School] degrees in Economics.
Mr. Schrum is a director of Ascendant Group Limited, Treasurer of the Bermuda Community Foundation, and current Chairman of Pathways Bermuda. He lives in Bermuda with his wife, Vanessa, and their three children.
Brendan McDonagh, Butterfield's Chairman & CEO, commented on Mr. Schrum's appointment, "I am pleased to welcome Michael to Butterfield as our new Group CFO. With his extensive experience in local and international financial services management and his demonstrated leadership skills, Michael will be a great asset to our team."
Mr. Schrum replaces John Maragliano who relocated to Canada at the end of July after more than 13 years with Butterfield.
Read More About