Digicel Bermuda today announced that Bermudian, Carlsen E. Philip II, is the recipient of the 2015 Digicel Scholarship, saying that he "exhibits extraordinary personal and academic qualities that embody the Digicel brand."
He will be awarded $15,000 to be distributed over a two year period, to assist him with pursuing a Master's Degree in Computer Science at Kent University, United Kingdom.
Digicel said, "Carlsen boasts an impressive resume with a Bachelor of Economics Degree with a Minor in Mathematics from Howard University and studied abroad in Barcelona. Following his undergraduate studies he completed various internships in top companies including HSBC, PwC locally and Partner Re internationally in France.
"Fluent in Spanish and French, he also dedicated his time to charitable and personal pursuits including teaching Spanish elementary students while residing in Barcelona, acting as secretary of his Economics Society while studying at Howard University and being an avid salsa dancer.
Carlsen Philip and CEO of Digicel Bermuda Robin Seale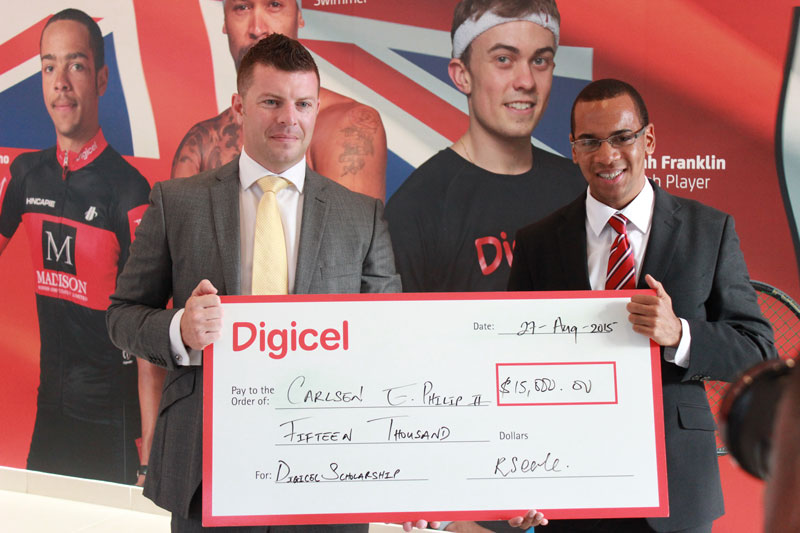 "The Digicel Scholarship Panel were impressed with his academic successes, community involvement, passion for his education, career & life goals, along with his attentative and prepared approach to his application.
"Carlsen exhibited qualities closely matching those of Digicel's ethos such as dedication, pushing boundaries and being uncomfortable with being comfortable. All of these traits in addition to his humility and enthusiasm to work particularly at Digicel due to Digicel's community involvement were additional key factors that set him apart from the other candidates.'
CEO of Digicel Robin Seale stated, "We remain dedicated to developing Bermuda's youth and Carlsen is a prime example of the potential that we at Digicel are looking to provide extraordinary opportunities for.
"Both myself and the scholarship committee were extremely impressed with Carlsen and what he has achieved thus far. He was an excellent candidate and very deserving of the Digicel Scholarship. We are excited to play a part in the bright future he undoubtedly has ahead of him."
Mr Philip will travel to Canterbury in September to commence his Master's Degree and will intern at Digicel during his academic breaks to further develop his skills in a practical environment.
Read More About
Category: All, Business, News, technology