BermudaScholarships.com has launched a new and improved website for the 2016 scholarship season, with the new site receiving a positive response at a pre‐launch presentation to over 50 award providers in the Conference Centre at O'Hara House last month.
A spokesperson said, "BermudaScholarships.com was established in 2010 to provide a single definitive source for everything related to scholarships in Bermuda. As a completely free service for students and award providers, the website allows Bermuda's students to easily research and apply for educational funding.
"Since inception, over 3,500 students have created profiles on the site and almost 10,000 documents have been uploaded."
Team Leader of the Steering Committee, Andrew Beek, said, "A key to our success has been our amazing team who continue to work tirelessly to help students and award providers through the scholarship process.
"With all of our hard work and successes, the bermudascholarships.com site was starting to show its age so last year, after careful deliberation with stakeholders, we decided that is was time for a rebuild from scratch.
"Local software development company, Nova Ltd., was selected for the rebuild and the bermudascholarships team has been working closely with Nova for the last six months."
Sandra DeSilva, Managing Director and Chief Software Architect of Nova Ltd, said, "We are a big believer in ensuring that young Bermudians have everything they need to further their career. The new website launched by bermudascholarships.com is a great way to provide all students with the knowledge necessary to access the financial assistance they need to complete their schooling.
"Nova is proud to be a part of this new improved website and encourages all students to become familiar with the resources available to them. The tireless efforts of the group who have worked to bring this initiative to life is commendable ‐ congratulations to Andrew and his team."
Screenshot of the updated website: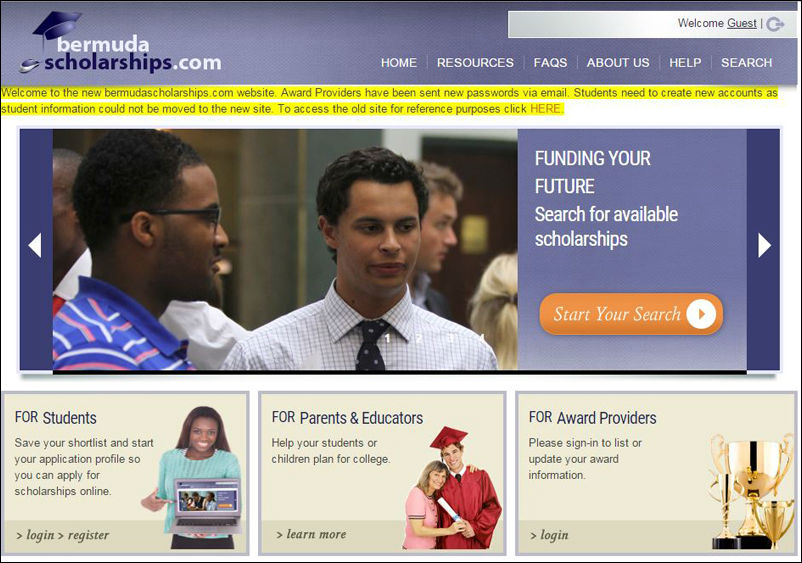 Richard Winchell of the Association of Bermuda International Companies said, "We have always been a strong supporter of the site as it levels the playing field in terms of ensuring that any and all of Bermuda's students, whether they are at school in Bermuda or already studying overseas, have access to all the scholarships offered by Bermuda's companies and organizations.
"The site not only lists all the awards but enables students to apply for them online with the click of a button. Bermuda's students can browse the site from wherever they are in the world without being required to log in or provide any information; when they are ready they can 2 create a personal profile which is housed on the site.
"The site also enables them to have their official transcript uploaded securely to their profile.
"Similarly, Award Providers can upload all their scholarship information and after the deadline are able to seamlessly download completed applications of all the students who have applied for their scholarships."
"In addition to the technology improvements, some key functional changes have been implemented to make the award provider experience much better.
"For instance, the process for students to attach documentation to scholarship applications has been redesigned, allowing only files relevant to a particular scholarship to be attached and each file has a meaningful filename for easy identification, which is a significant improvement.
"Presentations have now been made to all Bermuda's high school graduating students to demonstrate the site to them and answer any of their questions on applying for scholarships."
The spokesperson continued, "The Bermuda Scholarships website grew out of a suggestion in the Arnold Report ['Doing Better in Bermuda' ‐ September 2005] that, as far as possible, a generic scholarship application form be created, together with an ability for student applicants to share transcripts, references, immigration letters, etc. among the various award providers.
"Initially a simple directory was created but when Matt Earle of Bermuda Internet Marketing was approached to see if improvements could be made, he proposed the creation of a website which would allow students to apply for scholarships posted by award providers who could then manage all applications online.
"To achieve this goal a small group of major award providers met in January 2010 to determine what needed to be done to make this a reality and Matt and his team designed and programmed a site which met all the requirements of the award providers. As soon as the site went live in May 2010 it became an instant success.
"Thanks are extended to the sponsors of the rebuild project: ABIC, Bank of Bermuda Foundation, Bermuda Community Foundation, Bermuda Foundation For Insurance Studies [BFIS], Ministry of Education, Chubb, OIL, Renaissance Reinsurance and XL Catlin.
"The Steering Committee is comprised of representatives from ABIC, Bank of Bermuda, Butterfield Bank, BFIS and the Department of Education."

Read More About
Category: All, News, technology