99% of businesses have internet access, 89% of households have access to the internet, 98% of residents use the internet from any location at least once a week, and 85% of households owned a smartphone.
In addition, 63% of residents shop online with overseas merchants, 22% of residents shop online with local merchants, 60% of businesses have a corporate social networking presence and 78% of residents owned a wifi or Internet ready device, such as a tablet or e-reader.
These statistics are contained in the State of ICT in Bermuda 2014/15 report released today [Sept 16] by the Minister of Economic Development Grant Gibbons, with the report undertaken by the Department of E-Commerce to assess the prevalence of Information Communications Technology [ICT] in Bermuda.
Chart #1 extracted from the report: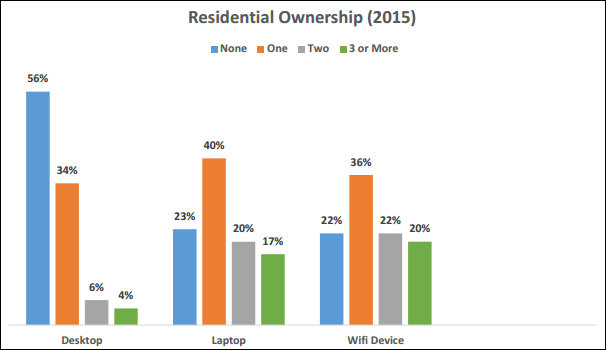 "Bermuda is part of the global market and its competitiveness and success are reliant on the Island's digital infrastructure," said Minister Gibbons.
"The results of The State of ICT in Bermuda 2014/15 report confirm that despite the current economic challenges, Bermuda residents and Bermuda-based companies continue to acquire technology and use it in most areas of everyday life," added Minister Gibbons.
Chart #2 extracted from the report: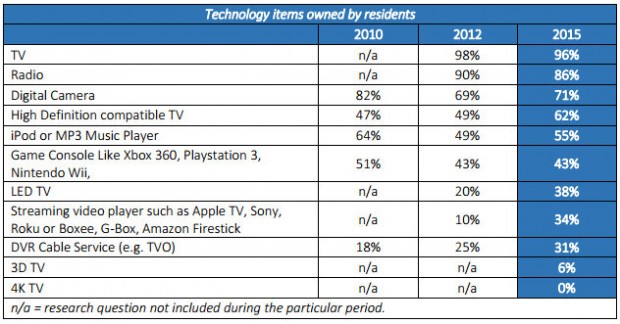 "The 2014/15 report confirms that technology is a fundamental part of Bermuda life. Its use drives and facilitates much of what is done on a daily basis: at school, at work, and at home," the Ministry said.
"The State of ICT in Bermuda report informs policy direction, development and programmes. The regular benchmarking has resulted in the Department of E-Commerce maintaining and strengthening programmes such as Cybertips.bm, the Technology Leadership Forum, TechAwards, and TechTalks.
"In addition, the data supports the country's marketing efforts to attract foreign investment. Since foreign investment decisions are based on the complete package that a jurisdiction has to offer, Bermuda being an "e-ready" domicile is considered an advantage."
Chart #3 extracted from the report:

"We undertake this research regularly to better capture the reach of technology throughout the different sections of our community. We benchmark the data in order to inform government policies and initiatives," said Dr. Marisa Stones, Director of E-Commerce.
For the full report, additional information, and sampling details go to the publications page on www.ecommerce.gov.bm, or see below.
The 65-page 2014/15 State of ICT in Bermuda report follows below [PDF here]:

Read More About
Category: All, Business, News, technology