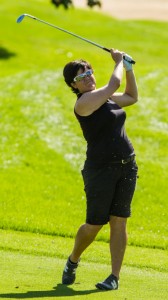 Local charity, Community Driven Development [CDD] announced that European Ladies Tour [LET] champion Becky Brewerton will be participating in the Charity's inaugural Ladies Golf Classic to be held at Port Royal Golf Club, on Friday, October, 30th 2015.
CDD Board Chairman Juan Prado said, "We are delighted that Becky has agreed to participate in our first annual Ladies Golf Classic in October. The event is slated to be a major fund raiser for the Charity and Becky will certainly be a big draw."
"We believe this may be the first time a charity has focused on attracting Ladies only to a golfing event, which makes it unique and even more interesting."
Mr. Prado went on to explain, "In addition to participating in our Captain's Choice tournament on the afternoon of October 30th, Becky has also agreed to run a clinic for us in the morning and participate in a fund raising round of golf at Mid Ocean the following day."
A Welsh national, Becky Brewerton turned professional in 2003 after a very successful amateur career, which culminated in her winning the European Ladies' Amateur Championship in 2002. In the same year, Becky was also named the Daily Telegraph's Player of the Year.
Brewerton's maiden professional victory was a three stroke win at the 2007 Ladies' English Open. This, plus four other top ten finishes, earned her a place on the 2007 European Solheim Cup Team, the first Welsh golfer to make the team. The same year Brewerton won the Towergate Professional Player of the Year.
Brewerton's second LET victory was at the 2009 Open De Espana Femennino [Spanish Ladies' Open]. In December 2010, Brewerton earned a place on the 2011 LPGA tour.
Ms. Brewerton noted "I am thrilled to be coming to Bermuda to support CDD. I have always wanted to visit the Island and it is an added plus that in doing so I will be able to support this important women's charity."
In closing Mr. Prado noted "We would like to thank Mr. Andrew Brooks and the Bermuda Tourism Authority for introducing us to Becky and for their part in assisting us achieve our objective of having a world class professional represent CDD at this important fund raising event."
"Becky has agreed to play one hole with each team as the fifth member. Since there are only 18 spots we expect them to fill up quickly, so we encourage our lady golfers to put their teams together as soon as possible and register promptly to avoid disappointment."
Anyone interested in sponsoring or participating in 1st Annual CDD Ladies Golf Classic, or the Becky Brewerton Clinic, is urged to contact CDD Director of Fund Development at cddbermuda@gmail.com

Read More About