Richard Burns, president of Court House Squash & Wellness has acquired a stake in Natural Ltd, which is led by Catherine Burns and home to the Nutrifit and Beat the Couch programs.
The purchase formally links the two companies who said they now intend to work more closely to provide all clients [both private and corporate] with advanced wellness services.
Catherine Burns stated, "Natural Ltd is only three years old, but I am really proud of the success we've had so far, especially in such a tough and competitive market. I'm very independent and was determined to pave my own way to build something unique that makes a real difference to Bermuda.
"Now that we're established, we want to grow and it makes sense to come together and pool our skill sets. As the market leader, Court House has a huge amount to offer us in terms of opportunity so we are really excited!"
Richard Burns, President and founder of Court House added, "Court House is thriving; joining up with Natural Ltd will take us another step further, helping us to develop our existing wellness offering for our membership.
"Catherine has an excellent track record and reputation across corporate, private and community sectors and we'll work together to offer increasingly dynamic and hands-on wellness solutions. We've already got lots in the pipeline so it will be a busy end to a great year."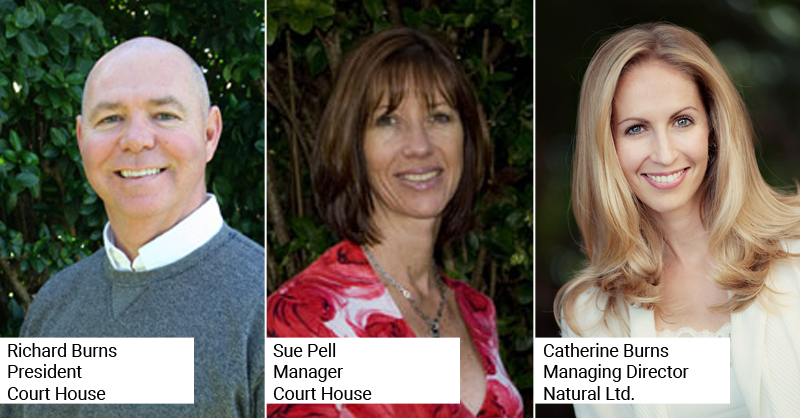 The first joint project is to offer a new version of Nutrifit, Natural Ltd's nutrition intensive.
Sue Pell, Manager at Court House said, "We love Nutrifit as it's changed the lives of individuals – but it also filters back to their families too. It's a 6 week program that has all the support and motivation of a group setting, whilst also giving people the opportunity to tailor their experience to their unique needs.
"On the fitness side, we've worked with Catherine to create two new classes [Natural Yoga and Natural Fusion] that will evolve with the group as their fitness and energy levels improve. Jill Bennet, a highly experienced Trainer and Health Coach will also be on hand to deliver the health coaching component. We can't wait to get started and welcome the new groups on September 17th!"
Linking with Court House means that Natural Ltd will be moving on from some existing partnerships.
Ms Burns concluded "I have been incredibly lucky to work with an awesome set of trainers and coaches within Bermuda's wellness field so far. I will always be grateful to them.
"Fortunately, as well as being excited about the new partnership with Court House, we'll continue to include others that have been part of our journey too. The next season of Beat the Couch [season 6, starting October 1st] is testament to that, so there will be lots of familiar faces!"
To learn more about Natural Ltd visit natural.bm, and to learn about Court House visit courthouse.bm.
Read More About