Marshall Diel & Myers Limited announced the selection of William Finnerty as their 2015 Legal Scholarship Award recipient and Taylor Braithwaite as their 2015 Legal Bursary award recipient.
"By providing financial assistance, mentorship and professional guidance, Marshall Diel & Myers Limited is pleased to be able to help these young Bermudian men achieve their goals. We are expecting great things from William and Taylor," said Katie Tornari, Director and member of the Student Committee.
William Finnerty
Mr Finnerty will receive $15,000 from the Law Firm to assist with the cost of pursuing his legal studies. He graduated from Saltus Grammar School's Graduate Year Program as Head Boy in 2014 with an overall GPA of 3.82.
Having successfully completed the International Foundation Programme Diploma in Law at the University of Warwick, he will now continue his legal studies undertaking an LLB Law Degree at Exeter University.
Taylor Braithwaite on left, William Finnerty on the right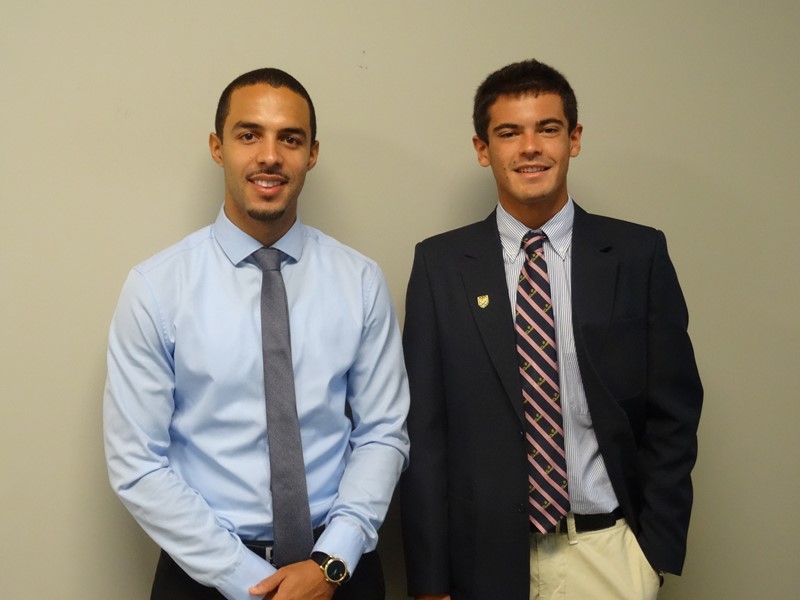 "Each year the scholarship committee look for candidates that are personable, intelligent and confident, and who we at Marshall Diel and Myers believe have the right qualities to be successful members of the Bermuda Bar," said Adam Richards, Director and member of the Student Committee.
"William demonstrated in his application materials and interview that he possesses all of those qualities and we are proud to be able to help him with meeting the costs of his studies."
Mr Finnerty said that he was "extremely grateful" to have been chosen, saying "I look forward to representing both the scholarship and the firm to the best of my abilities. The faith that the Directors have for their scholarship recipients is overwhelming and will push me to achieve the best that I can in my legal studies."
He plans on pursuing a career in law and returning to Bermuda to practice after completing his legal studies.
 Taylor Braithwaite
Taylor Braithwaite's application materials immediately impressed the Student Committee, but it was his dedication and perseverance to becoming an attorney which was abundantly evident in his interview and which led the Scholarship Committee to decide to expand its mandate for 2015 and offer him a bursary of $5,000 to assist him in his endeavours.
"I am honoured to be the recipient of this year's Marshall Diel and Myers Bursary award. This award puts me one step closer to my ultimate career goal of becoming a qualified attorney," Mr Braithwaite said.
Director Adam Richards, William Finnerty and Taylor Braithwaite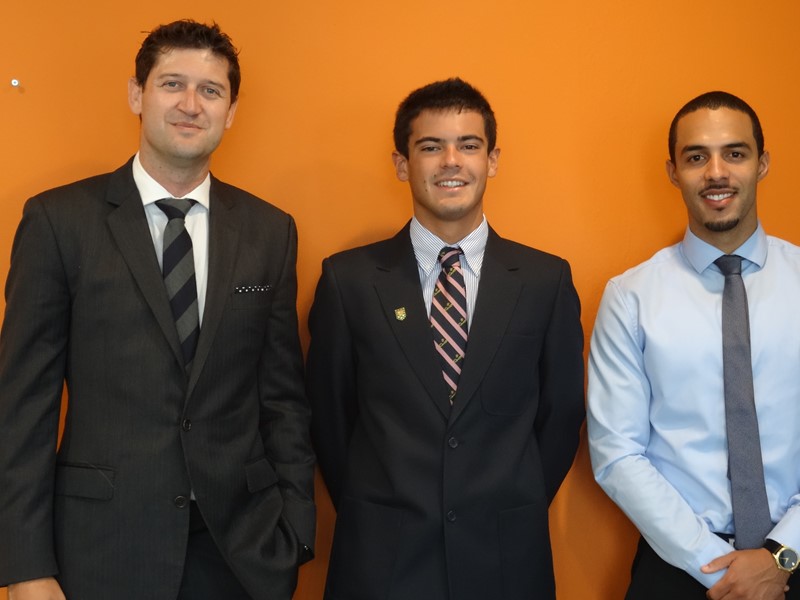 Mr Braithwaite  recently graduated from the University of West of England with a degree in Business and Law. He will now pursue his Graduate Diploma in Law at the same University.
He has played football for Bermuda at youth level, and during his summer breaks from his studies, Mr Braithwaite is employed at the Fairmont Southampton where he works full-time to defray the costs of his studies.
He plans to complete his legal studies before returning to practice law in Bermuda.

Read More About