Aspiring lawyer Shannon Thomas has been awarded Carey Olsen Bermuda's inaugural law student bursary.
The 22-year-old Bermudian, who was previously a student at Saltus Grammar School, is currently in the second year of his Bachelor of Laws degree at Queen Mary University of London.
The bursary will go towards Mr. Thomas pursuing his legal studies overseas, while he will also have the opportunity of undertaking work experience at Carey Olsen Bermuda during the winter and summer breaks from university.
Shannon Thomas [centre] with Carey Olsen Bermuda's Michelle Falcucci, Gavin Woods, Jennifer Woods and Tiffany Tavares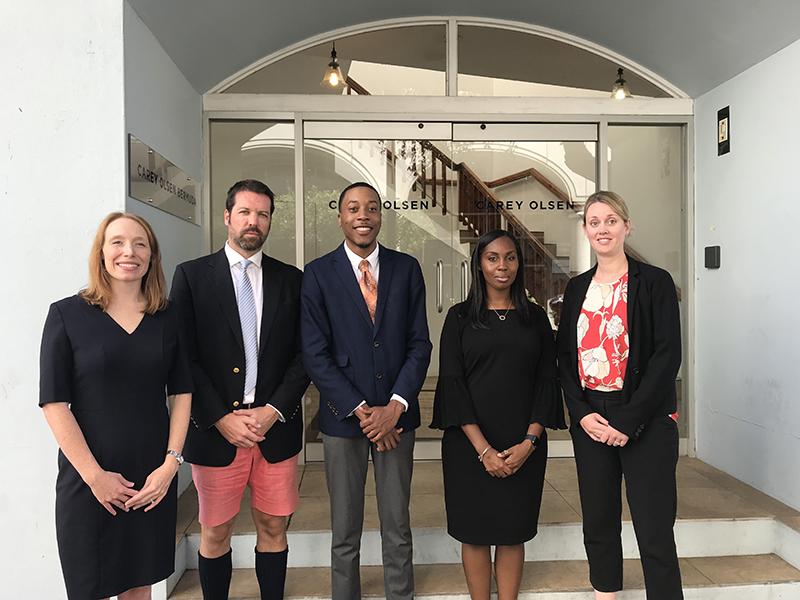 Gavin Woods, partner and chair of Carey Olsen Bermuda's bursary committee, said: "We were impressed with the calibre of all our applicants this year, but Shannon stood out during the selection process.
"He has not only achieved excellent academic results, but he possesses a tremendous drive and determination to succeed. Shannon has set very high goals for himself and we are happy to support him on his journey to become a qualified lawyer."
Mr. Thomas commented: "I am extremely grateful to have been offered the Carey Olsen Bermuda bursary. The financial support I receive as part of the bursary allows me to focus solely on my studies in London rather than also having the stress of worrying about finances and tuition fees."
Carey Olsen Bermuda is approaching its second anniversary at the end of this year and establishing a programme of support to aspiring law students was always a key early objective for the firm.
Managing partner Michael Hanson added: "Creating a performance culture starts with a commitment to the development of young students at the earliest possible time to help them grow and ultimately compete in the global market in which we operate. Shannon's bursary is an example of this and will be followed with a wider scholarship and pupillage programme."

Read More About