Cox Hallett Wilkinson announced the recipients of the 2016 CHW Scholarship and Bursaries, with Rachel Tucker, Taylor Braithwaite, and Ciara Burrows all being selected for the awards.
A CHW spokesperson said, "From a large pool of excellent applicants, the following were selected: Ms Rachel Tucker has been chosen for the CHW Scholarship. Educated at Saltus Grammar School and the Williston Northampton School she graduated with distinction.
"She then attended Wake Forest University, receiving her BA in Psychology with a minor in Sociology. Rachel is attending the University of West of England where she is pursuing an LL B and expects to graduate in 2017."
Ciara Burrows, Rachel Tucker, Taylor Braithwaite and Ernest Morrison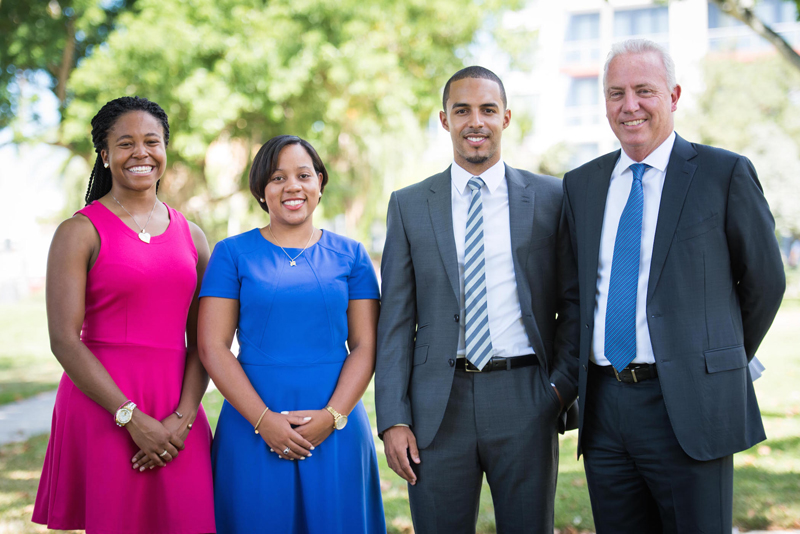 "The following candidates have received Bursaries: Mr Taylor Braithwaite. Taylor attended Saltus Grammar School and has a BA [Hons] from the University of the West of England.
"He has received the Graduate Diploma in Law with Merit. Taylor is now enrolled in the Legal Practice Course at the University of Law in Bristol.
"Ms Ciara Burrows. Ciara is yet another graduate of Saltus and is presently working towards her BA [Hons] in Joint Legal Studies and Economics at the University of Waterloo in Canada.
Ernest Morrison, the Managing Director of Cox Hallett Wilkinson Limited, said, "This year saw another great group of smart and focused young people who are clearly prepared to work hard to achieve their goals.
"The legal profession will benefit from their talents and energy but we were particularly impressed this year with Rachel, Taylor and Ciara."

Read More About