Starting tomorrow, members of the public will have the chance to win complimentary tickets from Fidelity International to the America's Cup Jam Presented by Fidelity International, with nothing more than a bit of America's Cup knowledge needed to secure a pair of free tickets.
The contest will run starting tomorrow [Oct 1], and each day an America's Cup question will be posted on the Bernews Facebook page; the first person to answer correctly in the comments wins two free tickets to the concert.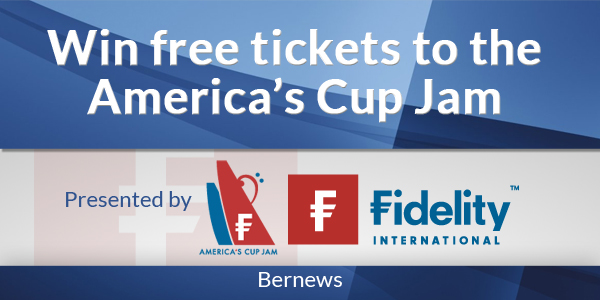 The concert will take place on Saturday, October 17 on Front Street; and will feature reggae artists Shaggy and Maxi Priest; as well as high energy Caribbean soca band Spice and Company.
Shaggy first garnered global success in 1995 with the release of his third album, Boombastic, which went on to sell more than 1 million copies and earned him a Grammy Award for Best Reggae Album. His hit singles include "Boombastic," "It Wasn't Me" and "Angel."
Maxi Priest secured a No. 1 hit single worldwide in 1990, including on U.S. Billboard charts, with the release of "Close To You," and some of his other hit songs include "Wild World," "Some Guys Have All The Luck," "Close To You," and "Housecall".
Hailing from Barbados, Spice and Company experienced their first big hit, "You're Always on my Mind," in 1984, and some of their subsequent hits include "In De Congaline," "Make Noise," "Lift Ya Leg Up," "Aware Africa," "Shake it up," and "Give them Freedom."
The ticket giveaway will take place on the Bernews Facebook page, with questions about the America's Cup to be posted at random times over 10 days, beginning on October 1 and with the last giveaway on October 10.
The contest is open to Bermuda residents only, and entrants are eligible to win only once each. The Bernews decision on each winner is final, and tickets must be picked up from America's Cup offices located at Windward Place, 24 Crow Lane in Hamilton.
Remember, the contest will take place on the Bernews Facebook page beginning October 1, with the contest questions to be posted at random times throughout the day and night, so keep your eyes peeled in order to get your answers in as quickly as possible!

Read More About
Category: All, Entertainment, Music, News