Tomorrow [Sept 8] the 2015/16 school year commences for more than 5,000 pre-school, primary, middle and high school students who will be attending Bermuda public schools; some of whom will be having their very first day of school.
To mark this momentous occasion, the Minister of Education, Wayne Scott today [Sept 7] extends his best wishes for success to all students and their parents.
Minister Scott said, "I'd like to wish all our students, our teachers, our principals and support staff a successful and productive 2015/16 school year. To our parents and guardians, you can be assured that the Ministry will put your children first.
"We are committed to meeting the educational needs of each student so that they can reach their full potential. This year we look forward to a year of on-going collaboration with our key stakeholders —that is, our students, parents, teachers, principals, unions and the community at large.
"The Ministry will be encouraging greater parental involvement in the school communities to support the academic success and achievement of every child.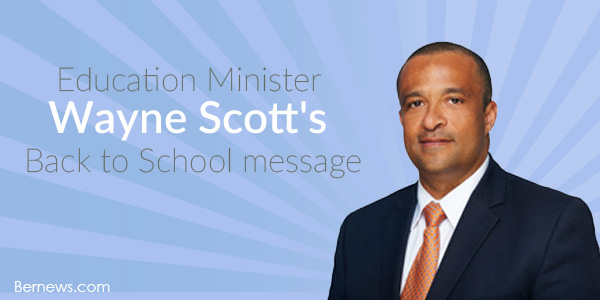 "The priorities of our education system will comprise the continuation of the Middle School Transformation Plan, and the National Strategies for math and for literacy which are all three-year initiatives," continued Minister Scott.
"New system priorities this school year include: the implementation of a Multi-Tier Support System for all schools which introduces a framework of high quality support for student behavior and academic success; and, the introduction of an inquiry framework for Early Childhood Education.
Acting Commissioner of Education, Dr. Freddie Evans said, "We welcome our students back as they begin a new academic school year. It is with great anticipation that this year will be an exceptional one for our students.
"The Department of Education is very fortunate to have committed and competent teachers, caring and involved parents, and both energetic and engaged students who are ready to embark on focused learning for achieving good success."
"One of the areas that we will improve on this up coming school year is the infusion and use of technology in the classroom. This year in curriculum, students can expect to be engaged with Science, Technology, Engineering & Mathematics [STEM] learning. Specifically, curricular that will be aligned with Marine Science, Mathematics and Design & Technology.
"Our plan is to not only talk about STEM, but to initiate, practice and utilize the expertise available in these areas," continued Dr Evans.
"The Department of Education is encouraging teachers, students, community partners and businesses to share their ideas, skills and knowledge in these areas so that the STEM teaching and learning experience becomes a reality in the classrooms for moving our students from strength to strength."

Read More About