Today, the Minister of Education Wayne Scott extended well wishes to all students, parents, teachers, principals, and support staff for the start of the 2016/17 school year.
Minister Scott said, "There are great things happening in public schools and this is a great opportunity to share more about new and ongoing initiatives for the upcoming school year.
"This year the Board of Education will develop a new strategic plan for the public education system. It will undertake a broad community-wide effort, engaging students, parents, staff and the private and community sectors to collaboratively design the direction for our education system for the years ahead."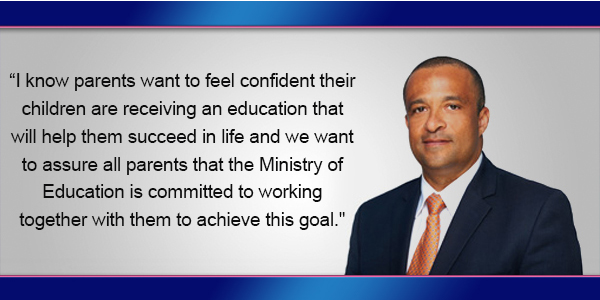 "Other important initiatives include:
The Career and Vocational – Technical STEM Programme for middle and senior school students to open greater school-to-career options in the trades and STEM
Standards-Based Grading [SBG] to ensure system-wide consistency in grading practices across all school levels
Strengthening the Danielson Teaching Framework to improve teaching practice and
Expanding the inquiry framework for Early Childhood Education
The Minister added, "I know parents want to feel confident their children are receiving an education that will help them succeed in life and we want to assure all parents that the Ministry of Education is committed to working together with them to achieve this goal. There is much work ahead to deliver the excellent education that our children deserve.
The Ministry encourages all parents and the community at large to get involved with public school education this school year in some way.
"There are several means to participate whether by serving on the school PTA, volunteering at schools, through the school Parent Council, the Parental Involvement Committee or the strategic planning process," the Ministry said.
"We need your support and engagement as partners to help fulfill the hopes and dreams of our children. So let us embark on this journey together, as the Ministry continues to foster and strengthen a transparent and collaborative environment for parental involvement."
"To all students, best wishes for a safe, productive and fulfilling school year!"

Read More About