The Digicel NBA JumpStart Programme and the Bermuda Basketball Youth Federation completed an evening coaching clinic with local coaches where the focus was on teaching players' character just as much as their basketball skills.
Chris Ebersole, Coordinator of Basketball Operations for the NBA shared some of the characteristics that could make a professional basketball player while demonstrating these at the clinic. The NBA's model is based on the acronym STAR, which stands for Sportsmanship, Teamwork, Attitude, and Respect.
Ebersole stated that the coaches nowadays need to teach these characteristics in addition to their basketball skills in order to be successful. Coach Ebersole got his start at Stanford University where he began as team's manager before earning a spot in his senior year. Since University, he has also directed youth basketball camps at Stanford University with Head Coach and former NBA player Johnny Dawkins.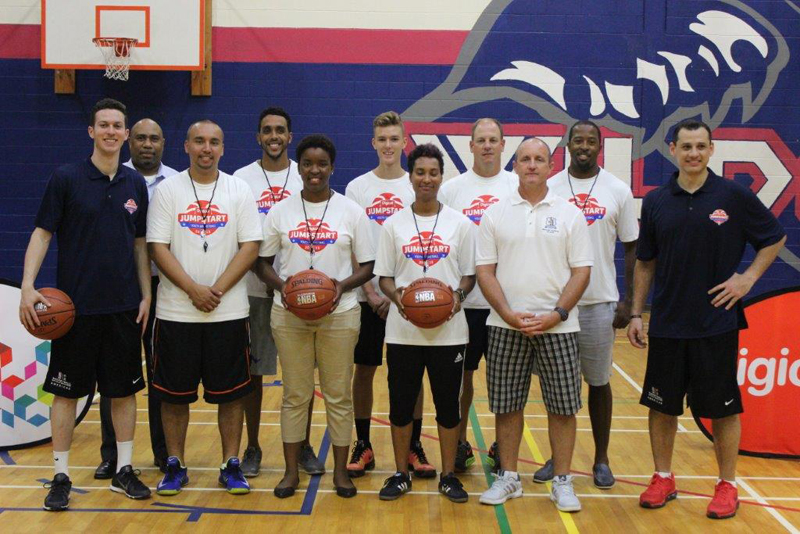 Accompanying Mr. Ebersole was Adrian Alvarez, Senior Coordinator of Basketball Operations for Mexico. Alvarez has led the Jr. NBA, NBA FIT, NBA 5on5 League, NBA 3X, and NBA Youth Camp programs across Mexico for the last 2 years.
Coach Alvarez demonstrated some stretching and dynamic warm-up techniques that could be used as part of training sessions within the coaches' local programmes. The session concluded with demonstration of skills and drills including ball handling and how to teach the pick and roll.
In attendance for the event were local coaches from a myriad of programmes including Erica Woods [BBYF National Teams], Mark Thorne [Warwick Academy], Jeff Clements [Saltus Middle School], Tommy Johnson [Somersfield Academy], Jeremy Hassell [Warwick Academy], Lakeisha Bell [BBYF National Teams], and Chris Crumpler [Wolfpack Hoops]. Also in attendance were to aspiring coaches – Rye Ahronson [Warwick Academy] and Colby Mapp [Somersfield].
Coaches from the NBA office are in Bermuda for three days to deliver an opportunity to local basketball players and coaches through the Digicel NBA JumpStart Clinics.
The clinics, which will be held all over the Caribbean between August 24th and September 28th, will bring together the best players from each country for an intensive "Elite Camp" programme which will be held in Trinidad and Tobago on September 26th to the 28th.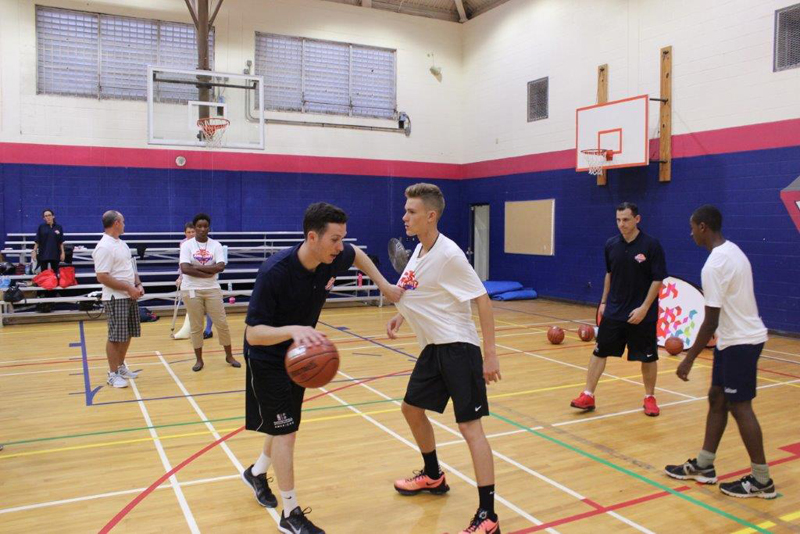 The clinics, which will be run by NBA International Basketball Operations staff and focus on player development, will bring together hundreds of players and coaches from across the Caribbean.
The top eight players from the Elite Camp as determined by the NBA JumpStart coach will have the opportunity to attend an NBA game in the U.S. along with a tour of an NBA arena.
The Elite Camp and camper trip to the U.S. to attend an NBA game will be shared with Digicel customers online, digitally and through mobile and will be broadcast on Digicel Sportsmax, which brings NBA fans closer to their favorite teams through its live coverage of the NBA season, which tips off October 27th.
Charles Peters, President of the BBYF was grateful for the opportunity to work with the NBA. "This event is just the beginning of our 2015-16 programming year. We have been discussing expanding this event and more like it with the NBA and Digicel and we have already set our sights on holding NBA JumpStart Clinics in Bermuda for at least the next five years. I would like to thank Digicel for their support within local basketball."
If you would like to learn more about NBA JumpStart or other youth basketball programmes in Bermuda please contact the BBYF at info@bbyfbasketball.org.

Read More About