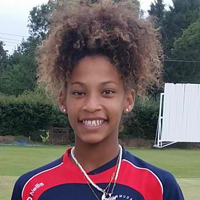 Young female cricket scholar Leilanni Nesbeth has been selected to the Sussex County Cricket Women's U15 squad in the UK.
Leilanni is currently studying at Bedes, a prestigious independent school, that provides outstanding academic and sporting opportunities for boys and girls.
Leilanni joined Bedes just 2 months ago through the relationship that the BCB enjoy with Bedes school.
Leilanni had the opportunity to meet 3 of the young Bedes female cricketers on the recent BCB Development Squad tour, hosted by Bedes, and has flourished in her first term so far.
Lloyd Fray, President of the Bermuda Cricket Board, said, "The BCB is proud of its work in girls development which is completely grassroots focused.
"Leilanni is an outstanding young lady. We have been privileged to assist in her development as a cricketer via our internationally acclaimed development program and watch her blossom from a little girl into a fine, community spirited, humble young woman.
"I have no doubt that Leilanni will grab this opportunity with both hands and represent herself, her family and all of Bermuda with pride and humility."
Leilanni Nesbeth said, "I am very thank-full for the incredible opportunity that has been created for me by the BCB and Bedes School.
"Not only am I getting the chance to pursue my sporting dreams in a competitive and high performance environment, I am also receiving first class academic support for my GCSE's which I will take next year."

Read More About