[Updated] Age Concern Bermuda hosted a follow-up session of its Annual General Meeting yesterday [Oct 29] to provide its members an opportunity to speak with the Minister of Health, Seniors and Environment Jeanne Atherden about the state of ageing and healthcare in Bermuda.
The meeting took place at the Evangelical Church Hall in Paget.
Mr. Erwin Adderley, Chairperson of Age Concern Bermuda, opened the meeting by encouraging Age Concern members to continue to speak out.
He stated, "There was a recent announcement that the economy is in a state of recovery which may or may not have positive effects for seniors."
After receiving a cheering round of applause from the audience, he went on to say, "Typically, as an economy recovers, prices tend to rise causing further hardship on seniors who are on fixed incomes."
He stressed the importance of conversations between policy makers and older persons so that there is a better understanding of the realities of living as an older adult in Bermuda.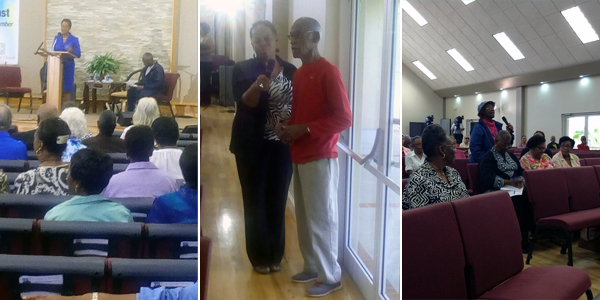 Age Concern member, Mr. Quinton Ming, presented the first question to Minister Atherden regarding the $54 increase that was now required of him to cover FutureCare costs, out of a total pension of $450.
Mr. Ming explained that his children were already helping him as much as they can, given he has no money left in his pension after health insurance payments. He stated that the situation is very stressful to many seniors in his position.
Mrs. Ruth Vallis, also an Age Concern member questioned why a fifteen minute visit to a specialist cost her $350, of which she had to pay $180, as a copay.
"How is a little old lady like myself, supposed to afford these costs even with Futurecare coverage? Is there anything that can be done about the costs of visiting a doctor?" asked Mrs. Vallis.
Mrs. Brenda White, a member of Age Concern's Advocacy Committee, questioned whether Government would consider providing legislation to allow ageing parents to be covered by their adult children's insurance.
She commented, "Our children were dependent on us once, for some of us, it is now our turn. What can the current Government do to implement legislation that allows the ageing parents to be insured by their working, adult children?"
Member Joe Madeiros questioned whether there were any differences between HIP and FutureCare coverage citing that one of his friends were told that for certain procedures HIP provides better coverage.
According to the Ministry of Health, Ms. Diana Liacos, Case Manager of the Bermuda Government, Health Insurance Department, interpretation of Mr. Maderios' question was that he was enquiring about the eligibility criteria for the HIP and FutureCare plans as he was stating that his friend was told she was not eligible because she had only lived in Bermuda for 9 and ½ years.
The Ministry of Health said that Ms. Liacos response was that, "To enroll in either plan one had to be a resident in Bermuda, and FutureCare requires one to be over 65-years of age. There are no other requirements. The timeframe that he referred to was related to the age subsidy and certificate of entitlement which requires one to live in Bermuda for 10 of the last 20 years. Having the certificate of entitlement reduces the premium payments for either plan."
Overall, Minister Atherden responded to the Age Concern membership by reassuring them that she is listening to their concerns.
She said, "I want everyone here to know that I am listening and am taking note of your concerns. I do understand because I am a senior too.
"I understand for some people that $54 is a lot of money, and that is why we asked people who are having difficulty to avail themselves to the Department of Financial Assistance.
"I understand that for some this may be something that is difficult to do, but there is little that I can do right now to change the cost of coverage.
"I want to feel optimistic because the recent National Health Accounts reported that health costs went down, which provides some green shoots indicating that we may be getting a hold on how much healthcare we use."
Chart, provided by the Ministry earlier this year, showing the changes to insurance premiums:

In response to the issue of expensive copays, Minister Atherden explained that there is a schedule of payments for each procedure covered under health insurance plans and doctors who operate in the private sector set their own pricing.
Mr. Charles Jeffers, Age Concern Advocacy, Chairperson then questioned whether restricting pricing to the legislated payment schedule for seniors would help to ease the financial burden of seniors faced with copayments.
Minister Atherden fielded and answered questions for over an hour and indicated that she would be back in the future to keep the communications lines open between the Age Concern membership and the Ministry of Health.
In reflecting on the session, Mrs. Claudette Fleming the Executive Director of Age Concern indicated, "We are very pleased that the Minister and her staff took the time to come back to listen to our members.
"The discussion did not evolve into a griping session but rather a constructive dialogue where members clearly and strongly articulated their needs, circumstances and expectations.
"We remain deeply concerned for those persons whose health insurance premiums exceed their pensions. One of our members who spoke of the frustration and humiliation of not being able to make insurance payments became overwhelmed with emotion and left the meeting.
"While others indicated that due to the rise in health insurance premiums they cannot afford to be insured. This is deeply troubling to us at Age Concern, we want to help these people right now and we will continue to engage the Ministry and the Government until something is done for them.
"Overall though I think our members got to see a softer more empathetic side of the Minister this time around and I believe that she heard what they said and will do something about their concerns.
"We look forward to finding out exactly what will be done about expensive insurance premium costs, in particular."
Update: The above article has been amended, as the information obtained from Age Concern conflicts with what the Ministry said, with the Ministry stating that the Minister was misquoted as she did not say: "We may be in a better position to review premiums in April 2016, now that the economy is showing signs of turning around."
According to the Ministry, the Minister did say: "I want to feel optimistic because the recent National Health Accounts reported that health costs went down, which provides some green shoots indicating that we may be getting a hold on how much healthcare we use."

Read More About