Saturday [Oct 1] represents the World Health Organization's [WHO] observance of the International Day of Older Persons, and the theme for the observance of the day this year is "Take a Stand Against Ageism".
According to WHO, "The World Health Assembly resolution related to the WHO Global Strategy and Action Plan on Ageing and Health, adopted in May 2016, calls on the Director-General to develop, in cooperation with other partners, a Global campaign to combat ageism and achieve the ultimate goal of enhancing the day-to-day experience of older people and to optimize policy responses.
Age Concern, Deputy Chair Charles Jeffers [middle] is the first to give a financial contribution to the charity's taggers: Ms. Joyce Eve [left] and Ms. Myra Bristol [right], in observance of the International Day of the Older Persons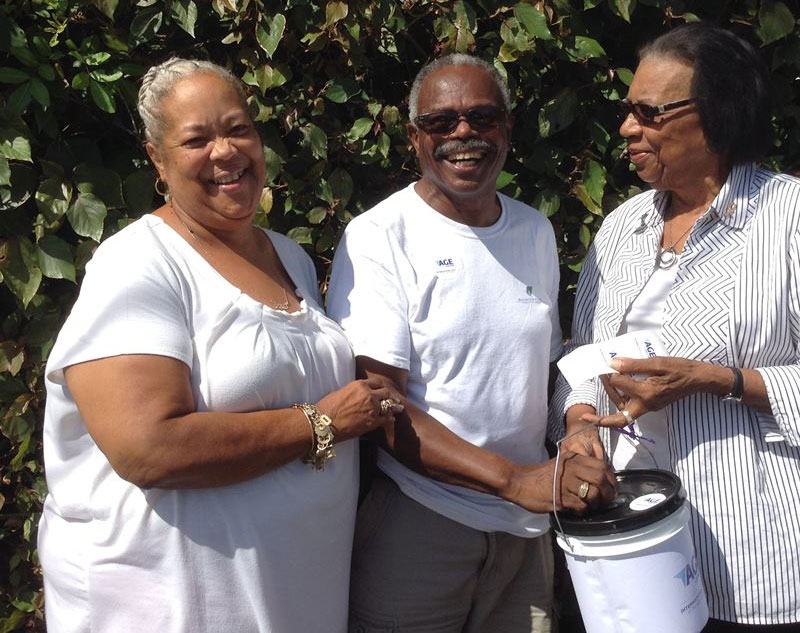 Age Concern said, "Ageism is stereotyping and discrimination on the basis of a person's age. Ageism is widespread and an insidious practice which has harmful effects on the health of older adults. This year, we challenge everyone to identify and question these internalized ageist attitudes, and to understand the serious impact that these attitudes have.
"For older people, ageism is an everyday challenge. Overlooked for employment, restricted from social services and stereotyped in the media, ageism marginalizes and excludes older people in their communities
"The theme for 2016, Take a Stand Against Ageism, challenges everyone to consider ageism – the negative attitudes and discrimination based on age – and the detrimental impact it has on older people".
"Age Concern Bermuda is using the opportunity of the global observance of the International Day of Older Persons to undertake it's first-ever community wide-tag day. "
According to Development Officer, Deborah Outerbridge, "We have used the tag day opportunity to engage students needing community hours and retirees looking for a meaningful way to contribute to a cause that is diligently working on behalf of older adults every day.
"In some cases, grandparents are teaming up with grandchildren in order to help spread the word and get the community's support in raising awareness that ageism has no place here in Bermuda."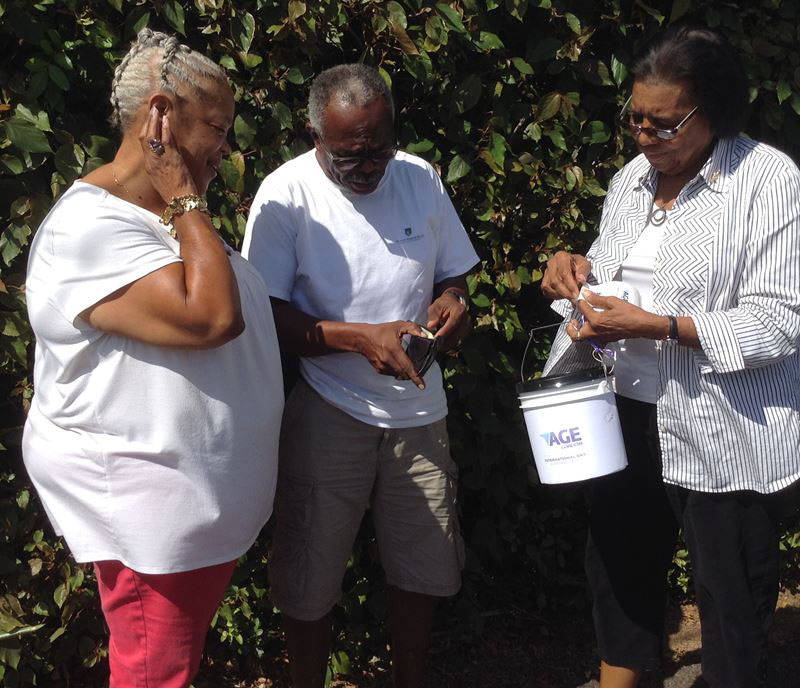 On hand to be the first to show his support for the campaign was Age Concern's, Deputy Chair and Advocacy Chairperson, Mr. Charles Jeffers.
At a recent report to members during Age Concern's, Annual General Meeting, Mr. Jeffers indicated that amending the Human Rights Act to include age as a category of discrimination in the workplace remains high on the advocacy agenda for Age Concern.
"As a Director of the organization, I am happy to give time and money to an organization whose mission I wholeheartedly believe in. I have yet to consider myself old. I am active, engaged, full of purpose and potential," he said.
"However, I know that this is not the state of every older adult in Bermuda. I am asking the community to support us on our tag days on September 30th and October 1st to observe the International Day of Older Persons and to help Age Concern in its work to eradicate ageism in Bermuda." said Mr. Jeffers.
Tagging locations on Friday, September 30th include: all of the BNTB and HSBC branches; Lindo's in Devonshire; the Arnold's group of stores at Maximart, Arnold's Somerset; the Market Place Group of stores at Heron Bay, Somerset, A1 Smith's, and Church Street and; Phoenix Store – the Collectors' Hill Apothecary.
Tagging locations on Saturday, October 1st, 2016 include: the Market Place Group of stores at Shopping Centre; Clarendon Pharmacy; Phoenix Reid Street/Brown & Co and; People's Pharmacy.
Read More About
Category: All