Mr. Zach Rocha, Executive Director of College Soccer Prep, will be hosting an information session for parents and students on Saturday November 7th 2015 at the Bermuda Underwater Exploration Institute [BUEI] from 5:30 – 7:30pm.
College Soccer Prep has an expansive registration database of athletes looking to further their education and college coaches searching for talent. Mr. Rocha works with all athletes to achieve this objective regardless of club or league affiliation.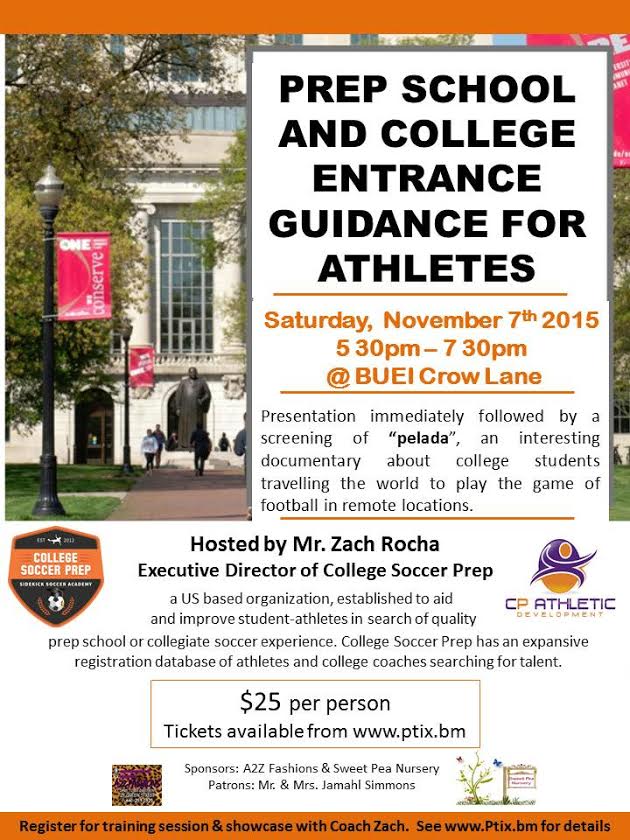 The ultimate objective is to maximize the athlete's opportunities based on their strengths while working to develop areas for improvement. Mr. Rocha is also Executive Director of Sidekick Soccer Academy and Wolves Futsal Club.
The presentation will be immediately followed by a screening of "Pelada" a documentary about college students taking an uncharted journey around the world to play football in remote locations.
Trailer for "Pelada"
Tickets for the event are available from www.ptix.bm Athletes will also be able to showcase their talents for Mr. Rocha at Bermuda College gymnasium on Friday November 6th.
Sessions will be held for ages 8-11 from 6 to 7pm and ages 12-17 from 7 to 8pm. Admission tickets for the showcase sessions are also available from www.ptix.bm
Read More About