Mount Saint Agnes Academy held their annual Remembrance Day Prayer Service today [Nov 10], as the students paused in honour of those who served in the armed forces.
"Mount Saint Agnes Academy would like to thank all who attended our annual Remembrance Day Prayer Service," a spokesperson said.
"The Most Reverend Wieslaw M. Spiewak, C.R., D.D., Roman Catholic Bishop of the Diocese of Hamilton, Bermuda presided over the prayer service that took place this morning in the MSA Auditorium.
"We were honored to have His Excellency, George Fergusson, Governor of Bermuda and Commander-in-Chief of the Royal Bermuda Regiment and Mrs. Fergusson in attendance; as well as Major Henry Campbell and, ADC, Captain Clifford Powell representing the Royal Bermuda Regiment; Inspector Robert Cardwell, Inspector Scott Devine, Constable Anton Gilbert and a selection of Police Cadets representing the Bermuda Police Service; Pipe Major Aidan Stones of the Bermuda Islands Pipe Band; and Mrs Carol Everson of the Bermuda Legion.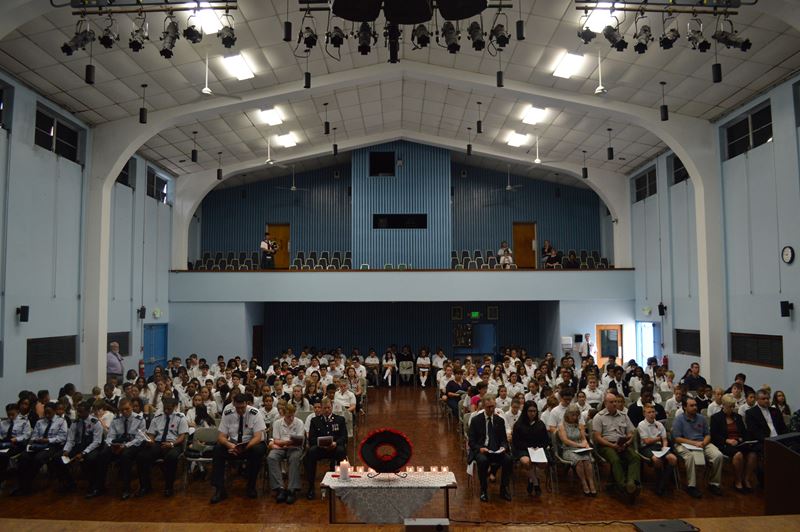 "Mrs. Sue Moench, Principal, and Mrs. Margaret DiGiacomo, Assistant Principal, reflected on the importance of Remembrance Day, encouraging the students to attend the Remembrance Day Parade tomorrow in honor of those who have selflessly given of themselves to fight for the common good and the freedoms we enjoy today.
"Bishop Wesley Spiewak shared his recollections as a youth in his national Poland, reflecting on the indirect links between Remembrance Day and the National Independence Day of Poland which both emerged from the circumstances at the end of World War I and are respected on November 11th.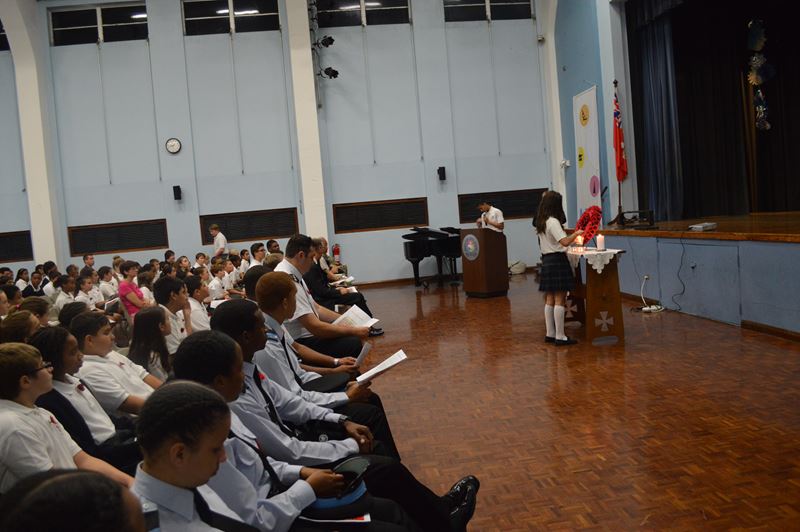 "Mr. George Fergusson shared a few stories of self-sacrifice directly linked to Bermuda from both World Wars. He spoke of George McKenzie Samson VC, who is buried in St. George's and was awarded the Victoria Cross for his efforts in April 1915 where he worked all day under heavy fire, attending wounded and getting out lines, even after being dangerously wounded.
"Also mentioned was Captain Edward Fegen, commanding the HMS Jervis Bay, which was sunk by a German battleship while escorting merchant ships shortly after departing from Hamilton Harbour; due to the efforts of those on the HMS Jervis Bay, 31 ships of the convoy escaped. Governor Fergusson highlighted these decisions to aid the greater good above the individual.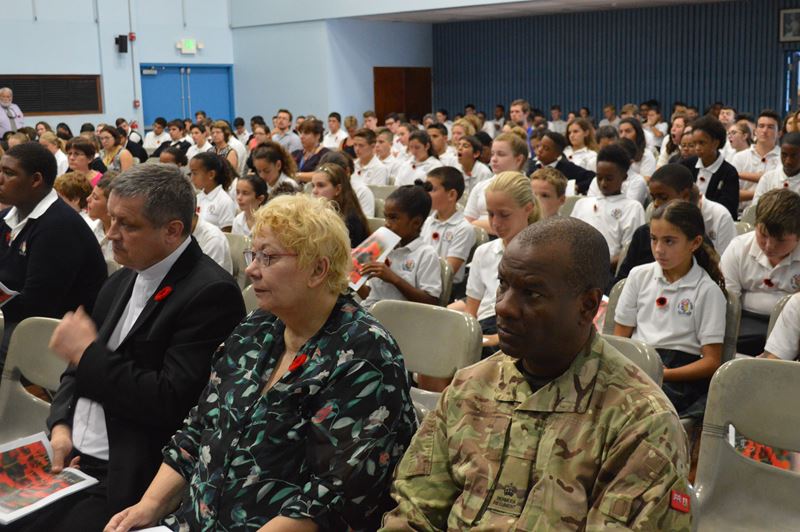 "Students from grades six to twelve participated in the service by lighting candles and in reading the Litany. A moment of silence was held as we remembered God's promise of peace, and all who have served in the armed forces to help bring peace to our world."
Read More About