Mount Saint Agnes Academy held their annual Remembrance Day Prayer Service today [Nov 10], as the students paused in honour of those who served in the armed forces.
Grade 12 students, Kamryn Martins [Student Council President] & Rodrigo Jara-Lira [Student Council Vice President]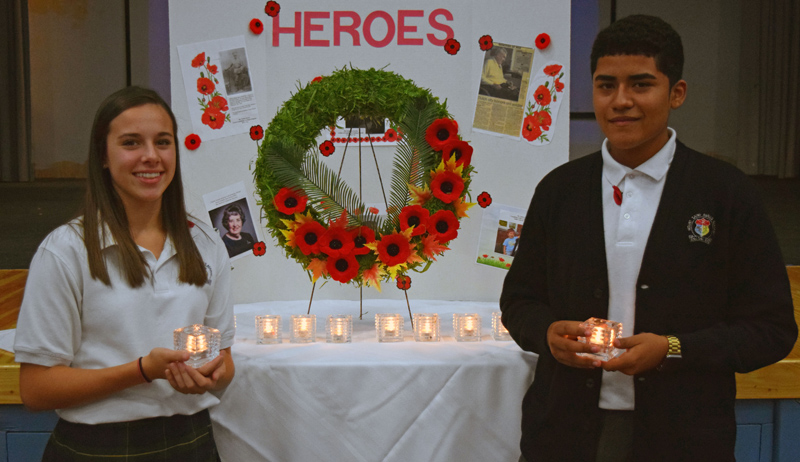 A spokesperson said, "Mount Saint Agnes Academy would like to thank all who attended our annual Remembrance Day Prayer Service today.
"The Most Reverend Wieslaw M. Spiewak, C.R., D.D., Roman Catholic Bishop of the Diocese of Hamilton, Bermuda presided over the prayer service that took place this morning in the MSA Auditorium.
"We were honored to have The Right Reverend Nicholas Dill, Bishop of Bermuda, Reverend Jon Connell, Mrs. Carol Everson of the Bermuda Legion, and Mr. Joell Cassidy, Bagpiper of the Bermuda Islands Pipe Band join us in prayer.
"During the homily, Bishop Dill encouraged all in attendance to think of the poppy, which was adopted as a symbol of Remembrance after the First World War, as an acronym for the following: 'Praise', 'Offering', 'Pray', 'Peace', and 'You'. Bishop Wesley added 'Progress' as he noted the importance of the leaders of two religious faith communities working together in peace.
Mr. Joell Cassidy, Bermuda Islands Pipe Band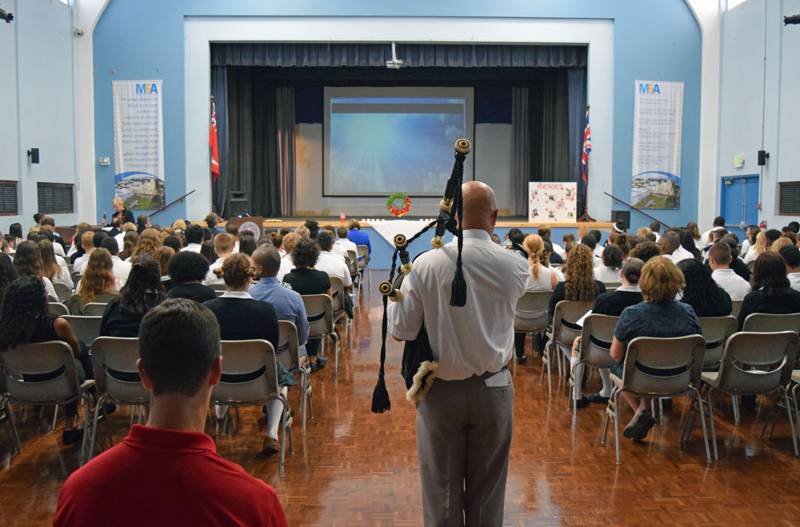 "As part of the ceremony, Mrs. Margaret DiGiacomo, Assistant Principal, listed a number of veterans directly connected to members of our MSA family: Private Ronald Wilson who served in WWI and was the great, great uncle of MSA student, Kyle George; Lance Corporal Benny Sousa who served in WWII and was the father of MSA faculty, Mrs. Jackie Tailford; Master Sergeant Jason DiGiacomo who served in the Iraq War and is an MSA Alumnus '99 as well as the son of Assistant Principal Margaret DiGiacomo; Lt. Colonel Mark Tennant who served in WWII as the Commanding Officer of the Calgary Highlanders, leading troops in the liberation of Holland and was the uncle of Principal Sue Moench; Mrs. Claudia Tennant, Sub-Lieutenant, Canadian Navy in WWII, also Mrs. Moench's godmother and aunt; Mr. Andrzej Franc, grandfather of Reese and Ethan McAlpine, who served in the Polish Army; Mr. Orlando Scarth, father of Lindsey and Chelsea Scarth, who served in the Gulf War; Mark K. Doe, MSA Alumnus '70, served in the Royal Bermuda Regiment; and Nelson Steede, great grandfather of Elijah Simpson, who served in WWI for the British Empire.
Mrs. Sue Moench, Mr. Joell Cassidy, Bishop Wesley, Bishop Dill, Mrs. Carol Everson, Mrs. & Reverend Jon Connell, and Mrs. Margaret DiGiacomo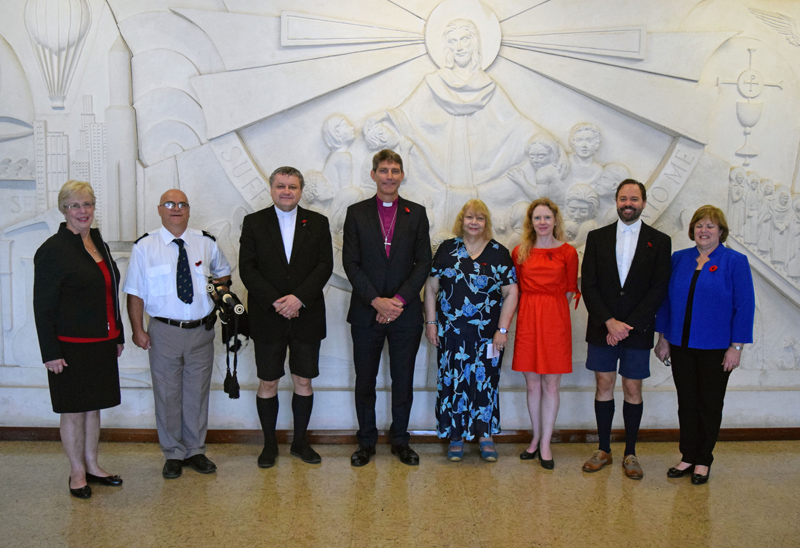 "Students from grades six to twelve participated in the service. Two minutes of silence was held as we remembered God's promise of peace and all who have served in the armed forces to help bring peace to our world.
"In closing, Mrs. Sue Moench, Principal, reflected on the importance of retaining the solemnity of Remembrance Day. Our annual prayer service is held to reflect on the importance of Remembrance Day, to honor those who have selflessly given of themselves to fight for the freedoms we enjoy today; and to pray for peace."
Read More About