The Devonshire Parish Council recently received a beautiful Devonshire Parish Inspired Artful Bin from long-time parish resident, KBB member and student, Anthony Whaley.
In June 2015, Mr. Whaley  – who is an IB-1 student at Warwick Academy who has a natural talent for creativity and art – approached the Council about completing an artful bin for the Devonshire Parish.
Artful Bins are a concept created by local charity, Keep Bermuda Beautiful [KBB] where plastic barrels that come into Bermuda containing product, and once they are empty, are re-used as trash and recycling bins which have been decorated and hand-painted.
Mr. Whaley completed the project for his IB CAS Community Service component requirements. Hours of research on the Parish and its history were undertaken, and over 30 hours of research, design, painting and execution were spent to complete the project.
The project commenced on 14 September 2015 and the official handover to the Council was completed on 13 October 2015 at the Matilda Smith Williams Senior's Residence where the Council holds regular meetings.
L-R are: Linda Perry [Council Member]; Kimberley D. Caines [Council Member]; Anne Hyde [Executive Director of KBB]; Mr. Anthony Whaley [Artist]; Naomi Daniel [Chairperson]; Maria Hay [Council Member] and John Kessaram [Council Member].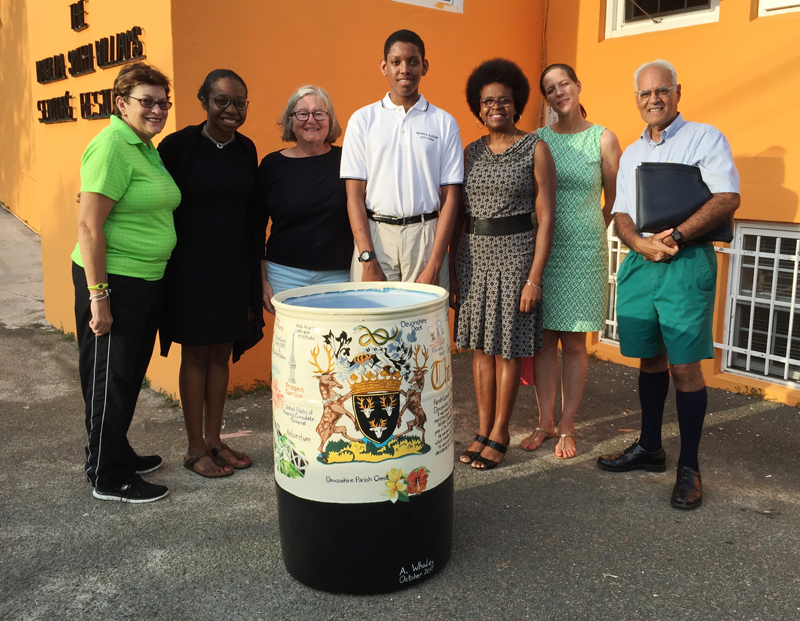 The Council intends to display the KBB Artful Bin at the Arboretum in Devonshire, and before the Bin makes its home in the Arboretum, it will be on display at the City Hall.
The Devonshire Inspired Bin was not the first bin that Mr. Whaley has completed as he completed a KBB inspired artful bin on 5 July 2014 and a Warwick Academy inspired artful bin on 10 November 2014.
Former Chairperson, Ms. Kimberley D. Caines was the Council contact person for Mr. Whaley and said, "When the Council were presented with the Devonshire Inspired Artful Bin, we were literally astounded by the final project. The attention to detail and accuracy of Devonshire locales [like Devonshire Bay and Palmetto House] as well as our Parish crest was phenomenal".
"Mr. Whaley's talent and commitment to the project was evidenced in his research and it was clear that this project took time and attention and our Council is most appreciative to have received the first Parish inspired Artful Bin – we wish Mr. Whaley all the best as he completes his IB program and much success with his future endeavours".
The Council said they also wish to "acknowledge Ms. Anne Hyde, Executive Director of KBB who was also on hand at the presentation, and Warwick Academy for supporting this project. As well as the Corporation of Hamilton and the Department of Parks for their assistance in arranging for the Devonshire Artful Bin to be placed at the City Hall and Arboretum."
"The Devonshire Parish Council is committed to the residents of Devonshire and assists with meeting local needs by way of awarding of its annual scholarship, public meetings, and donations to local organisations among other initiatives. For more information on the Devonshire Parish Council please email devonshire.council@gmail.com."

Read More About