Shadow National Security Minister Walter Roban and Sandys North MP Michael Scott condemned the recent attempted armed robbery in Sandys, and encouraged the public to "cooperate with the authorities as they work to bring these criminals to justice."
On Thursday afternoon [Oct 29] police responded to an incident at the Somerset Branch of HSBC, where four males — one of whiom is believed to have brandished a firearm — attempted to rob security personal attending the bank before escaping on foot.
HSBC closed the Somerset Branch for the remainder of the day, and reopened the following day with additional security and HR support on hand for their employees.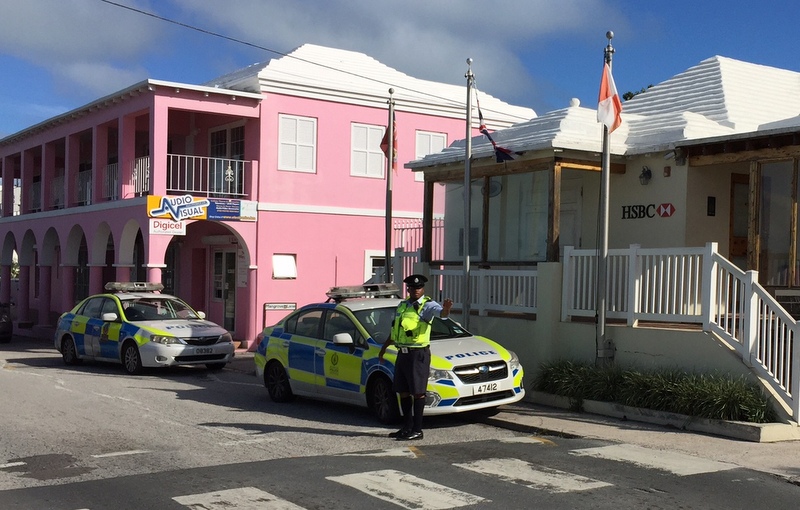 The joint statement said, "As the area MP and Shadow Minister for National Security we continue to condemn criminal activities such as those carried out against the security detail attending the HSBC Bank Somerset branch with what is believed to be a firearm.
"We were pleased to hear that there were no injuries and commend the security detail who appear by their training and action to have ensured that they nor any of the other staff were injured in this attempt.
"The staff have our profound empathy and we commend HSBC Human Resources who are providing their staff the support that is needed.
"As with every incident of crime in our community, we encourage the public to cooperate with the authorities as they work to bring these criminals to justice."
Audio of MP Michael Scott speaking at the scene on Thursday
The police provided a description of the suspects: suspect #1 – 5'3″ wearing blue and red ski mask, suspect #2 – 5'2″ wearing all dark clothing, suspect #3 – 5'9″ wearing white and beige helmet, and suspect #4 – 5'11 wearing all dark clothing and a black helmet
Witnesses that may have seen the suspects or anyone with any information is asked to contact police on 2950011 or call the confidential Crime Stoppers on 8008477.
Read More About