Bermudians can support Miss Bermuda Alyssa Rose in the upcoming Miss World competition, with a People's Choice category open to votes from the public, with voting available from within the Miss World app.
Miss Rose has travelled to China, along with more than 110 contestants from all over the globe, for the Miss World event, which will culminate in the final event on Saturday, December 19 at the Beauty Crown Grand Theatre in Sanya.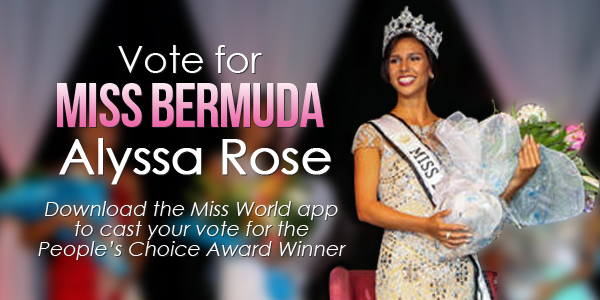 In describing the voting, the Miss World organisation says, "Once again the Miss World App remains the only place to have your say. Pick your top three via the voting panel on the Miss World app and your votes will decide who will be the People's Choice Award Winner at the Miss World Final.
"We want everyone to play a part in the crowning of Miss World 2015, so show your support and get voting. In-app subscribers get an additional vote. Voting begins on Friday, November 20 and will be available until Saturday, December 19, with the lines officially closing at 21.30 local time [13.30 GMT]. No votes cast after this time will be counted towards the People's Choice Award."
Miss Rose, representing Smiths, was crowned the new Miss Bermuda on July 5, beating out five other competitors for the title.
In describing her inspirations, the 23-year-old said, "Throughout this journey one of my greatest inspirations has been Gina Swainson, a former Miss Bermuda and Miss World titleholder crowned in 1979. She is the first, and remains the only Bermudian to win a major international pageant.
"Another inspiration for me on this journey is past titleholder Lillian Lightbourn, crowned Miss Bermuda in 2014 and competed in the 64th Miss World Competition. Lillian has pursued her dreams as a model and has been featured in top fashion magazines, and seen on runways around the world."
You can download the Miss World app here on the Apple app store and here on Google Play app store.

Read More About
Category: All, Entertainment, News, Style & Beauty