A new sailing calendar from the Bermuda Tourism Authority [BTA] "shows the island as a major player in the world of nautical tourism, particularly during the winter," the BTA said today.
In addition to hosting the America's Cup and biennial staples like the Newport Bermuda Race, the calendar reveals Bermuda has attracted exciting new events including the RC 44 Championship Tour in March 2016 and the Flying Phantom Series this November.
Team Oracle USA sailor Tom Slingsby, who helped the Phantom Series choose Bermuda, said: "I think Bermuda is really going to come into the world spotlight as an amazing tourist destination, an amazing sailing destination and somewhere the America's Cup could be for a long time. It's such a beautiful place – great people, great sailing conditions. I can't wait for the next few years."
Video comments from Tom Slingsby:
"Our sailing calendar represents one of the first tourism industry legacy benefits of the America's Cup," said BTA CEO Bill Hanbury.
"We have new sailing events because Bermuda is part of the global sailing conversation in a way it wasn't before. We're working with our stakeholders to make sure we seize the opportunity to win new regattas and then we need to keep those events coming back year after year."
"The Bermuda Tourism Authority Sailing Race Calendar was released this week at a hospitality industry presentation about the America's Cup," the BTA said.
"The calendar will be used as part of the BTA's sports tourism and America's Cup #RaceToBermuda marketing strategies in an effort to attract sailing enthusiasts to the island. Bermuda is an official partner of the America's Cup.
"There are several first-time events on the Bermuda race calendar that will help to bring new visitors to the island during a traditionally low demand period.
Sailing calendar from the BTA, click to enlarge: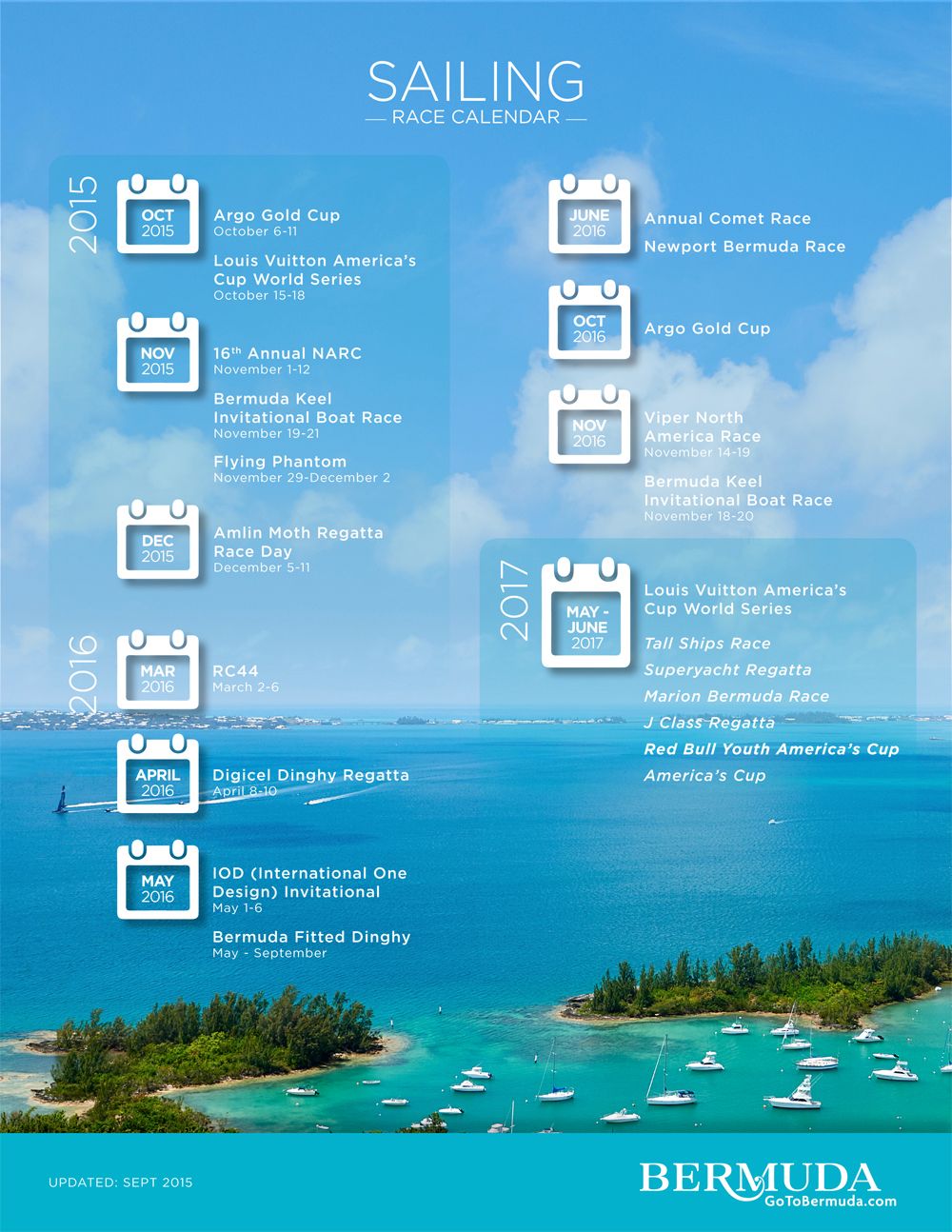 "RC 44 in March, the Flying Phantom in November and the Moth Regatta in December are all examples of how sailing can help us smooth out the shoulder season," Mr Hanbury said.
"We worked particularly hard on securing the RC 44 event because with the leadership of its namesake Sir Russell Coutts, RC 44 is quickly becoming one of the most elite, most sought after regattas on the planet."
Beginning next month Bermuda launches a 21-month stretch of sailing regattas, culminating with five weeks of racing in Bermuda's Great Sound and the crowning of an America's Cup champion.
BTA slideshow on upcoming regattas in Bermuda, click arrow to see next slide:

Read More About