Logic today [Nov 19] awarded seven high school students with its Community Service Award in recognition of their contributions to the community and the hundreds of hours of volunteer work they have completed.
The students are Kristina Grant from Warwick Academy; Hannah Lampit from Bermuda High School; Evin Mosley from Mount Saint Agnes; Lamar Samuels from Berkeley Institute; Jonathan Speight from Saltus Grammar; Laree Talbot from CedarBridge Academy; and Letitia Williams who attends Bermuda Institute.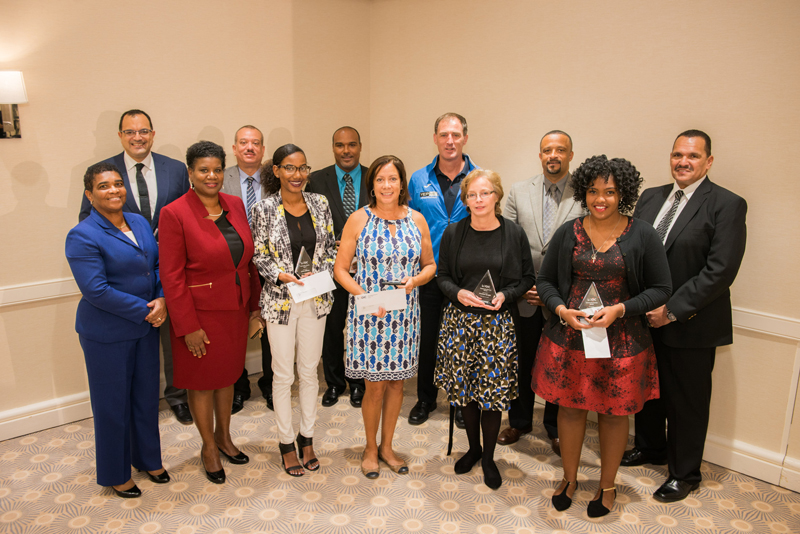 Kristina Grant from Warwick Academy
Kristina has fulfilled her passion for working with animals while completing more than 200 hours as a Junior Apprentice Volunteer at Dolphin Quest, 120 hours of community service at the Bermuda Aquarium Museum and Zoo [BAMZ] and 95 hours of work experience at Ettrick Animal Hospital.
This experience, as well as volunteer work at the SPCA, has inspired her to become a veterinarian. Kristina also spent 70 hours on an eco-tour of Costa Rica, created an herb garden for her school and contributed more than 50 hours assisting and acting with her school's drama department.
Hannah Lampit from Bermuda High School
Hannah has dedicated herself to working with young people by spending 84 hours with the weekly Operation Smiles programme for autistic children and 14 hours working as a mentor with YouthNet at BHS. Hannah has also worked with Dolphin Quest and the SPCA and in Bermuda's parks as part of a Creativity, Action and Service [CAS] group project through BHS.
Overall, Hannah has clocked more than 344 hours of community service in the past two years. Beyond Bermuda's shores, Hannah spent two weeks last summer in Thailand on a service project working on constructing a dam and working with children. Her hard work prepared Hannah for her studies in marine biology which she began this fall.
Evin Mosley from Mount Saint Agnes
Evin was the president of the Student Council and captain of the basketball and volleyball teams at Mount Saint Agnes Academy. In addition to Evin's academic and extra curriculum activities, he has dedicated more than 45 hours of community service to Matilda Smith Williams Senior Residence, the Salvation Army Soup Run programme, the St. Vincent de Paul's Loaves and Fishes programme and YouthNet's Peer Mentoring Programme.
Evin was active in the EDGE Youth Ministry Programme in the Roman Catholic Diocese of Hamilton and was a member of the Youth Parliament. He now attends school at the University of Reading, UK.
Lamar Samuels from Berkeley Institute
Lamar completed 832 hours of volunteer work during his time at Berkeley Institute, working on the Bermuda Sloop Foundation Spirit of Bermuda. During this time he worked in office administration as well as on board the ship. He was also active in various activities at school.
Jonathan Speight from Saltus Grammar
Jonathan has shown great dedication to extra-curricular activities while maintaining academic excellence. He was a member of his school's prestigious KPMG Senior School Investment Challenge Group and played on the rugby team, a sport that he also played at a national level, representing Bermuda on many occasions.
Jonathan volunteers on Friday evenings at the Salvation Army and has been active with St. Baldrick's Foundation, to which he has donated his savings, and has shaved his head to raise funds toward childhood cancer research.
Laree Talbot from CedarBridge Academy
Laree, an honour student, began volunteering at seven years old, when she worked at Friends of Hospice following the passing of her Granny.
Since then she has clocked more than 2,000 hours with Friends of Hospice, Candy Stripers at King Edward VII Memorial Hospital, Keep Bermuda Beautiful, Bermuda Junior Bowling League, WindReach, numerous nurseries and the CCU department at KEMH, among others.
At the same time, she has been working on both high school and college courses and preparing to head to a school overseas to continue her education.
Letitia Williams from Bermuda Institute
Letitia has amassed more than 400 hours of community service in Bermuda and abroad. On the island, Letitia has worked as a Candy Striper at the Kind Edward VII Memorial Hospital. She works at her church as young people's department secretary and assists the homeless ministry with annual Christmas parties and Bible studies with the homeless at Albuoy's Point.
In 2012 and 2013 Letitia travelled to New York City to volunteer in the Hurricane Sandy Relief Effort. She was awarded the Caring Heart Award for the North American Division of the Seventh-Day Adventists for 2013-2014, was nominated for the 2015 Teen Service Awards in the area of Community Service and received the PricewaterhouseCoopers HeadStart Award of Excellence that same year. She has accomplished all of this as an honour student and while serving as class officer and school prefect.

Minister of Community, Culture & Sports, Patricia Gordon-Pamplin said: "Bermuda is proud of these students, who contribute to their community in so many ways out of the goodness of their hearts. They don't expect anything in return for what they do, but they have earned the respect and gratitude of the community which they serve. On behalf of the Bermuda Government, I would like to thank them for their time and dedication to our community."
Minister of Education, R. Wayne Scott said: "Our students are encouraged to volunteer and complete community services projects. It is through their efforts that they learn how valuable their service is to the organisations they work with as well the larger community. These students have contributed so much more than is expected of them, while continuing their school studies and schedules. They are highly deserving of our appreciation and this recognition."
Lloyd Fray, CEO of Logic, comments: "I am pleased that we are able to reward these students for their commitment to the community. The thousands of hours they have spent selflessly giving is an inspiration to all of us. Logic is proud to celebrate their contributions with a $500 bursary to each student."
Read More About