Today [May 17] the efforts of seven high school students were rewarded with Logic's Community Service Award. The award celebrates their contributions to the community and hundreds of hours of volunteer time.
The award recipients are Kayleb Butterfield from Warwick Academy; Alison Lamb from Bermuda High School; Salina Maiato-Dill from Mount Saint Agnes Academy; Sihlé Sharrieff-Hayward from CedarBridge Academy; Zaji Smith from Saltus Grammar School; Chanara Smith-Rookes who attends Berkeley Institute; and Ashé Trimm, a student at Bermuda Institute.
Kayleb Butterfield has dedicated more than 180 hours of community service for the SPCA, Windreach, BMDS and took part in a trip to Malawi to work with Habitat for Humanity. As part of her Creativity, Activity, Service [CAS] school programme, Kayleb worked with four other students to develop a very successful reading clinic for her school's primary students.
In addition to volunteering and maintaining her school work, Kayleb takes piano and tennis lessons. Her responsible attitude and hard work stand out at her school and make her deserving of this recognition.
Alison Lamb is an enthusiastic student who is eager to undertake new experiences and challenge herself beyond what is merely expected through school work. As leader of an autistic playgroup, she oversees the safety of the children, manages the volunteers and organises fun activities for the participants.
Alison's work with the Lionfish and Ocean Support Foundation culminated in a full social media campaign for the organisation. Last year, while in Thailand to assist with building a dam, she learned how a small contribution can make a significant impact on the lives of those affected. In addition to her various volunteer activities, Alison enjoys dance with In Motion Dance Company and cooking.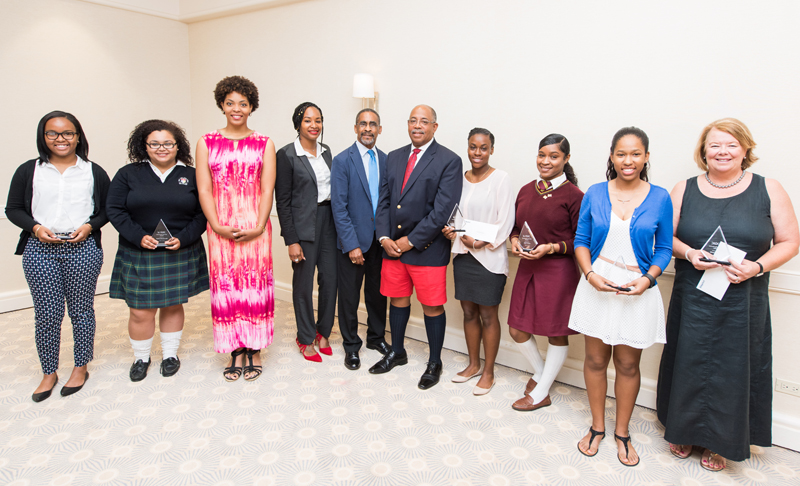 Salina Maiato-Dill has a keen desire to give back to her community and it is apparent in everything she does. As a volunteer, she works as a Candy Striper at the King Edward VII Memorial Hospital, is a peer mentor with YouthNet and assists students in the Project Ride programme.
She is passionate about working with younger children and dedicates every weekday after school to working with a Homework Help Club that she helped to establish at Mount Saint Agnes. Salina is also a committed student and was involved with editing the school yearbook. She has received awards for Most Improved Student for her class and Most Improved in mathematics.
Sihlé Sharrieff-Hayward continuously strives to do her best while juggling schoolwork, sports and social activities. She is deputy head girl at Cedarbridge Academy, president of her school's Key Club and Gavel Club, an executive member of CedarBridge Academy's Blue House, was first runner up in the Miss Cedarbridge Academy Pageant, and is an historian of the National Honours Society.
Sihlé's devotion to others shines through her participation in community service initiatives including Keep Bermuda Beautiful clean up days, tag days for various charities, working with the homeless, assisting in fundraising events, volunteer work at Bermuda Feline Assistance Bureau and tutoring students. She has volunteered with the Bermuda Hospitals Board VolunTeen programme, which introduces students to healthcare careers; as a cadet with the St. John's Ambulance Brigade; and at the Butterfield Bank. She is a member of her school's co-ed track & field and softball teams and has played with the Longtails field hockey team and the Bermuda National Under 18 girls rugby team. Sihlé is an avid saxophone player and works part time as a swimming instructor for Swimming Instincts.
 Zaji Smith is a dedicated and outgoing student, and has excelled in her studies during her four years at Saltus. She also acts as Senior Prefect, is a member of the senior debate team and recently represented her school at the 2015 XL Youth Harvest Conference. Zaji achieved the Duke of Edinburgh Bronze Award in Year 10 and the Silver Award in Year 11. In 2012, she joined the Candy Striping programme at King Edward VII Memorial Hospital for which she has completed 377 volunteer hours and, in 2015, was awarded Head Candy Striper for her positive attitude and dedication. Zaji appeared in the Bermuda Shakespeare Festival production of Much Ado About Nothing in 2014.
For the past four years, Zaji has been a member of the Bermuda Youth Parliament, for which she holds the position of Youth Deputy Opposition Leader, and in 2015 she represented Bermuda at the Commonwealth Parliamentary Association Regional Youth Parliament Debate. She was a mentor with YouthNet in 2015, volunteering weekly at West Pembroke Primary School. Zaji represented Bermuda in Antigua as part of the Bermuda Under 16 National Netball Team. She plans to travel to Guyana this July to assist Habitat for Humanity with building homes.
Chanara Smith-Rookes believes giving back to her school and the wider community is a fundamental part of being Bermudian. She has committed more than 461 community service hours since starting at Berkeley Institute in 2013. The majority of her volunteer hours have been dedicated to her school's Water Project fundraiser, for which she raised $3,000 to dig wells in Nigeria.
She volunteered at the NatWest Island Games in 2013 and has worked as an administrator at the Bermuda Institute for Ocean Sciences. At school, she tutors fellow students, participates in school plays and is a member of the marching band.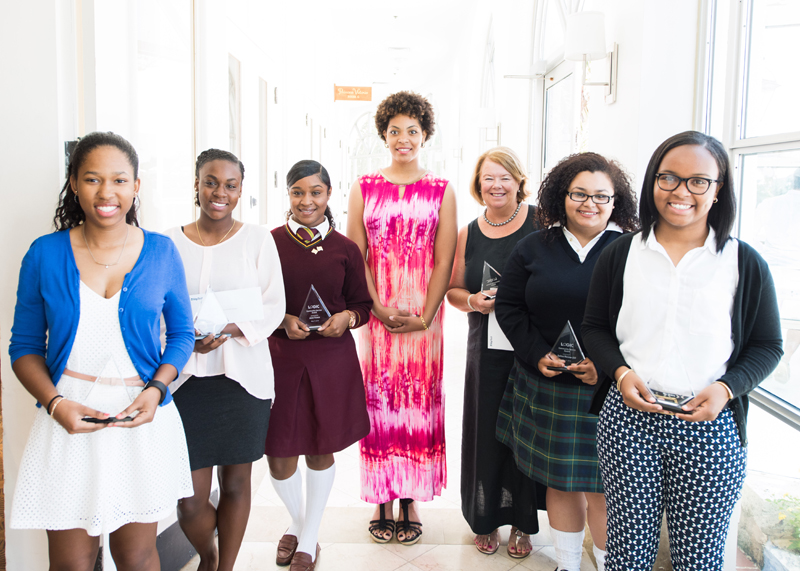 Ashé Trimm has a philanthropic nature and believes in being an active contributor to her community. She has amassed 562 hours of community service between grades 9 and 12 at Bermuda Institute, and was recently nominated for the 2016 Outstanding Teen Awards for her community service. In 2015, she was part of the winning team in the KPMG Investment Challenge, winning $10,000 for her school.
Ashé has participated in missionary journeys, assisting ministries with their projects; acted as camp counsellor at several camps; volunteered at the Junior Library; and worked with Age Concern. She has also dedicated her time to St. John's Ambulance, the Menuhin Foundation, Westmeath Residential and Nursing Care Home, Catlin End to End, Swim Around the Sound, Keep Bermuda Beautiful, Bermuda Autism Support & Education and West Pembroke Primary School. Ashé is Assistant Treasurer for Bermuda Institute's Student Association.
Junior Minister of Social Development and Sport, Nandi Outerbridge said: "These students have learned the value of being active members of their community. They have learned that helping others is as rewarding for them as for the causes to which they dedicate so much of their time. We applaud them in their achievements and hope that they inspire others to get involved in the community."
Minister of Education Wayne Scott said: "Part of education is learning how to contribute to the community in which you live. To some, it goes much further than just understanding how they can participate; dedicating their time and efforts becomes a passion. These students are examples of individuals who incorporate community involvement as part of a well-rounded, rewarding lifestyle. On behalf of the Bermuda Government, I commend their accomplishments and look forward to seeing more of their work in the years to come."
Gary Phillips, Chairman of KeyTech, the parent company of Logic, comments: "On behalf of Logic, I am proud to be able to acknowledge the accomplishments of these young people. They demonstrate that giving back is rewarding to themselves as well as others. These seven students are very much deserving of this honour and I am pleased to present them each with a $500 donation.
"This award is particularly special because we are here today to recognise some of Bermuda's unsung heroes – students who not only apply themselves academically but also spend significant time helping others through their volunteer efforts.
"Like Logic strives to do, they have a deep connection with their community. Although Logic only took over the running of this award a year ago, it has an 11-year history through its predecessor Bermuda CableVision."
Read More About