Bermuda celebrated the winners of competitions that recognise women in ICT [Information and Communication Technologies] on the island.
A spokesperson said, "The Department of ICT Policy and Innovation ran three events to mark the occasion, including a call for nominations of "Bermuda's Inspiring Woman in ICT" and two competitions for the island's students.
"Nandi Outerbridge, Minister of Social Development and Sports, awarded prizes to the winners at Connectech with standing room only.
"In advance of International Girls in ICT Day, the Bermuda public was invited to nominate a woman who is based in Bermuda and who stands out in the Island's ICT sector. The Department of ICT Policy and Innovation received many worthy nominations, confirming that the Island's ICT sector is replete with female leaders.
"The judges selected Sloane Chinapoo who, both in her personal and professional capacity, consistently works to mentor young girls and boost ICT in Bermuda. Not only is she a staunch ICT advocate, Sloane is also a mother, an entrepreneur, an artist, and an author.
"She has taught coding to dozens of students interested in computer programming, all ranging from 5 to 16 years of age. In terms of background, Sloane worked locally as a computer technician, graphic designer and coding instructor before settling into her current post.
"Ms. Chinapoo is also Bermuda's first certified Start-up Weekend Facilitator. She promotes e-entrepreneurship Island-wide and sits on the board of the Technology Leadership Forum. The lead Cybertips speaker, Sloane promotes Digital Citizenship in Bermuda's, public and private, and speaks to hundreds of them island-wide every school year.
"Sloane also visits parent groups, church groups and conferences, and as one of the many persons who nominated her said, 'she is a game changer in our community for educating the youth about internet use.'
On receiving her award, Ms. Chinapoo addressed the attendance and said, "It's exciting when you can see that something you are so passionate about makes a positive impact on the lives of others. Working in ICT requires creativity and forward thinking but also a certain level of caution.
"As a woman in the ICT Industry, I feel is it my duty to help others visualize not only what ICT can do for them but what they can do for and with ICT. As technology continues to evolve assisting Bermuda's vulnerable persons by providing them with the tools and advice to navigate through it, we are preparing them for a brighter more productive future.
"I am both humbled and elated by the nomination for this award and hope that in the years to come The Inspiring Woman in ICT award will push other local women in ICT to give back to the community and encourage them to continue to break down barriers in this predominantly male sector."
"The Department of ICT Policy & Innovation also organized a poster-colouring competition. The staff hand-delivered posters to the public and private primary schools across the Island and every boy and girl was encouraged to participate.
"The image on the poster, created by caricaturist Cristina Capelo, featured six local women ICT leaders:
"Brittany Easton, a Senior Consultant at Deloitte who specializes in IT audits. Brittany first developed a love for all things tech at an early age and has participated in the Technology Leadership Forum as a student, mentor and board member.
"Brittany also sits on the board of ISACA, an international professional association focused on IT Governance. She hopes that her roles on these committees will continue to inspire young people in technology and provide opportunities for them to advance their careers.
"Coral Wells is the Managing Director of W&W Solutions a software development company and founder of Connectech, a local technology incubator dedicated to technology education and the advancement of technology related business.
"Coral is also the Programme Coordinator for the Technology Leadership Forum Internship Programme which provides local work placement opportunities for Bermudian students studying in various areas of ICT. Coral has been in the IT industry for over 15 years and has seen the development of ICT in Bermuda and is excited to be an integral part of its continued growth.
"Coral is also the recipient of the 2016 Inspiring Woman in ICT Award.
"Katyna Rabain> is the Information Communication Technology [ICT] teacher at Clearwater Middle School. She studied computer science and math in university, returning home to work in the corporate world for a number of years before shifting her focus to teaching, seizing the opportunity when the role came up.
"Katyna finds it rewarding to see her students apply what they have learned in her class to other subjects and continues to find innovative ways to introduce ICT not just into her classroom but through the school as a whole.
"Lisa Stevens, who got her start in ICT as a Graphic Designer, decided to become a teacher as she loved what she did and wanted to share the fun of computers. Lisa teaches students from Kindergarten to Grade 12 at Mount St Agnes, covering everything from typing, coding, Microsoft Office, Adobe Creative Cloud, audio/video, photography and most importantly digital citizenship through CommonSense Media.
"Lisa's day is never the same as there is always something new to learn and share in ICT.
"Dr. Marisa Stones is the Director of the Department of ICT Policy and Innovation within the Bermuda Government. She has worked in the technology industry both in Bermuda and the United States for over 20 years and is a former chair of the Business Technology Division of the Bermuda Chamber of Commerce.
"Dr. Stones and her team are responsible for the development for the ICT-related policies and initiatives, encouraging economic development, e-entrepreneurship, e-skills development, cyber safety and cybersecurity, among other activities.
"Submissions poured in from boys and girls throughout the Island, making it a hard task for the judges to select the winning posters, and resulting in long, details deliberations. The prize winners were:
Upper Primary winners:
i. First place – Mia Baccaglio, Grade 5, MSA
ii. Second place – Eshe Holdipp-Lynch , P4, Elliot
iii. Third place – Hazel Dragon, Somersfield Academy
iv. Honorable Mention – Alexander Bento-Beek, P5, Harrington Sound
Lower Primary winners:
i. First place – Mary-Rose Mathias, P3, Northlands
ii. Second place – Malaysia Furbert, P3, Northlands
iii. Third place – Alexia Medeiros, Grade 2, MSA
iv. Honorable Mention – Ray Foster, P1, Port Royal
"Last but not least, all secondary-school students [both boys and girls] were encouraged to produce a 90-second video clip, which centered on girls and ICT. Once again, the judges were given the difficult task of selecting winners, which were:
First place
i. Video Title: ICT Empowers Women
ii. Team members: Katarina Rance, Salayah Stange, Kristy Sanchez, Lara Backeberg, Gabriela Quinn-Sirera, Sydney Daponte, and Za'Nyah Khan.
Second place:
i. Video Title: Girls in ICT
iii. Team members: Andrew Manuel, John Norsworthy, Liam Walker, and Cameron Lucas.
Nandi Outerbridge, Minister of Social Development and Sports, said, "The main goal of International Girls in ICT Day is to remind us of the vast possibilities offered by ICT studies and careers. Computers are needed and used in virtually every sector of the economy.
"In Bermuda, we certainly have a wide variety of examples around us. From the leaders who are featured on the beautifully decorated posters I see around me to the leaders who were nominated to receive this year's Inspiring Woman in ICT award, our Island is moving in the right direction.
"Regarding the competitions, I was very pleased not only with the number of submissions, but most importantly with the quality of the work that I have seen. Bermuda's students certainly have what it takes with regards to creativity and innovation using different media.
"Whether you look at the posters or the video clips, the students, parents, and schools have much to be proud of. Congratulations to all."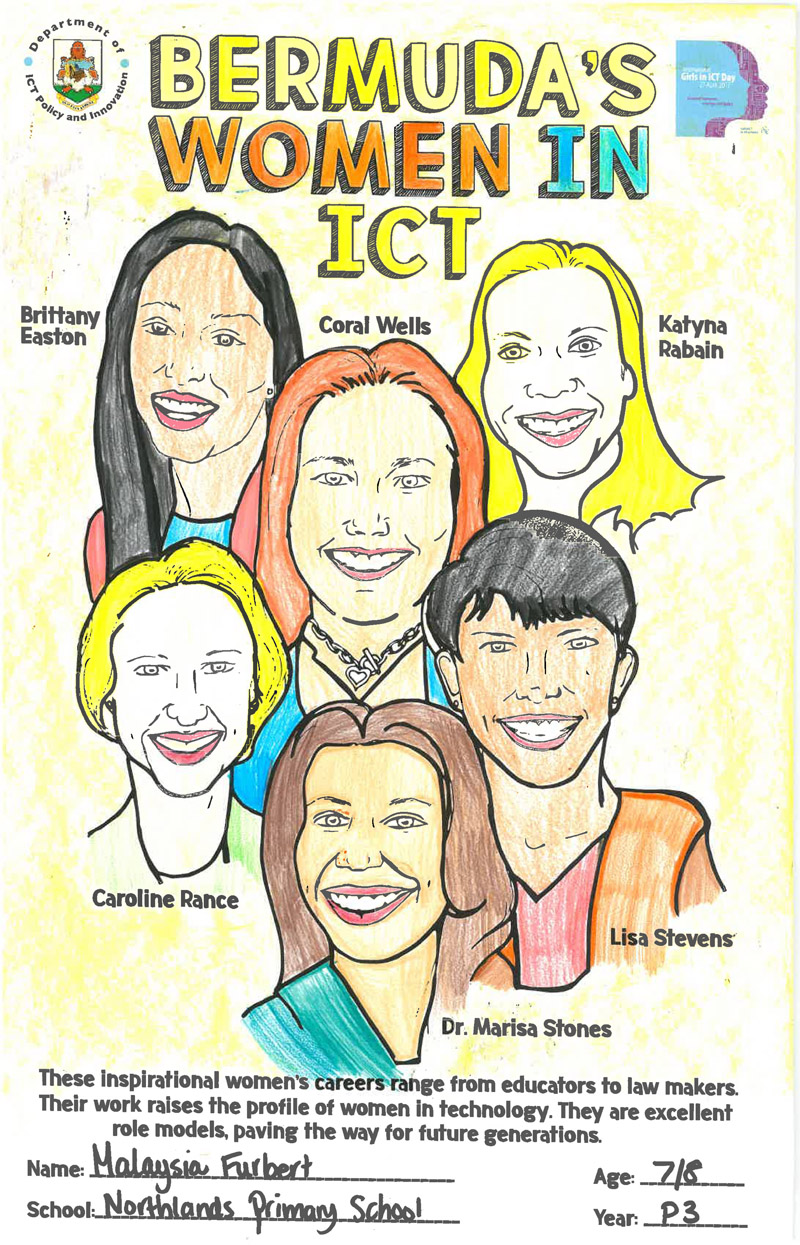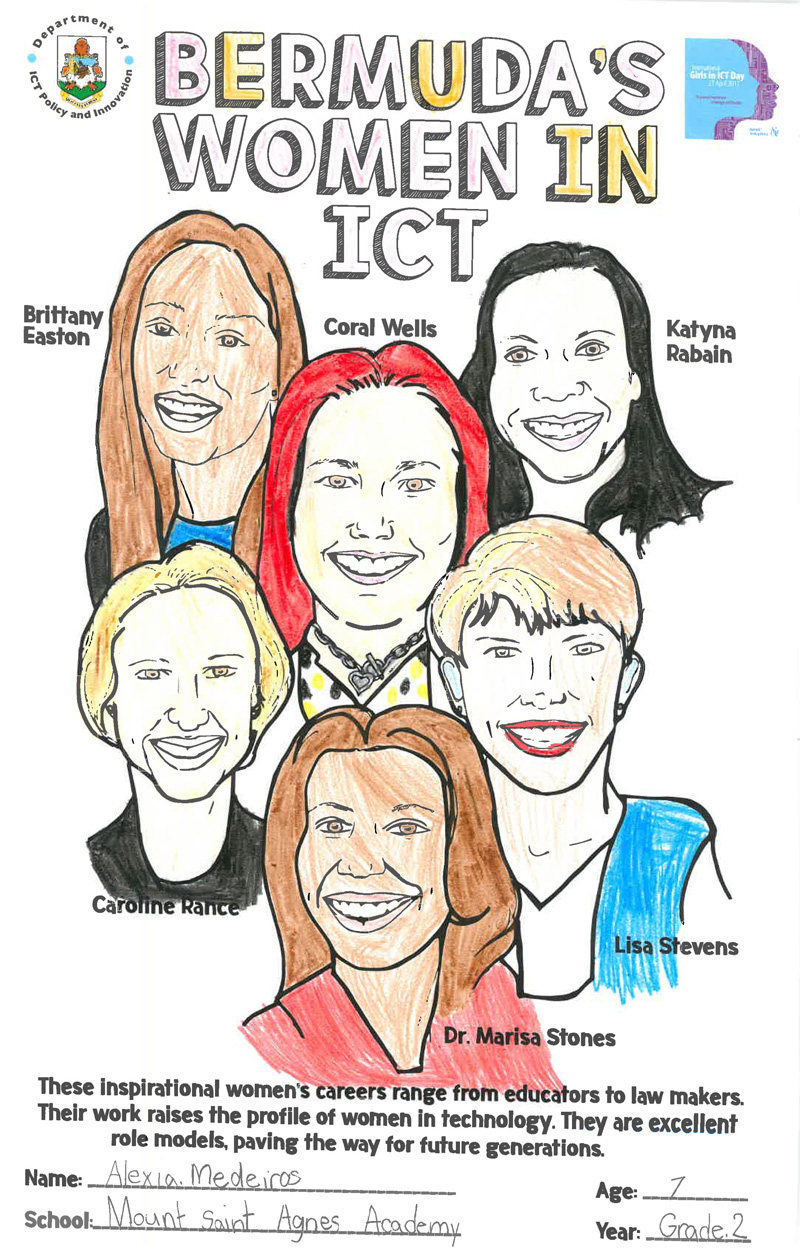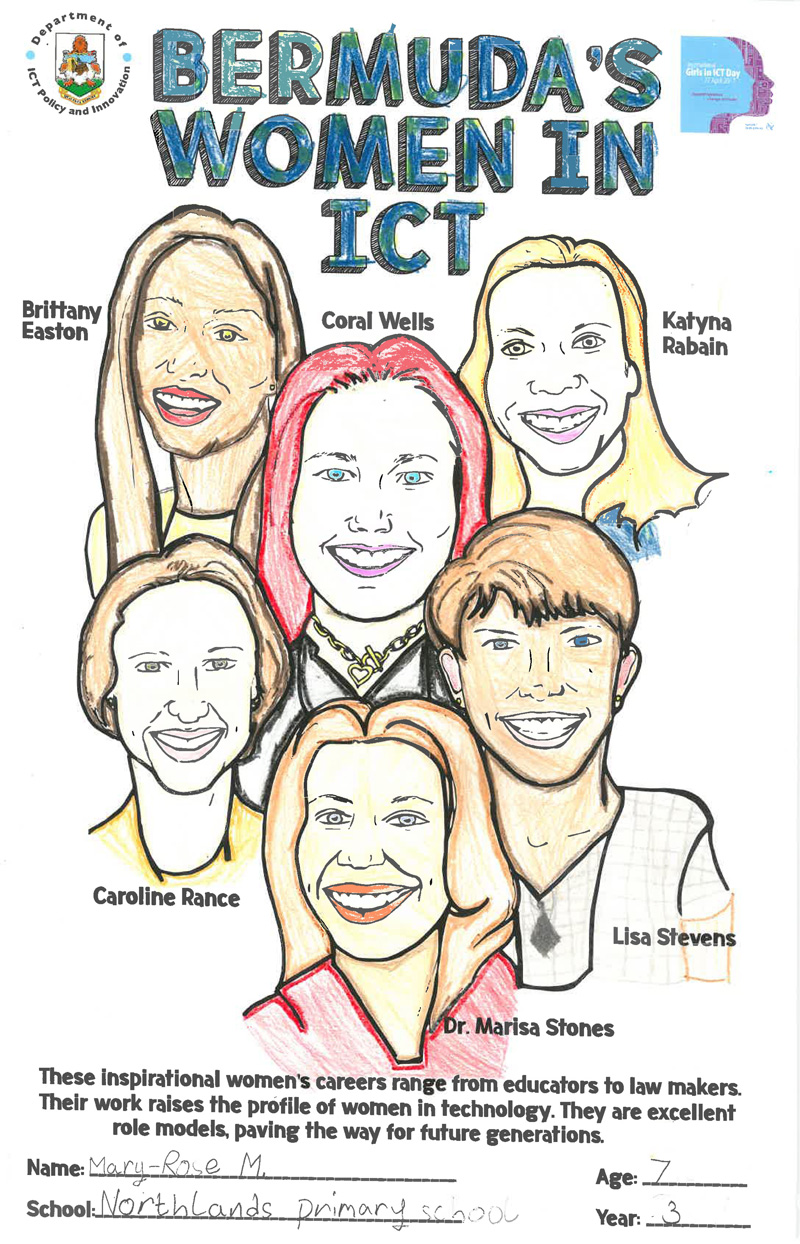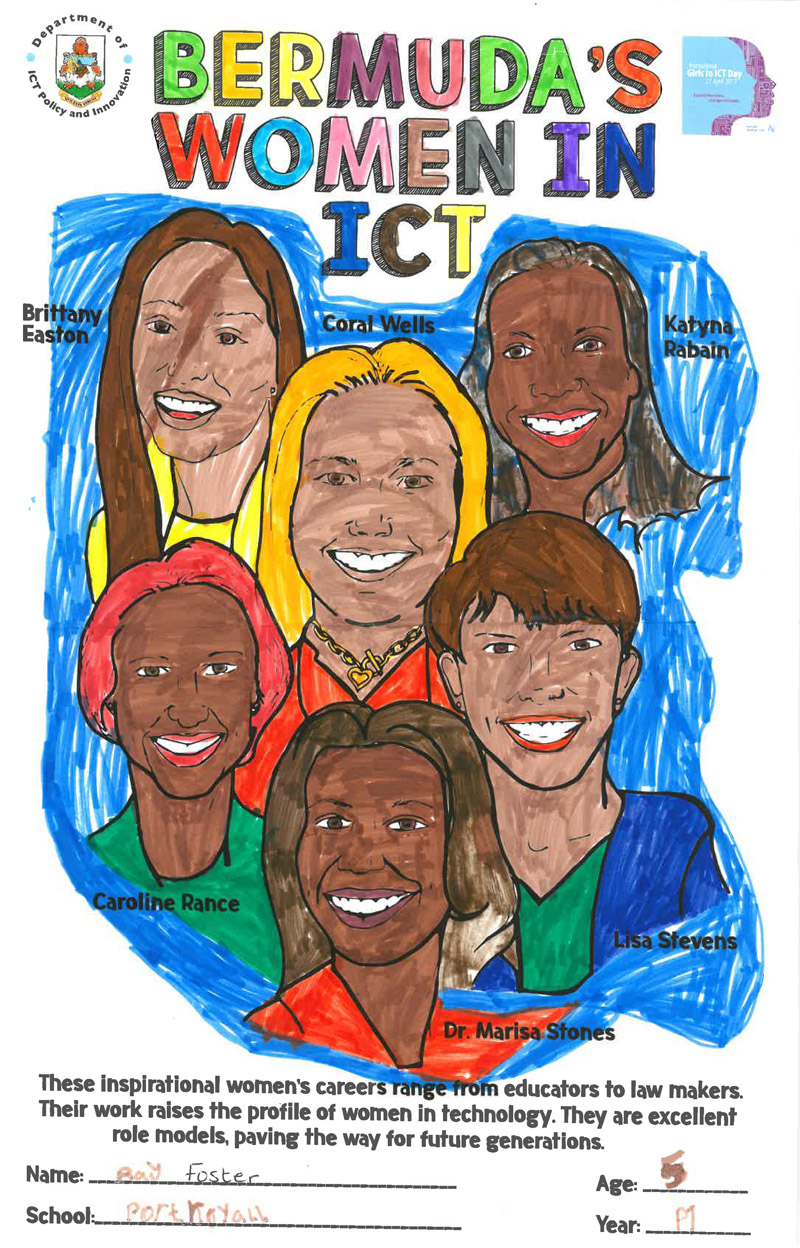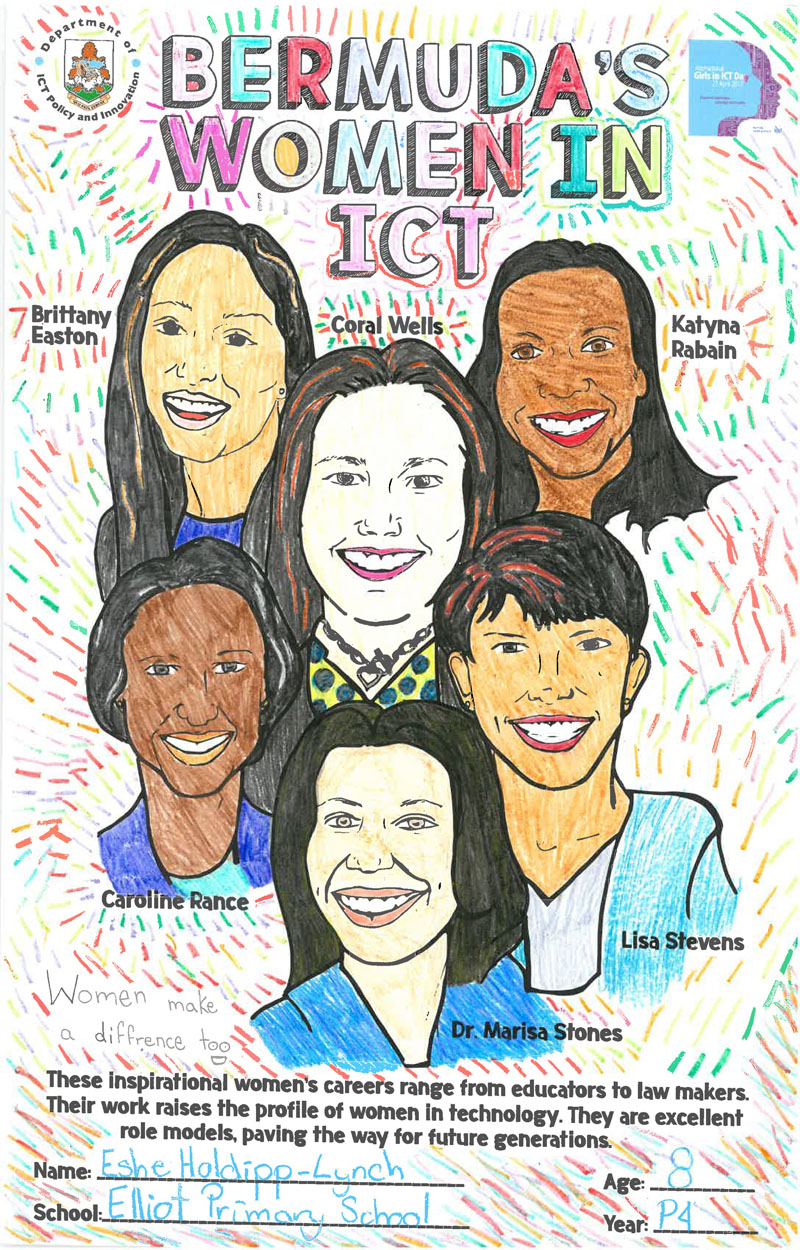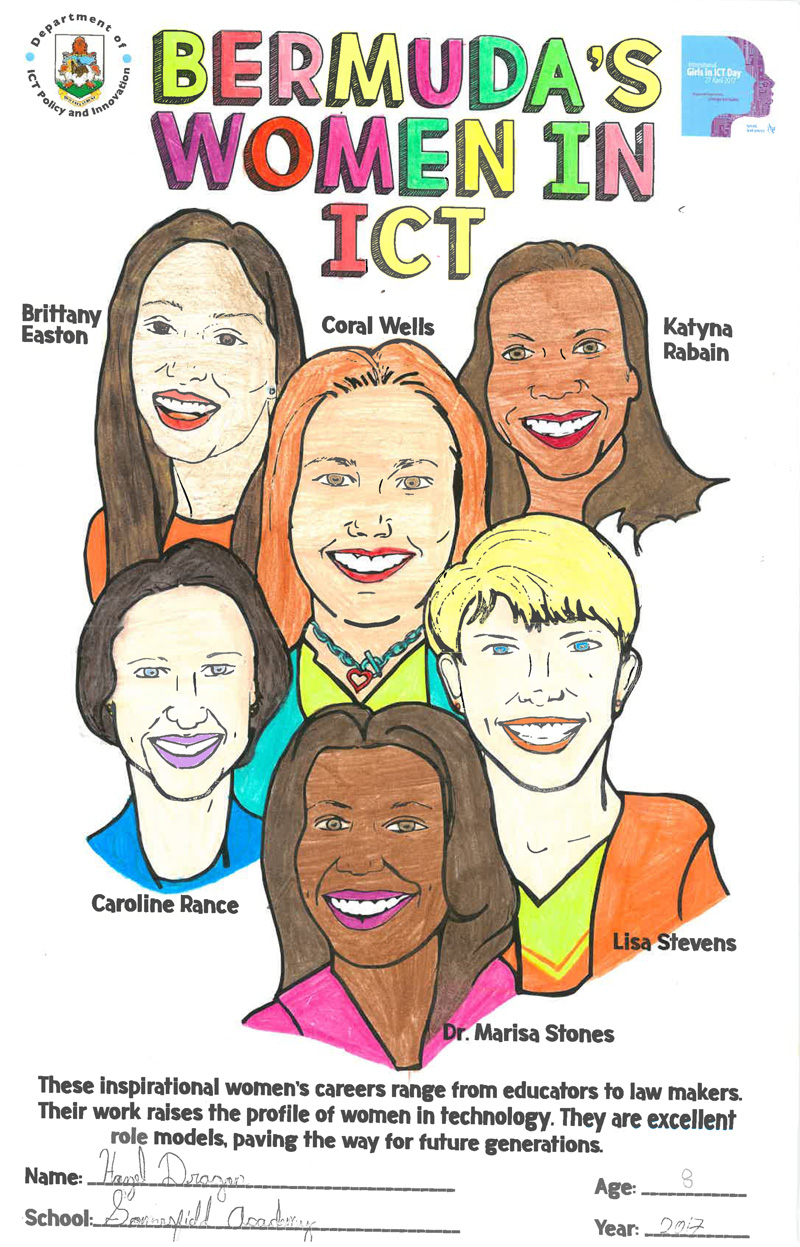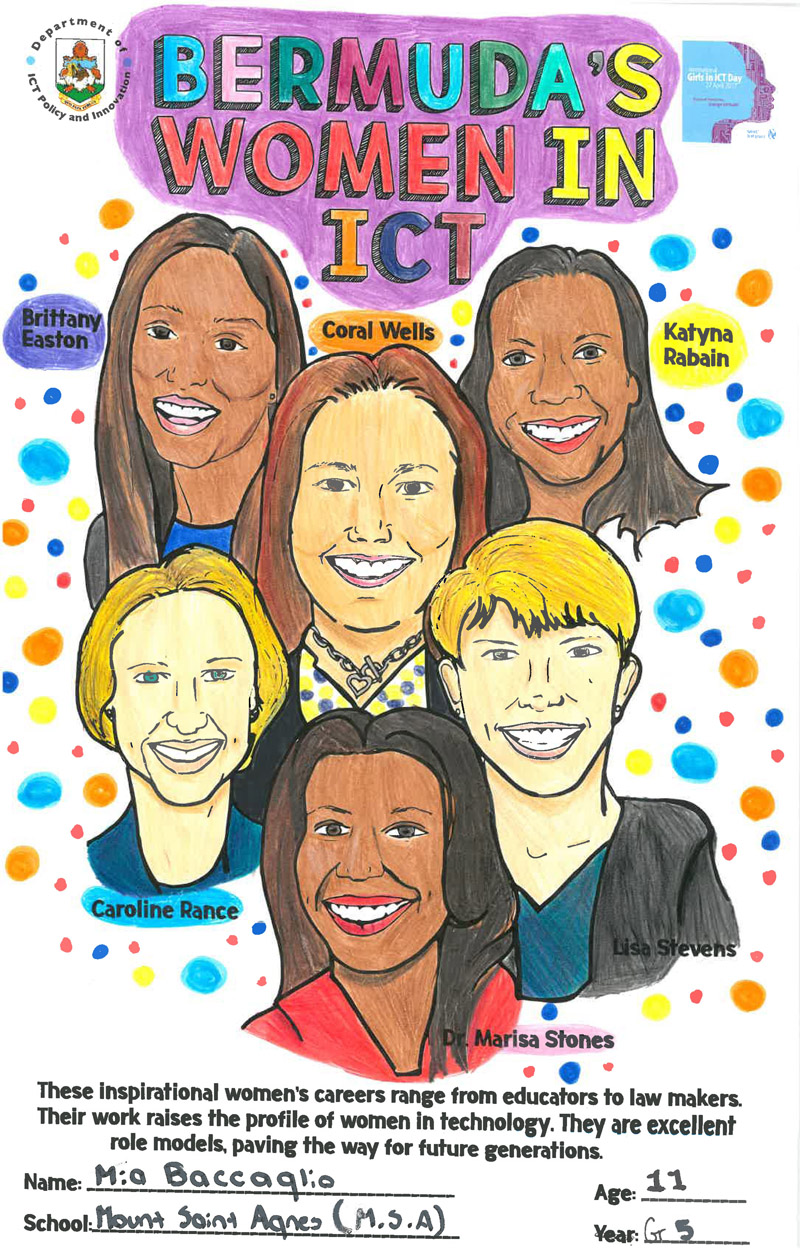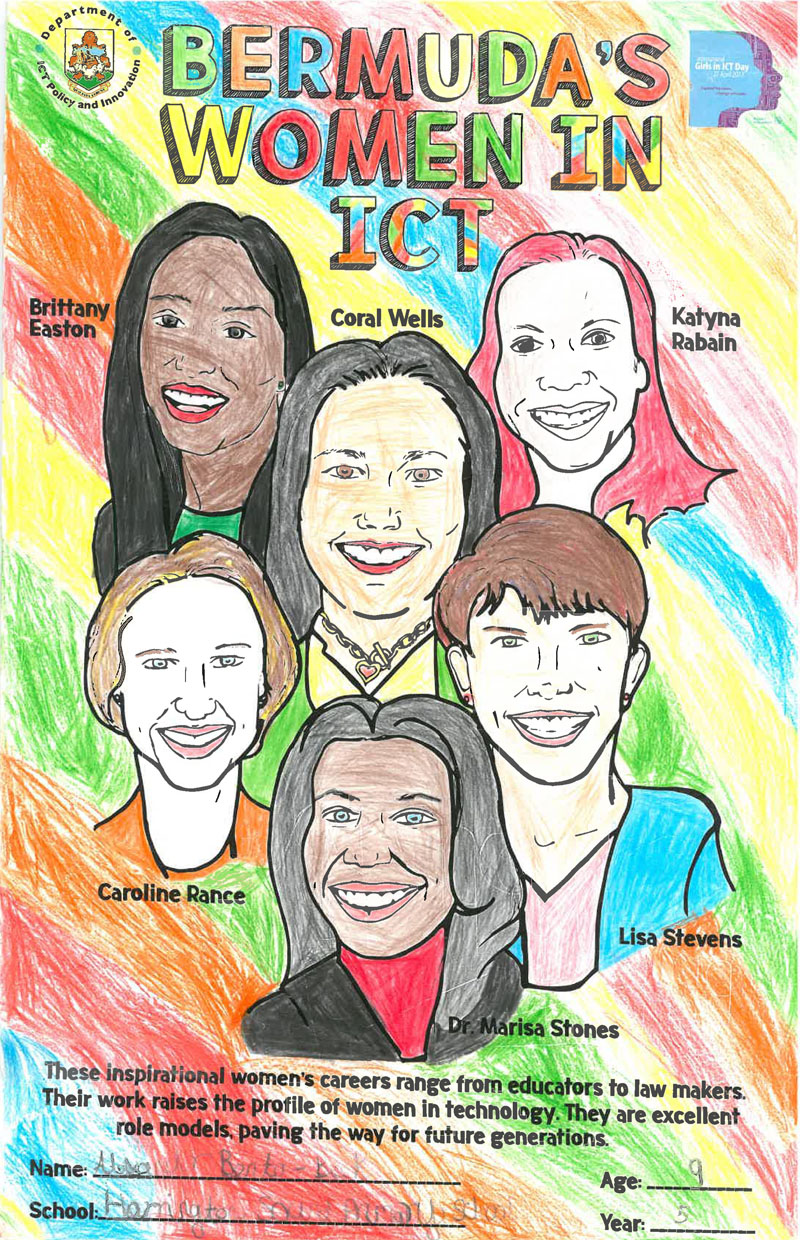 Read More About
Category: All, News, technology