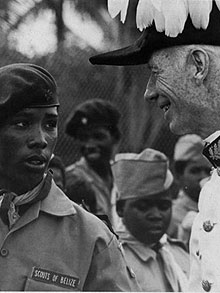 Sir Richard Posnett, recalled as Governor of Bermuda under a cloud of suspicion involving alleged financial irregularities, left a mixed legacy on the island.
He was viewed with suspicion by some in the then United Bermuda Party Cabinet during his 1981-83 stewardship for supposedly advancing a pro-Independence agenda on behalf of the UK's Foreign & Commonwealth Office [FCO].
But the British career diplomat — who had spent decades in Africa and the Caribbean moving former UK colonies including Uganda and Belize [where he is pictured here] to Independence before being posted to Bermuda — was well liked by others in the former governing party as well as by Opposition Progressive Labour Party politicians.
When he died in 2009 at the age of 89, the most fulsome local tribute to the former Governor came from current UBP Leader Kim Swan.
"Sir Richard stood for racial justice — a fitting epitaph for a man whose career was spent exercising constitutional responsibilities in numerous African and Caribbean jurisdictions," said Mr. Swan.
"Whilst Sir Richard's tenure in Bermuda was abbreviated, I personally was a beneficiary of his courage, understanding and compassion. I got to know Sir Richard through my father P.C. Hubert E. E. Swan, who was his Police Chauffeur."
Mr. Swan said he would never forget how the Governor stepped in to demonstrate his anger at a perceived racial slight against him.
"It was 1982," said Mr. Swan. "The Riddell's Bay Golf and Country Club refused an offer by the Bermuda Professional Golfers Association to have me [a suitably qualified professional golfer] represent them in the Bermuda Goodwill Pro Am Golf Championship — a move that was considered racially motivated.
"Sir Richard showed his displeasure with the situation by inviting me to be his guest at the tournament's final banquet, picking me up in the Daimler for our arrival at the Southampton Princess Hotel."
Sir Richard spent more than 20 years in the Uganda colonial service until the early 1960s, then was sent back 16 years later to reopen the British High Commission in Kampala after dictator Idi Amin's brutal regime collapsed in chaos in 1979.
The son of a Methodist missionary, he was born in India on July 19, 1919. He went to Kingswood School and St. John's College, Cambridge, where he formed a ballet society, won a 120-yard hurdles race against Oxford and read Maths before switching to Law.
Called up by the Royal Air Force in 1940, he was enjoying flying when he was asked to join the British colonial service, to which he had earlier applied.
He spent many years in Africa — most of them in Uganda — and helped to organised that country's Independence celebrations in 1962.
British TV News Report On Sir Richard Posnett's Resignation As Governor Of Bermuda
He later served at the FCO's London office, in New York working on the United Nations' committee dealing with colonialism and in 1969 became commissioner on Anguilla, where a British "invasion" was launched after the island announced it was leaving its union with St Kitts, 60 miles away.
He made friends with the supposed instigator of Anguilla's "revolution", Ronald Webster, by challenging him to a cricket match. Sir Richard's team, made up of locals, paratroopers and British bobbies, lost by two runs, but he scored a six, which he said led to his being greeted everywhere: "You de man hit de sixer."
After persuading the FCO that Anguilla could survive economically on its own, he returned for another two years in London, then was appointed governor of British Honduras.
Its premier, George Price, obtained a change of the country's name to Belize and a new capital, Belmopan. But his desire for Independence was restrained by the threat of invasion from neighbouring Guatemala, which claimed much of Belize's territory, coupled with Britain's determination to withdraw its protective military presence as soon as Independence was granted.
On a family holiday in Guatemala in the early 1970s, Sir Richard spotted troops moving to the border with Belize and sent a signal alerting London.
Two days later he found a squadron of RAF Harriers hovering low over his residence. This intervention prevented outright conflict and led to the dispute between Belize and Guatemala being taken to the UN, where a ruling confirmed Belize's territorial integrity. Premier Price was then able to move forward to Independence.
Sir Richard turned down the post of British consul general in South Africa because of his disdain for apartheid and, after serving again in Uganda after the fall of Idi Amin, ended his career being offered the governorship of Bermuda.
But his reputation as an ardent decoloniser did not go down well with everybody.
A complaint by a Bermudian Cabinet Minister was made to the FCO about the expenses Posnett claimed for phone bills, airline tickets and entertaining private guests.
After London recalled him to discuss the charges, the breakdown in relations with local officials proved irreparable.
Sir Richard, who felt the matter had been exaggerated, submitted his resignation, though he was later exonerated of all charges by the FCO.
On returning to the UK he found enjoyable work travelling around Britain as an efficient independent planning inspector.
Sir Richard died on May 11, 2009. He was married three times. His first wife was Elisabeth Stiebel, a Swiss with whom he had a son and two daughters; then, following a divorce, he married Shirley Hudson, an airline stewardess whom he met in Uganda and who bore him two sons and a daughter. After her death he married Eva Inkson, a South African.
Read More About