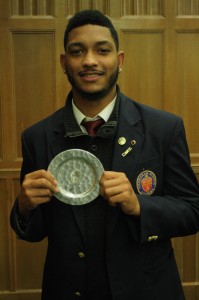 Jahkeem Hunt has been named the Most Valuable Player of the Wilbraham & Monson Academy boy's soccer team, with the honour following the completion of a four-year career that saw him score more than 40 goals and 60 points.
A story on the school's website says, "When Jahkeem Hunt '16 was a freshman, he watched someone he looked up to win the MVP Award for the Boys' Soccer team.
"Undoubtedly, there were many players on the 2015 WMA team who looked up to Jahkeem, who won the team's MVP Award at the Athletic Awards Ceremony Nov. 17.
"I'm really happy," Jahkeem said. "From my first award ceremony, I knew I wanted to win one. I kind of knew I wasn't going to get it sophomore and junior year, so I just kept working.
"I made sure I put myself in position to win it my senior year. I had a good season and had a good career. I'm happy and proud of myself."
"Coach Gary Cook believes Jahkeem had much more than a good season and good career, saying Jakheem was a "special player."
"Over the course of four years, Jahkeem has put up some incredible numbers," Coach Cook said.
"Jakheem, a four-year starter at forward, finished his brilliant career with more than 40 goals and 60 points. Ten of his goals were game-winners.
"My career was up. It wasn't up and down – it was just up," Jakheem said. "My freshman year to my sophomore year was a big improvement. My sophomore year to my junior year was another big improvement. And then my senior year skyrocketed."
"Jahkeem played in all-star games as a junior and senior. He's being recruited by more than 15 colleges from all divisions."
- Photo courtesy of school website
Read More About