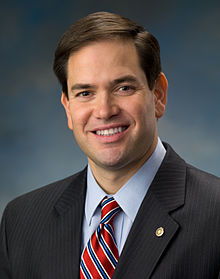 Tech billionaire Larry Ellison — the owner of defending America's Cup champion Oracle Team USA — has given $4 million overall to the super PAC supporting Republican presidential candidate Marco Rubio, according to a report by Politico.
The story said, "A super PAC supporting Marco Rubio's presidential campaign raised $2.5 million in January, including $1 million from tech billionaire Larry Ellison, according to a report filed Saturday with the Federal Election Commission.
"The donation from Ellison, the executive chairman of Oracle Corporation, brings his total spending on behalf of Rubio to $4 million, making him among the top donors of the 2016 cycle.
"Conservative Solutions PAC spent nearly $11 million last month, mostly on ads and direct mail attacking Rubio's rival for the Republican presidential nomination Ted Cruz and his former rival Chris Christie, who has since dropped out."
On a related note, according to a story in the Christian Post, former US Consul to Bermuda Gregory Slayton has endorsed Mr Rubio, saying "there are many reasons for this, including the fact that Marco is the GOP candidate most likely to defeat Hillary or Bernie."
"Frankly, in our opinion the Donald is not fit to be president for many reasons," said Mr Slayton, adding that "Marco is deeply respected by his colleagues in the Senate, unlike Ted Cruz. Ted is widely despised [sad but true] on both sides of the aisle for his willingness to bend, or break, the truth."
"After carefully checking out each candidate; after listening to their speeches and debates and in personal meetings, we believe that Marco Rubio is the most pro-family/pro-life/pro-faith candidate in the mix. And we believe that he can and will win in November of 2016."
The 2016 United States presidential election is scheduled for Tuesday, November 8, 2016. Hillary Clinton and Bernie Sanders are seeking the Democratic nomination, while Dr Ben Carson, Ted Cruz, John Kasich, Marco Rubio and Donald Trump are all running on the Republican side.
Read More About
Category: All