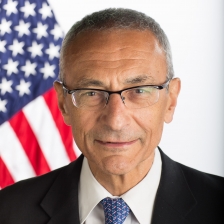 While most of them appear to refer to items that have already been publicly reported, mentions of Bermuda can be found in the 'Podesta Emails', a mass release of emails by Wikileaks which were apparently obtained by hacking the emails of Hillary Clinton campaign chairman John Podesta [pictured].
A search of the Wikileaks website shows that as of this writing there are, technically, 31 files showing for Bermuda under the Podesta section, however some are repeated mentions from the same email trail and some mention the word Bermuda but don't specifically pertain to us.
The emails stem back to 2007, and a few mention 2012 Republican nominee Mitt Romney's use of a Bermuda company, something that was widely reported at that time.
In December 2007, Mr Podesta emailed to say, "We should think about getting this–Sankaty– [offshoring capital to a tax haven] injected into the Republican primary dialogue. Doesn't seem like it's been covered to me."
In response, Democratic strategist Paul Begala said: "I didn't know he was parking assets overseas! Bermuda! The Caymans! Holy sunscreen, Batman! Great stuff."
Multiple emails mention closing the so-called 'Bermuda reinsurance loophole', something which was publicly stated on Hillary Clinton's campaign website earlier this year, and reported on by Bernews at that time.
One email contains a Bermuda reference that does not appear to have been widely reported on prior, with a transcript of a speech Mrs Clinton gave in January 2016 in Burlington, Iowa, saying: "I have proposed what I call a Fair Share Surcharge, because here's what I'm worried about.
"I'm worried about all these gimmicks that the wealthy use to shelter their income, send it to places like Bermuda, call it something that it isn't. So the only way we can end that is to propose a surcharge of 4 percent on every form of their income so they can't hide it."
BDA CEO Ross Webber has previously commented on the mentions of Bermuda during this election campaign, saying "despite our well-acknowledged and mutually supportive relationship" with America, "offshore jurisdictions seem to be expedient targets for political agendas heading into elections."
Other emails in the Podesta files that contain the word 'Bermuda' are referencing publicly available news reports, such as two quoting former U.S. Consul General to Bermuda Gregory Slayton who was supporting a Republican candidate, a reference to golf in Bermuda, and a reference to the 'Bermuda Triangle'.
WikiLeaks says it has around 50,000 emails to and from Mr Podesta, and has been releasing them in batches.
The emails have been the subject of numerous international reports, and on October 17th, WikiLeaks posted on Twitter that its Julian Assange had his internet access cut off by Ecuador.
Ecuador later confirmed this saying, "Ecuador granted political asylum to Julian Assange in 2012 based on his legitimate fears of political persecution because of his journalistic activities as the editor of WikiLeaks.
"In recent weeks, WikiLeaks has published a wealth of documents, impacting on the U.S. election campaign. This decision was taken exclusively by that organization.
"The Government of Ecuador respects the principle of non-intervention in the internal affairs of other states. It does not interfere in external electoral processes, nor does it favor any particular candidate.
"Accordingly, Ecuador has exercised its sovereign right to temporarily restrict access to some of its private communications network within its Embassy in the United Kingdom. This temporary restriction does not prevent the WikiLeaks organization from carrying out its journalistic activities."
According to CNN, Mr Podesta said, "It is now clear that the illegal hack of my personal email account was — just like the other recent, election-related hacks — the work of the Russian government.
"This level of meddling by a foreign power can only be aimed at boosting Donald Trump and should send chills down the spine of all Americans, regardless of political party."
As far as how Mr Podesta's email was hacked, Salon reports that, "A researcher at the company SecureWorks told Motherboard that Podesta was sent an email on March 19 that appeared to have come from Google.
"In the email was a link using Bitly, a URL shortening service. Podesta clicked on this link, which took him to a fake Google page, where he then typed in his login information."
Read More About