"It beggars belief that anyone would have a problem with giving rights to people who have spent 20 years in a country" and "we must move forward and do what is right," said Minister of Home Affairs Michael Fahy.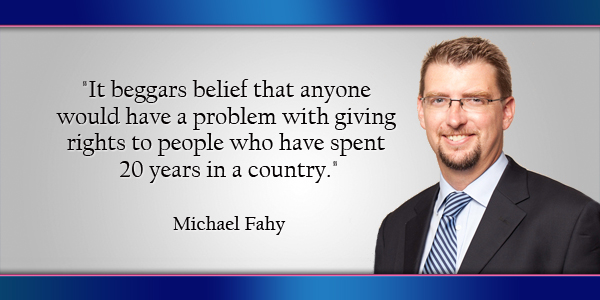 Background
On Friday, the Minister announced they plan to amend the law, with changes to include any person who is ordinarily resident in Bermuda for 15 years becoming eligible to apply for permanent residency, and any permanent resident who is ordinarily resident in Bermuda for 20 years becoming eligible to apply for Bermudian status.
The announcement drew criticism from the Opposition, with MP Walton Brown saying, "The OBA Government has completely lost its mind" as they have "taken unilateral steps with contempt for Bermudians reminiscent of the racist policies of the 1960s." "There is no longer space to discuss and negotiate," added Mr Brown. "This is the time for direct action. Civil disobedience."
In addition, Shadow Minister of Home Affairs Walter Roban said, "In typical OBA fashion, Home Affairs Minister Michael Fahy announced revised Immigration Policy that would award status to residents who have been in Bermuda over 20 years, and award PRC's to those that have resided in Bermuda for 15 years.
"This knee jerk reaction, likely in response to the defeat at the polls, and in contravention of their pre-election promises, shows that the OBA is not a party that learns from their mistakes, but rather one that seems intent on repeating their mistakes with the goal of securing long term power.
"The Progressive Labour Party continues to call for joint comprehensive immigration reform rather than this piece meal approach being employed by the OBA government."
Minister Fahy's Comments
Minister Fahy said, "The responses from Mr Roban and Mr Brown are not at all surprising and are absolutely typical of what the public have come to expect from the Opposition when it comes to immigration. In true fashion their rhetoric and misleading statements are what they lead with.
"It is absolutely laughable to say these changes are a knee jerk reaction to anything, which makes it clear that Mr Roban did not read our comprehensive statement from Friday. Rather than using stock phrases like "comprehensive immigration reform", which after all this is, Mr Roban might share his party's vision.
"It is my view that the further outlandish remarks he and Mr Brown make, which certainly demonstrate their contempt for the right thing to do and their dismissal of human rights and those who are likely friends and neighbors, the more they show they are the ones out of touch with what Bermuda needs to be sustainable.
"Love they Neighbour. Embrace and show love and respect, rather than division do not seem to be words they are capable of using, all the more surprising from a Labour Party which professes to be progressive.
"I reiterate my desire to see sensible debate. After all, everyone in Bermuda came from somewhere. Calling for civil disobedience or similar cries do nothing more than show the world we are not welcoming.
"It beggars belief that anyone would have a problem with giving rights to people who have spent 20 years in a country. That is in fact a lifetime.
"Perhaps Mr Roban should look around and think about just how recently some of his colleagues came to Bermuda or where they were born before he casts stones at glass houses.
"We must move forward and do what is right," added Minister Fahy.
Information Sheets Provided By The Ministry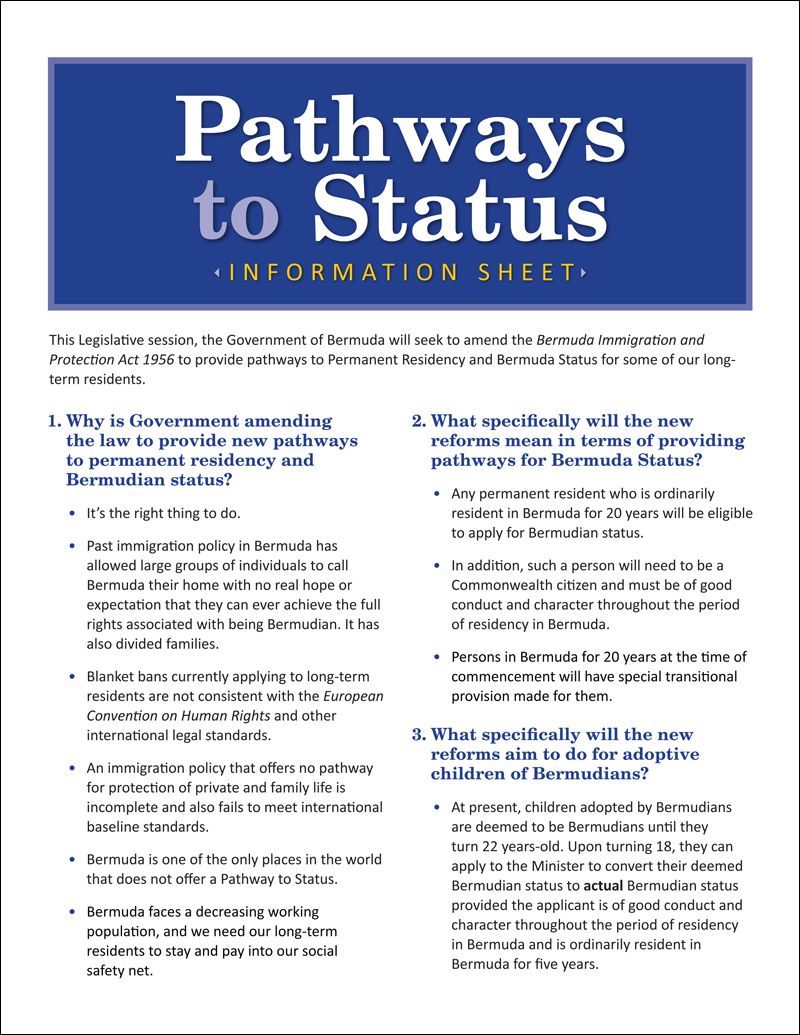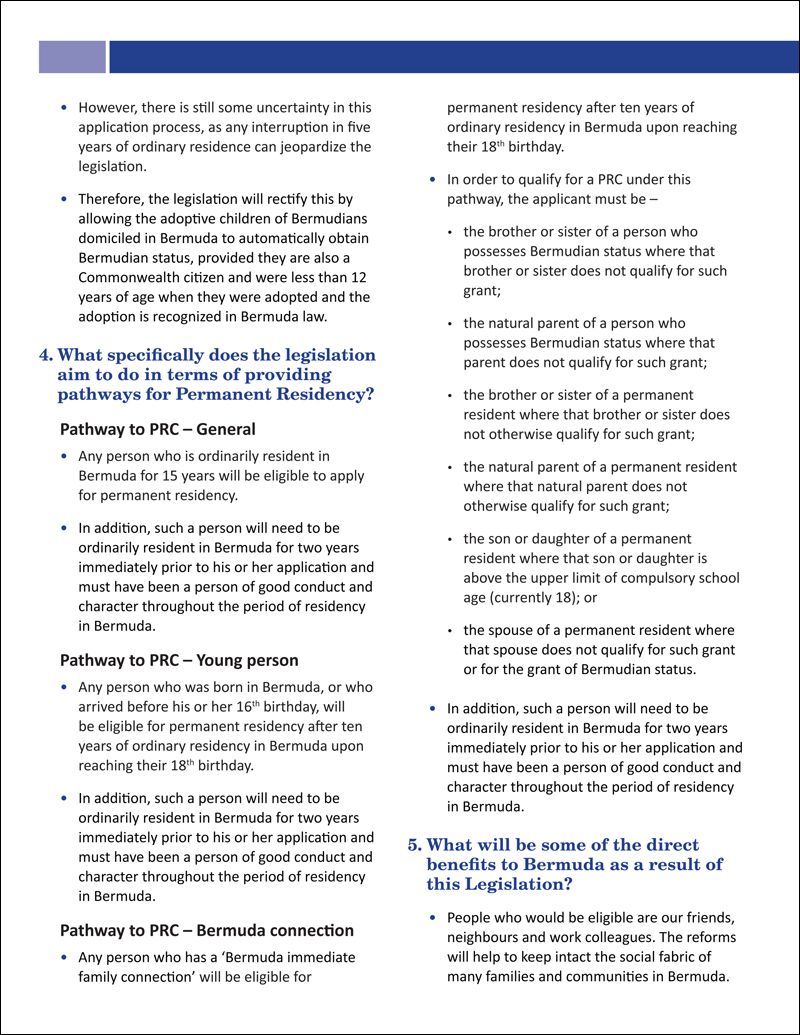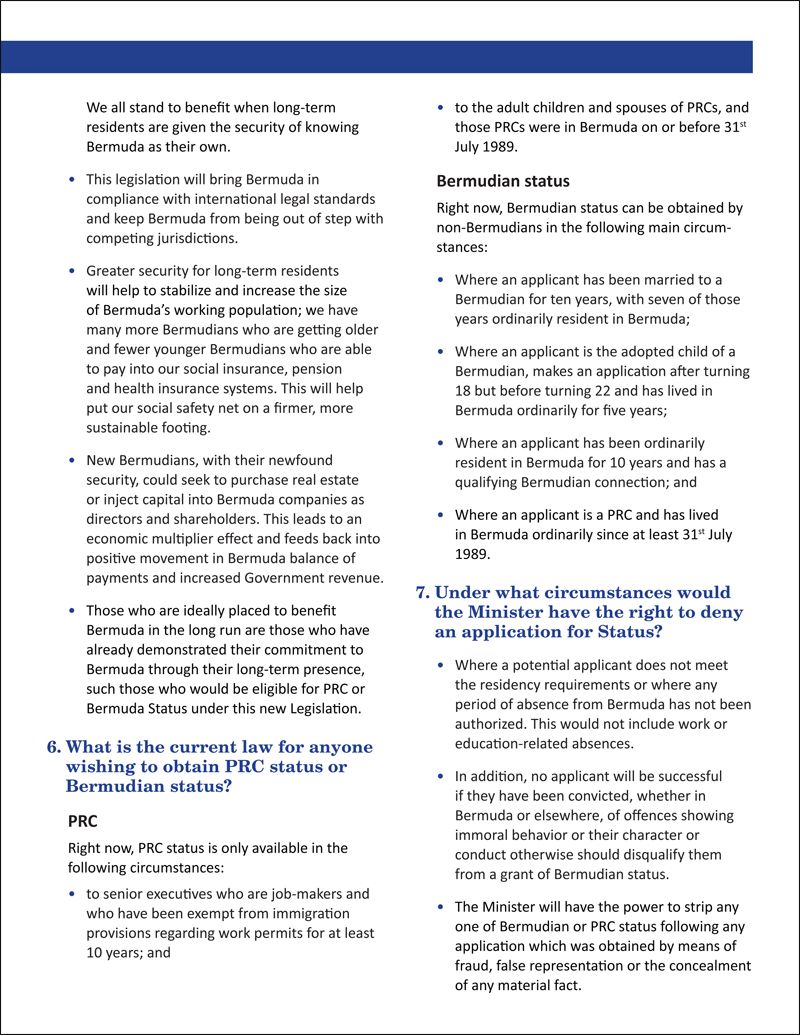 Read More About