Over the weekend residents of Horseshoe Road cleaned up their neighbourhood as part of a new beautification project managed by the Bermuda Tourism Authority [BTA]. Keep Bermuda Beautiful [KBB], Almeida's Landscaping, SAL and Butterfield & Vallis are among the other partners.
The work on Horseshoe Road is a pilot, the first of a three-part programme to support neighbourhoods that want to beautify their public roadways.
The BTA is managing the project with a focus on neighbourhoods near popular visitor attractions. In this case, Horseshoe Road's proximity to Horseshoe Bay Beach qualifies it for consideration.
More than two dozen volunteers – most of them residents of the neighbourhood – rolled up their sleeves and got to work.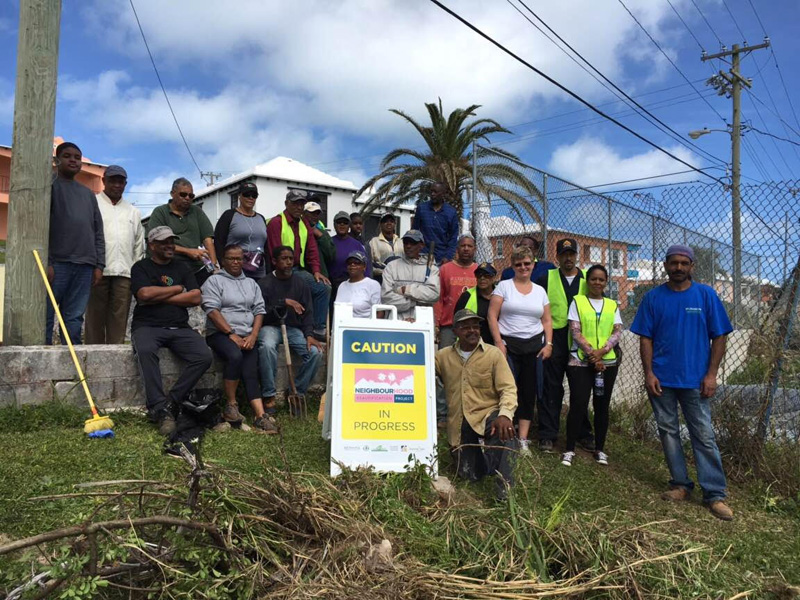 Horseshoe Road organizer Lee Tucker said: "Our neighbourhood and the surrounding area was known as the Gold Coast of Bermuda.
"This project is a great opportunity for our residents to come together and ensure it once again is beautified and maintained to the standards we know it should and can be. This weekend was a great demonstration of our pride and sense of community."
Along with residents in the area, Southampton Rangers Sports Club brought volunteers and resources to the project.
"This is a great initiative by the BTA and KBB," said Gerri Saltus, club president. "It was a great cross-section of people, including our members and players. More people need to take pride in their neighbourhoods. We are proud to take part in this pilot programme."
The BTA will be working with other neighbourhood groups to facilitate additional clean-up projects.
Karla Lacey, COO of the BTA said: "The BTA is proud to bring together the resources of the private sector and community-minded residents to make this a reality.
"If the remainder of this pilot programme continues as enthusiastically as what we experienced this weekend I think we can have a tremendously positive impact across the island."

Read More About
Category: All, Environment