To commemorate International Women's Day on Tuesday, March 8th, women and girls representing Bermuda's political, cultural, public service, business, education and social advocacy communities plus local residents will gather at City Hall.
A lunchtime event will highlight the day's significance and bring attention to gender equality. The public is invited to attend Bermuda Women's Day, which opens at 11:45 a.m with zumba followed by speakers and entertainment at noon. Food and beverages from women-owned businesses will be available for sale.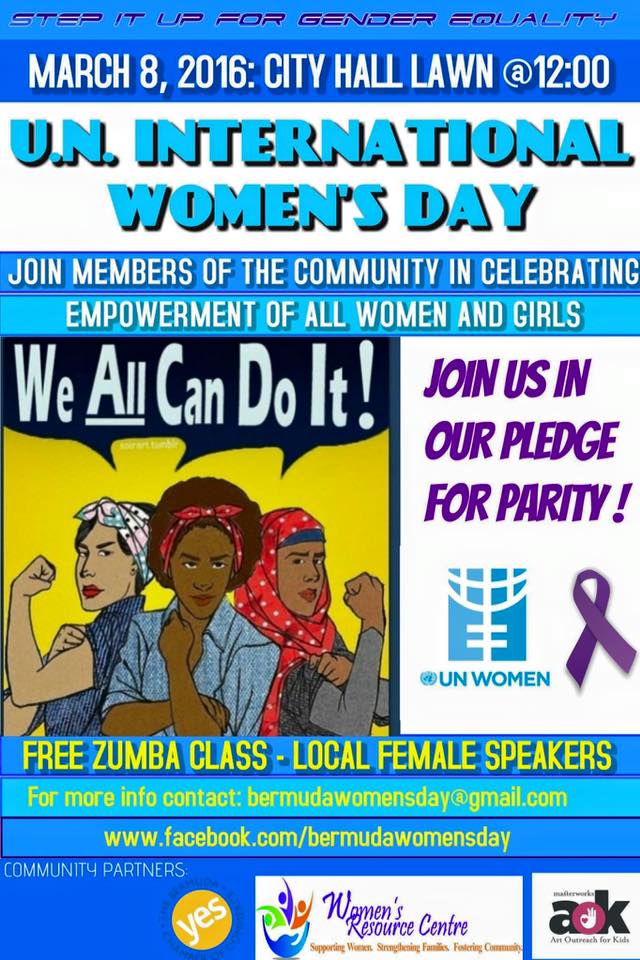 The United Nation's 2016 theme for International Women's Day is "Planet 50-50 by 2030: Step It Up for Gender Equality." To help attendees "step it up" at Bermuda Women's Day, there will be a free zumba class with a D.J. starting at 11:45am hosted by Masterworks AOK, a fitness fundraising group.
The UN observance of International Women's Day on March 8 will focus on how to accelerate a worldwide agenda on women's empowerment, which the Bermuda event will support with women and girls sharing their perspective on these themes and what kind of world they envision in 2030.
Participants scheduled to appear include:
Carol-Ann Simmons, Executive Director, Women's Resource Centre
MP Kim Wilson
Mary Ellen Koenig, U.S. Consul General to Bermuda
Joy Barnum, Bermudian singer
Lori-Ann Stovell, Bermudian
Kathleen Reardon, CEO, Hamilton Re
Russann Francis, Sergeant, Bermuda Fire and Rescue Service
Toni Daniels, Owner, Down to Earth
Senator Lynne Woolridge, Chair, OBA
Alyssa Rose, Miss Bermuda
Sandra Beach, Commandant, Bermuda Reserve Police
Sophia Marshall, Head Girl, BHS
Namrata Bisht, BHS student, Premier of Bermuda's Youth Parliament
Caroline Carrington, Chairperson, International Women's Club of Bermuda
The event will benefit The Women's Resource Centre, one of the island's leading support resource for women and girls with education, counselling and advocacy programs dedicated to enhancing their lives. Local students from BHS will collect charitable cash donations at the event, or contributions can be made can also be made through Premier Tickets here.
"This day is not only about acknowledging achievements in gender equality. It's also about addressing the challenges that are holding women and girls back from reaching their full potential," said Carol-Ann Simmons, Executive Director of the Women's Resource Centre.
"Commemorating the day is our way of 'stepping it up' to make this happen. We believe that by supporting women you're fostering families and strengthening the whole community, so we're enthusiastic about this event's goal to reinforce our mission."
"Women are well-represented in our Government — in fact we lead the way in this area — and women are a driving force in our political parties. But we always strive to make sure women have more and more of a voice in politics as we continue to build a Bermuda that's better for everyone," said Senator Jeff Baron.
"We're excited about Women's Day Bermuda as an event and what it means for our community," said Katarina Hoskins, Austria's Honorary Consul to Bermuda and member of the Bermuda Women's Day 2016 committee.
"This is a special occasion that brings together an amazing group of diverse women to share our strengths and unite in our pledge for parity. We're thrilled that we're even able to include the voices of young women that will shape this movement's future."
Wakefield Quin, one of Bermuda's leading law firms, is sponsoring this event.
Read More About
Category: All