Oracle Team USA will mentor Team BDA in preparation for the Red Bull Youth America's Cup, which means the soon-to-be-selected team of young Bermudian sailors will automatically advance to the Qualifying Series on the Great Sound in 2017.
The announcement comes as Team BDA contenders tonight [Wednesday March 23] begin the last training camp which will eventually decide who is chosen to represent Bermuda in the event next June.
The camp, which will put contenders through intensive mental, physical and training tasks, will take place primarily at the Oracle Team USA base and at AC Endeavour West, both in Dockyard.
Jane Savage, chairperson of the Team BDA Red Bull Youth America's Cup committee, said she was grateful for all the support from Oracle Team USA and called this most recent development "a tremendous gesture".
"Oracle's mentorship ensures Bermudians will get to watch live as their home team competes against some of the best sailors in the world.
"Oracle Team USA have been great ambassadors and have developed a big role in Bermuda's community which is benefiting so many people in different ways."
Oracle Team USA skipper Jimmy Spithill said: "The inaugural Red Bull Youth America's Cup proved the concept – the best young sailors now have a pathway towards joining an America's Cup team.
"Look no further than the Kiwi team, where Peter Burling, Blair Tuke and Guy Endean won the RBYAC in 2013, and now they are leading Team New Zealand's America's Cup crew.
"On our team, Cooper Dressler is emerging as a strong force, joining us for a job on the shore team last year and basically forcing his way onto the sailing team through his determination and a great attitude to succeed.
Members of Team BDA which entered the Bermuda Triple Challenge with members of Oracle Team USA.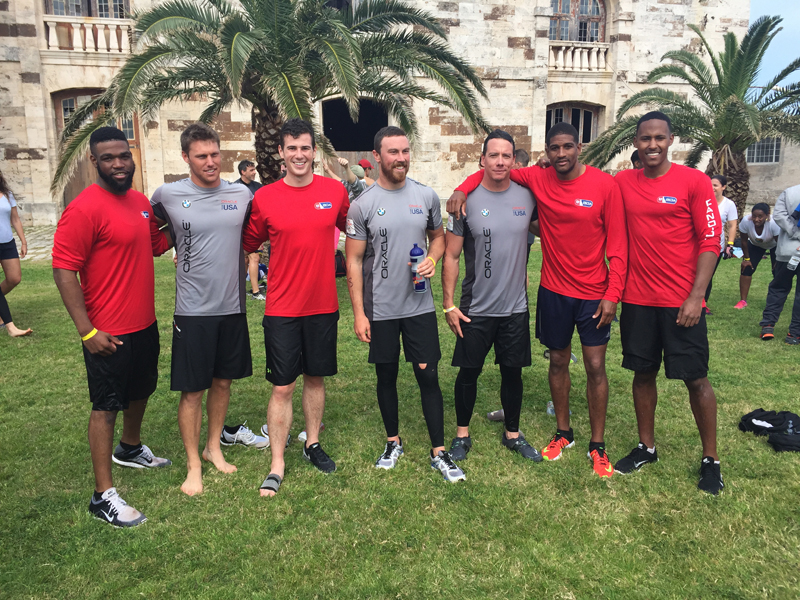 "I have no doubt we'll see some of the guys in this edition of the Red Bull Youth America's Cup doing the same in a couple of years.
"It all starts with the young kids, who are getting a chance to experience the sport with AC Endeavour. This has been so successful in Bermuda that we're now going to roll it out at the Louis Vuitton America's Cup World Series events in New York and Chicago this year as well.
"So from the kids, up to the youth sailors, and then to the America's Cup, the pathway is there."
According to the Red Bull Youth America's Cup website "six youth crews will compete in Bermuda through their affiliation with current America's Cup teams.
"Up to ten additional teams will be selected by Red Bull Youth America's Cup Sport Directors Roman Hagara and Hans-Peter Steinacher before the end of the November 2016.
Members of the Oracle Team USA which entered the Bermuda Triple Challenge with Team BDA logo.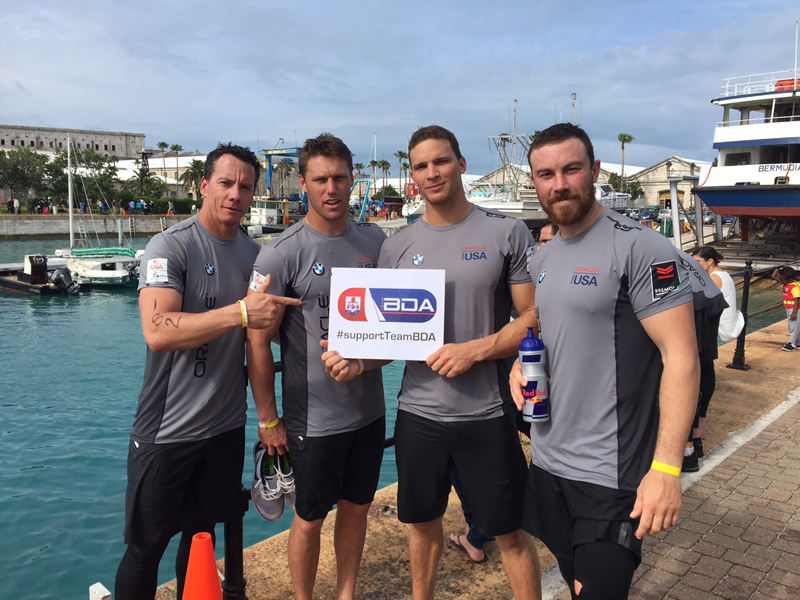 "These top teams will then race in a Qualifying Series to determine the top eight who will face off in two days of fleet racing scheduled during the week between the America's Cup Finals."
Because Team BDA is affiliated with Oracle Team USA it means Bermuda's team has secured a place for the Qualifying Series in Bermuda.
Grant Simmer, the General Manager of Oracle Team USA, said: "We're proud to be affiliated with Team BDA and to be helping to create a pathway towards a professional career in the sport.
"We will provide support to Team BDA, including use of our facilities and access to coaching and mentoring. We will do the same for whichever team emerges as an entry from the USA as well."
Racing in the Red Bull Youth America's Cup will take place in the same foiling AC45F catamarans used by the America's Cup teams in last October's Louis Vuitton America's Cup World Series Bermuda.

Read More About