Oracle Team USA has been hosting two Red Bull Youth America's Cup teams last week in Bermuda – the local sailors on TeamBDA as well as the American entry, Next Generation USA.
The teams have been training on the Oracle Team USA AC45F – a foiling, wing-sailed catamaran that America's Cup teams race in the Louis Vuitton America's Cup World Series. It's powerful, fast, maneuverable and physically very challenging to sail.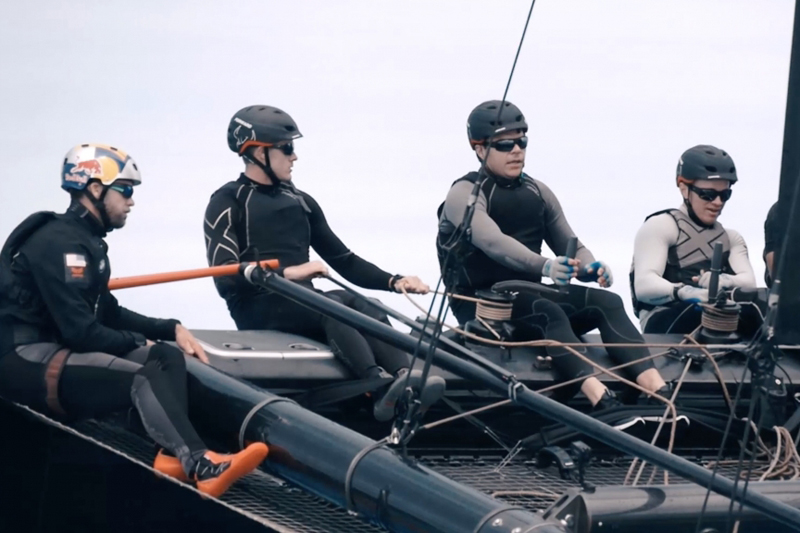 Andrew Campbell, a tactician with Oracle Team USA, went sailing with the Next Generation USA team on their first day out, to show them the ropes.
"I'm excited for how these guys are going," Campbell said. "It was their first day, they had a great day. A full range of the breeze so a bit of a baptism by fire in a lot of conditions. They're going to be ready – it's good to watch."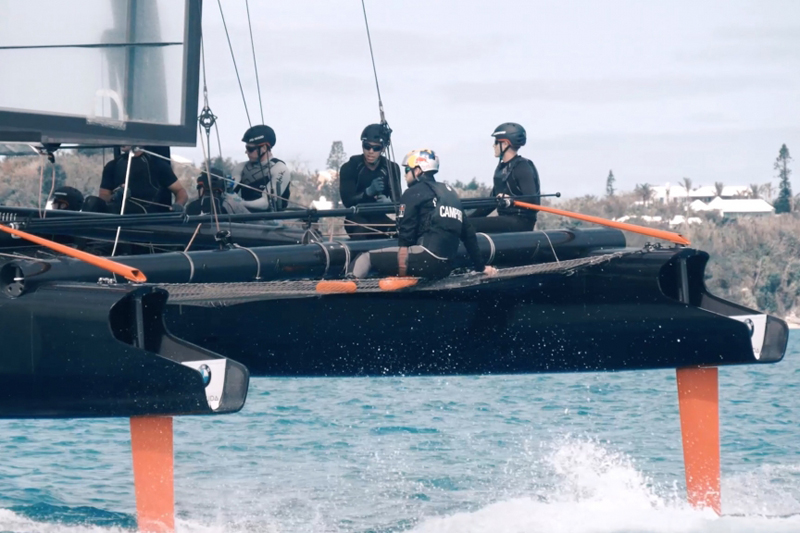 Next Generation USA skipper Carson Crain said the help was invaluable. "We learned a lot. It was good day for us and we learned a lot." he said.
"Andrew was great. He helped us with all the maneuvers, telling us what was safe, what what's not safe and how to make the boat go faster. We did some practice starting [against TeamBDA] too and he helped us with our timing, so he was a great resource for our team."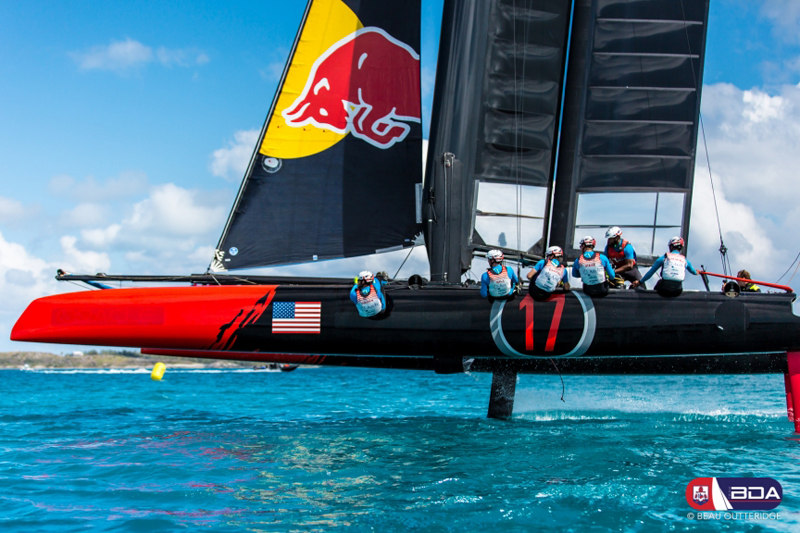 "They have a lot of questions," Campbell laughed. "Trying to guide them in the right direction. I think they have the right ideas, but I'm just confirming that things are going right – that's what I'm there for."
TeamBDA skipper Mackenzie Cooper added: "Our first couple of days on the AC45F have been a great learning experience. Having [Oracle Team USA wing trimmer] Tom Johnson show us the ropes on our first day out was incredibly helpful, and we hope to increase our performance during the remainder of our permitted training period."
In addition to the on water program, the two youth teams have had fitness sessions [gym and pool] with Oracle Team USA athletes and trainers as well as access to the team's 'playbook' for sailing the AC45F – the bible for who does what through each maneuver.
TeamBDA Head Coach Richard Clarke said: "Having the use of Oracle Team USA's AC45F is critical in our preparation to race this same boat in the Red Bull Youth America's Cup in June. TeamBDA is adapting incredibly fast to this new, highly technical platform, and I am looking forward to next week when we hope to have the opportunity to really light it up out there."
Both TeamBDA and Next Generation USA will be competing against 10 other international teams in June in Bermuda.

Read More About