The Bermuda Underwater Exploration Institute [BUEI] and Gass Productions will present episode four of the ongoing "Ocean Vet" series at an installment of the BUEI Talks series on May 2 and May 5.
The screening of the episode – titled "The Mighty Marlin" and narrated by actor Michael Douglas – will be held at 7.30pm on each day.
The event poster says, "Neil expands his veterinary knowledge and tests his fishing skills to their limit in one of the teams most exciting adventures. Watch as Neil and the Ocean Vet team wrestle a monster blue marlin to the side of the boat to attach a satellite tag that will track its oceanic migrations."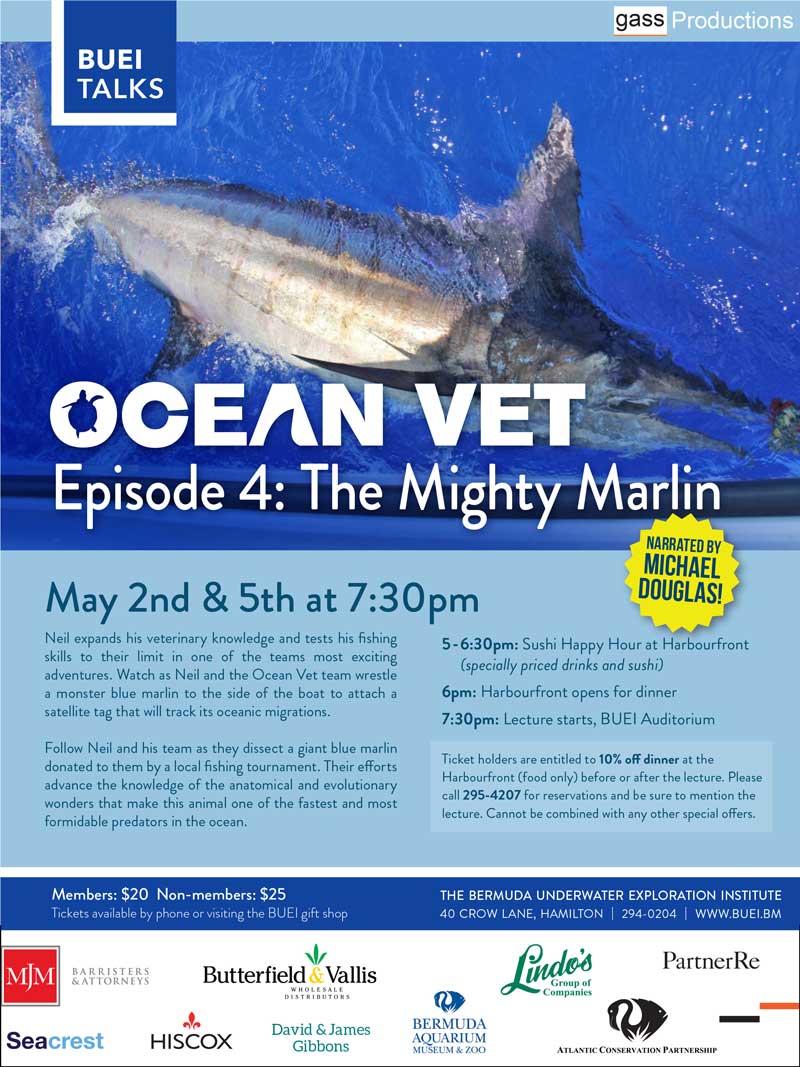 "Follow Neil and his team as they dissect a giant blue marlin donated to them by a local fishing tournament. Their efforts advance the knowledge of the anatomical and evolutionary wonders that make this animal one of the fastest and most formidable predators in the ocean."
Preceding the 7.30pm screening, a Sushi Happy Hour will be held at Harbourfront from 5.00pm to 6.30pm, with dinner opening at 6.00pm.
Tickets cost $20 for members and $25 for non-members, and are available by calling 294-0204 or visiting BUEI's Oceans Gift Shop.
Read More About
Category: All, Entertainment, Films/Movies