St. Paul AME Church is getting set to present "Sinnerman: Death in One Colour," a play written and producted by Dale Butler and directed by Rotimi Martins, from April 28 to April 30.
The play will be held each evening at 7.00pm at St. Paul AME Centennial Hall, with a 2.30pm showing on April 30.
Tickets to the evening shows are $30 each and $25 each for the afternoon show, and are available online at bdatix.com, MusicBox, and St. Paul AME Church, with partial proceds going to the church and to Mirrors.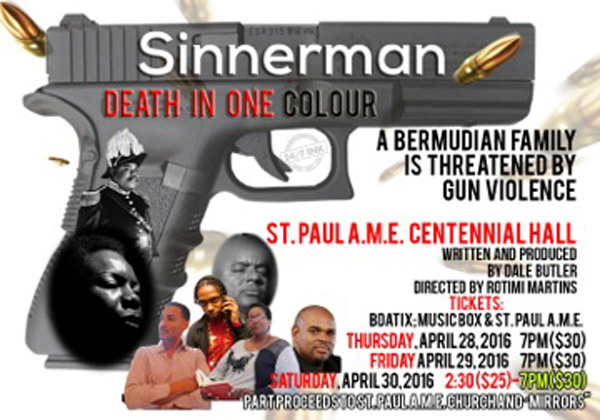 A spokesperson said, "A working class family, fortified with music and the love of Marcus Garvey, is determined to provide for their two orphaned grandchildren by raising them with old-fashioned values in a society that has changed drastically.
"With a great deal of pride, they look to celebrate the departure of one grandson for university in England when suddenly they get the shock of their lives. Just when everything seems fine, tragedy strikes, leaving the family searching for answers and under the gun.
"In this new play, Dale Butler's strong love for Nina Simone is cultivated into a spellbinding eye-opener about Bermuda's unprecedented gun violence."
Read More About
Category: All, Crime, Entertainment, News