The Christian Science Society of Bermuda is getting set to offer a free lecture to be given by Enrique Smeke, a Christian Science practitioner, teacher, and lecturer from Boston.
The lecture, titled "Are You Ready to Take the First Step?," will be held on Thursday, April 7 at 7.30pm at Charities House at 25 Point Finger Road in Paget.
Mr. Smeke said, "What is that first step that will lead us to decide between two choices? How can we take that first step towards a more harmonious relationship with friends or relatives? And, what is that connection with God the Bible tells us we have that enables us to enjoy a better, more stable health?"
"It seems difficult to break through self-doubts and fears. Sometimes we can't see how to advance forward; we may feel stuck in the problem."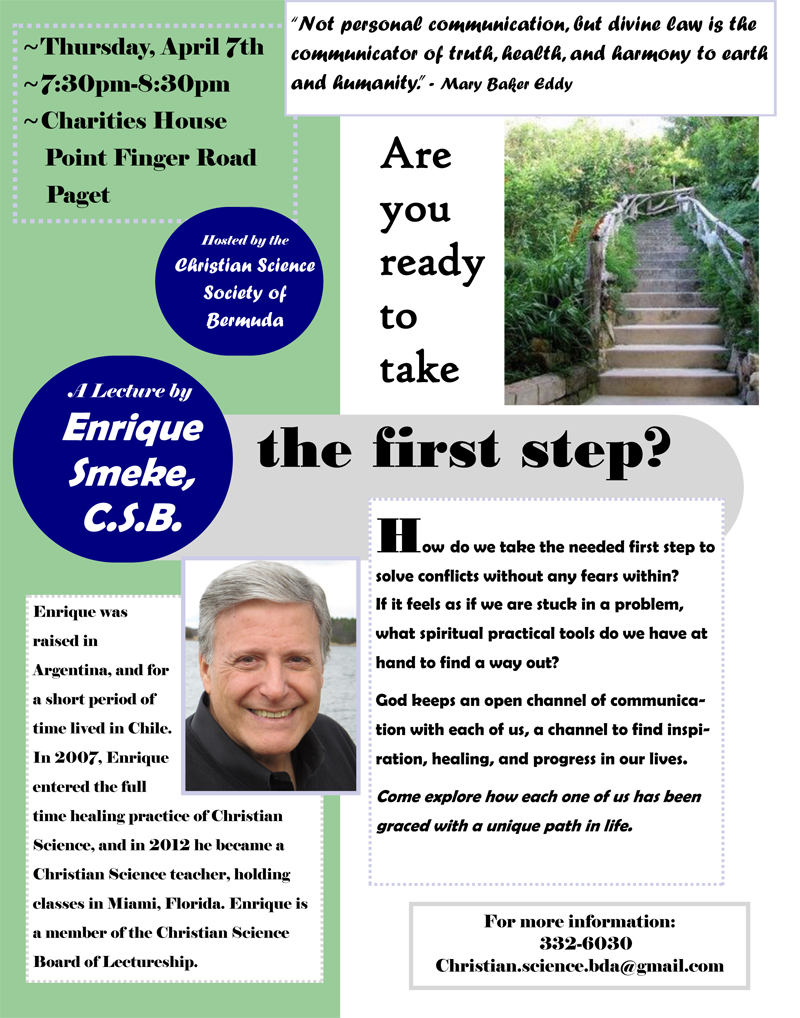 "The purpose of this lecture is to show that there is great value in taking a first step towards a solution. When we find ourselves in difficult situations, God is there to support and guide us. And as we look to Him for support we witness how God unfolds the path to the awaited solution."
Martha Dismont, Lecture Chairperson, said, "Our members aim is to reach out to our community with as much prayerful support and wisdom that we understand. Mr. Smeke's lecture is one of our gifts to this community to help individuals to feel God's love and caring.
"The lecturer will speak about how God keeps an open channel of communication with each of us that we all can access to find inspiration, healing, and progress in our lives.
"He also reminds us that prayer is reasoning with the heart and letting God have the last word, and that each one of us has been graced with a unique path in life which God unfolds as we advance forward. We look forward to Mr. Smeke's visit."

Read More About
Category: All