The West End Church of Christ is inviting the public to its fall gospel meetings, titled "Speaking the Truth in Love," with guest speaker Brother Darrell Holt.
The meetings will take place from September 27 through October 2, from 7.00pm to 9.00pm each evening, at 6 Georges Bay Road in Sandy's, with an additional talk on Sunday, September 27 at 11.00am.
The topics will include "Is This The Church of Christ or Do We Look for Another?" on Sunday at 11.00am; "Jesus Christ, the Sin Offering" on Sunday at 7.00pm; "What About the Thief on the Cross?" on Monday; "We Have Never Seen it Like This Before" on Tuesday; "Is The Church of The Bible Denominational?" on Wednesday; "Why Do Churches of Christ Not Keep The Sabbath Day?" on Thursday; and "Once Saved Always Saved?" on Friday.
A spokesperson said, "Brother Darrell Holt is the Evangelist for the Figueroa Church of Christ in Los Angeles CA. He has preached the gospel of Christ around the globe, and is an author and radio host. This dynamic and passionate speaker will be proclaiming the truth in love on topics of interest and of vital importance to our community.
"A free Bible will be given away each night and light refreshments will follow each session. All are welcome."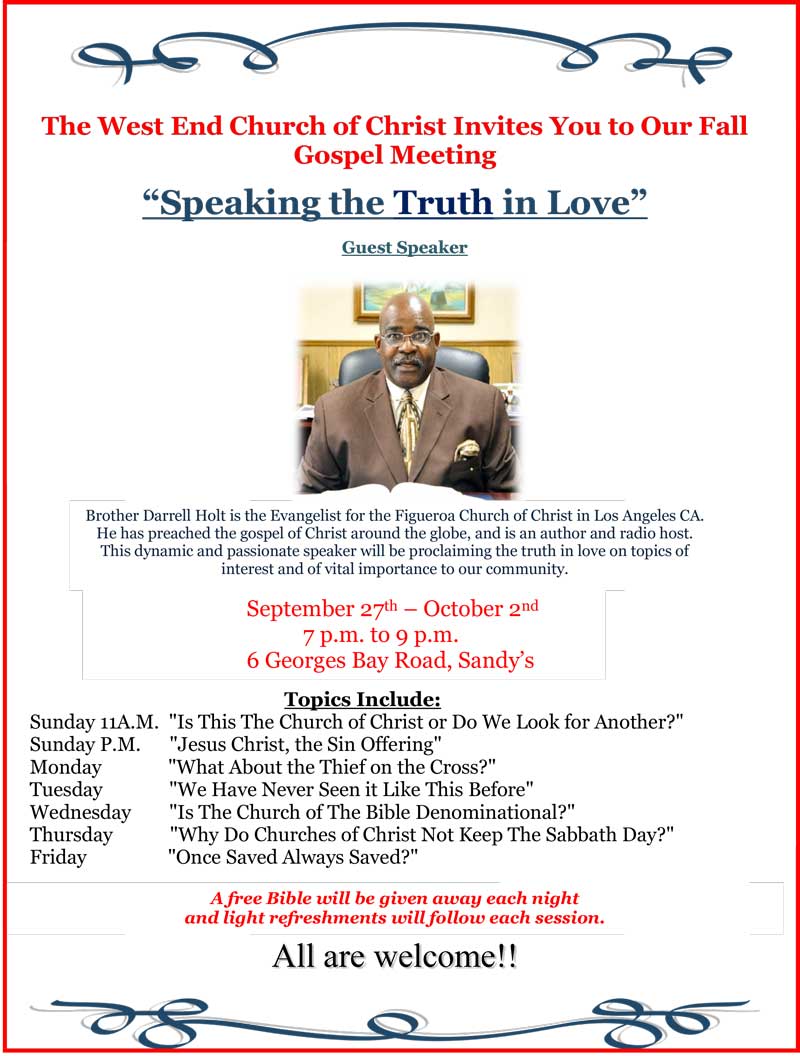 Read More About
Category: All