Some of the island's top entertainers took the stage at the Fairmont Southampton's Mid-Ocean Amphitheatre on May 7 for the Bermuda Entertainers Showcase, with "local pioneers" given awards at the event.
The talent lineup included Bermudian entertainers Kion Simmons, Twanée Butterfield, Valerie Sherwood, Mitchell "Live Wires" Trott, Lady Tyson, Wanda Ray-Willis, Kassie Caines and Tony Brannon [The Big Chill], along with The Symonds Brothers and The Wall Street Band.
Speaking after the event, Gina Spence said, "It was a full house at Fairmont Southampton. The audience gave standing ovations throughout the night. Local pioneers in culture music, arts and entertainment who were given awards, including Gene Steede, Stan Seymour, Clarence "Tootise" Bean, Freeman "King" Trott, and legendary radio show host Shirley Dill."
Photo of award recipient Everest Decosta: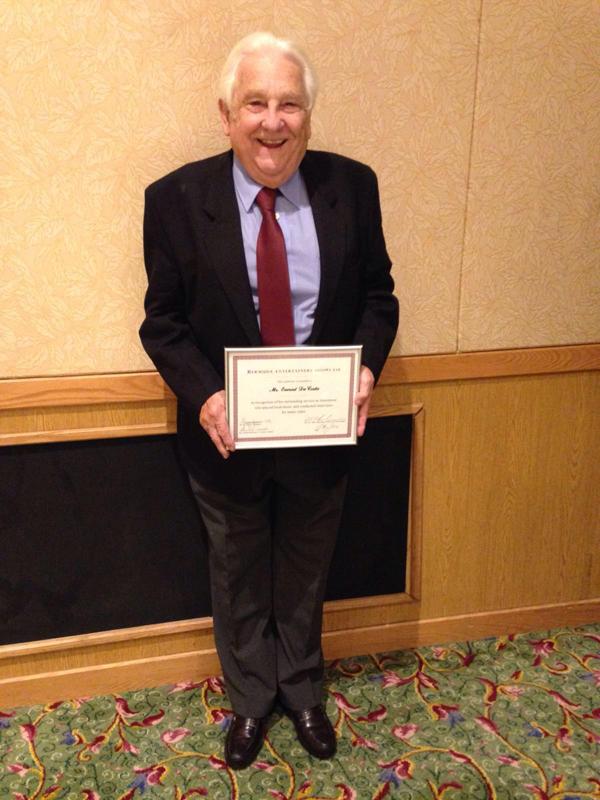 "Ms. Dill said she was speechless, humbled and very honoured to receive the award; Everest Decosta thanked the listening audience for all the years of support and he also thanked the organizers for such a prestigious award celebrating over 50 years of broadcasting.
"Immediately after the show local artists met in a closed meet and greet with overseas producers from California and Canada. Local hoteliers and event management companies have already contacted us with an interest in working with local artists.
"The event was held at the Fairmont Southampton Saturday night. The major sponsor was the Bermuda Tourism Authority. The organizers are looking to make the Bermudian Entertainers Showcase an annual event."

Read More About
Category: All, Entertainment, News