Local student athlete Mykal Glasgow of the Berkeley Institute has committed to play basketball at Thomas College in Maine and will study accounting in the fall.
Mr. Glasgow, a high honours student, has "a track record of success both on and off the court."
A spokesperson said, "Playing basketball ever since he was five years old, Glasgow, a three time member of the Bermuda Youth National Teams has traveled to camps and tournaments all over the United States such as Point Guard College, Five Star Camp, Keystone State Camp, and Syracuse University camp where he has won multiple awards."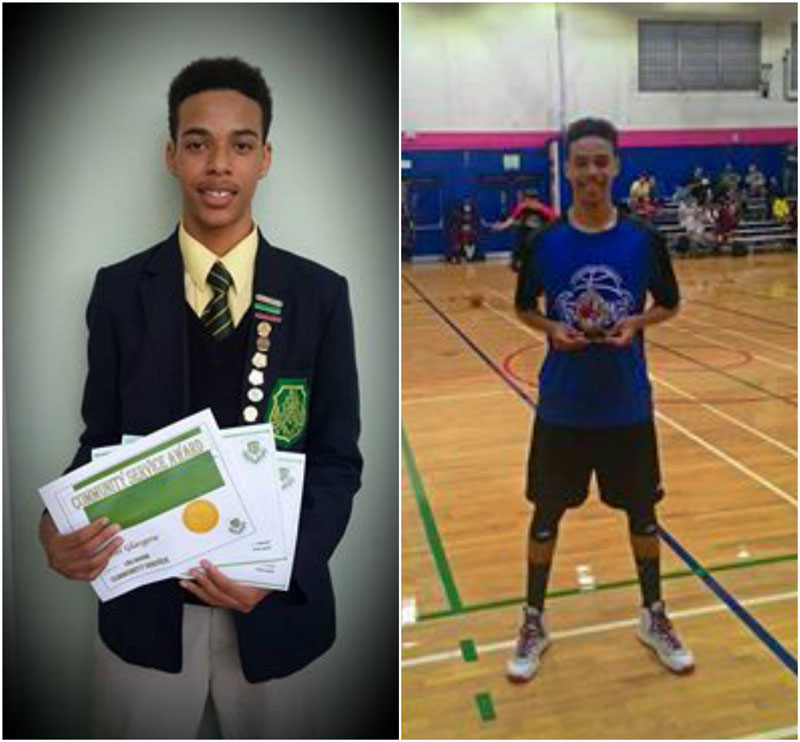 "This past September, Digicel and the NBA hosted the Jump Start programme in Bermuda searching for future NBA talent. Glasgow was picked as one of the top five players in Bermuda and was flown to Trinidad to compete with top players from around the Caribbean. Coaches at the event, including NBA coaches PJ Carlisimo, Bill Bayno, and players like Mugsy Bogues ranked Mykal among the top fifteen players overall.
"But with all of his success, Mykal was not receiving offers to play at the college level even though he had attended events playing in front of numerous college coaches and scouts. Successfully reaching his dream to play college basketball would not come easy for Glasgow."
Mr. Glasgow said, "During a month long trip last summer, Coach Charles Peters took me and ten other youth athletes on a month long trip to go to Five Star Camp and Point Guard College. During the trip I shared my goal of playing college basketball with Coach Peters and after speaking with him I realized just how much work it would take to get to the next level.
"In the fall, I started training in morning workouts with Coach Peters from Monday to Thursday at 6:30am. He taught me many new skills and we focused on both physical and mental development to get ready to play college basketball. I mostly wanted to improve my ball handling and strengthen my weak hand, while practicing to increase power, speed, and control of the basketball.
"Every morning session I left exhausted with a new move in my arsenal. I would say I went from more of a shooter to a combo guard that could now play multiple positions and just add value all over the court. I was always known as a shooter but I wanted to expand my abilities and become a better playmaker.
"Our intense training sessions resulted in getting my teammates open more, making good passes and improving a lot on my defense. On top of the mornings, I trained with the Wolfpack Elite programme on Wednesdays, Saturdays, and Sunday afternoons with Coaches Chris Crumpler and Jason Lowe.
"I also had many opportunities to put what I learned to the test during the high school season where my school The Berkeley Institute went undefeated during the regular season. I played in the men's league with the Thunder Cats [Wolfpack] where I played alongside Men's National Team Players like Coaches Crumpler and Lowe."
"Glasgow began to see immediate results from his training, this year Glasgow was the captain of the Berkeley high school varsity boys' basketball team and won the Most Valuable Player Award as a senior. He was selected as an all-star and won the BSSF High School 3 point Contest.
"Glasgow has always led by example as the captain on the court and also as a prefect [student leader] in school. This year he received Principal's Honors with the third highest grade percentage average in in graduating class in the fall."
Head Coach of the Thomas College 'Terriers' basketball programme Geoff Hensley said, "We are very excited about Mykal joining our basketball program here at Thomas College. Mykal is the ultimate team player who is willing to do whatever it takes to help his team. On the court, Mykal's ability to shoot the 3-pointer and also make plays for his teammate will allow him to be an immediate impact player with our team.
"Also, after speaking with Coach Peters, Mykal's high character, on and off the court, is why we are excited most about him. The intangibles he brings to our program, his work ethic, leadership, and integrity, will help our team immediately. This is a very big day for Thomas Basketball!"
"Because of Glasgow's stellar academic performance, Thomas College also awarded him the schools Cum Laude Scholarship. Glasgow wanted to thank his coaches, stating, "Coach Peters helped me with the entire training and recruiting process, from contacting coaches to drafting cover letters, to advice on putting together a highlight video.
"I want to thank Coach Peters for all of the hours training me and also for helping me with the recruiting process, writing e-mails and contacting coaches on my behalf. I also want to thank Coaches Crumpler and Lowe for all of their help and support throughout the year."
"The Wolfpack Elite training programme is a total player development programme that is focused on building individual athletes that are capable of playing at the college and professional levels. All of the coaches from the Wolfpack Elite programme are former college and professional players who know what it takes to compete at that level.
"For more information about Wolfpack Elite and college recruiting, please contact Charles Peters, Director at charles@wolfpackhoops.com."

Read More About