The Bermuda Underwater Exploration Institute [BUEI] and Gass Productions will present episode seven of the ongoing "Ocean Vet" series at an installment of the BUEI Talks series on May 23 and May 26.
The screening of the episode – titled "The Black Grouper" and narrated by actor Michael Douglas – will be held at 7.30pm on each evening.
The event poster says, "Neil combines his veterinary knowledge and dive skills to assist the Bermuda department of fisheries on an exciting and dangerous mission to protect the breeding grounds of the Bermuda black grouper.
"Watch Neil anaesthetise these fish and surgically implant acoustic tags before testing a dangerous but less invasive grouper tagging system.
"Follow Neil and the team as they explore the deep alien world of the grouper breeding grounds and come face to face with one of the biggest threats to the Atlantic ecosystem, the invasive lionfish!"
Along with the screenings, a Sushi Happy Hour will be held at Harbourfront from 5.00pm to 6.30pm, with dinner opening at 6.00pm.
Tickets cost $20 for members and $25 for non-members, and are available by calling 294-0204 or visiting BUEI's Oceans Gift Shop.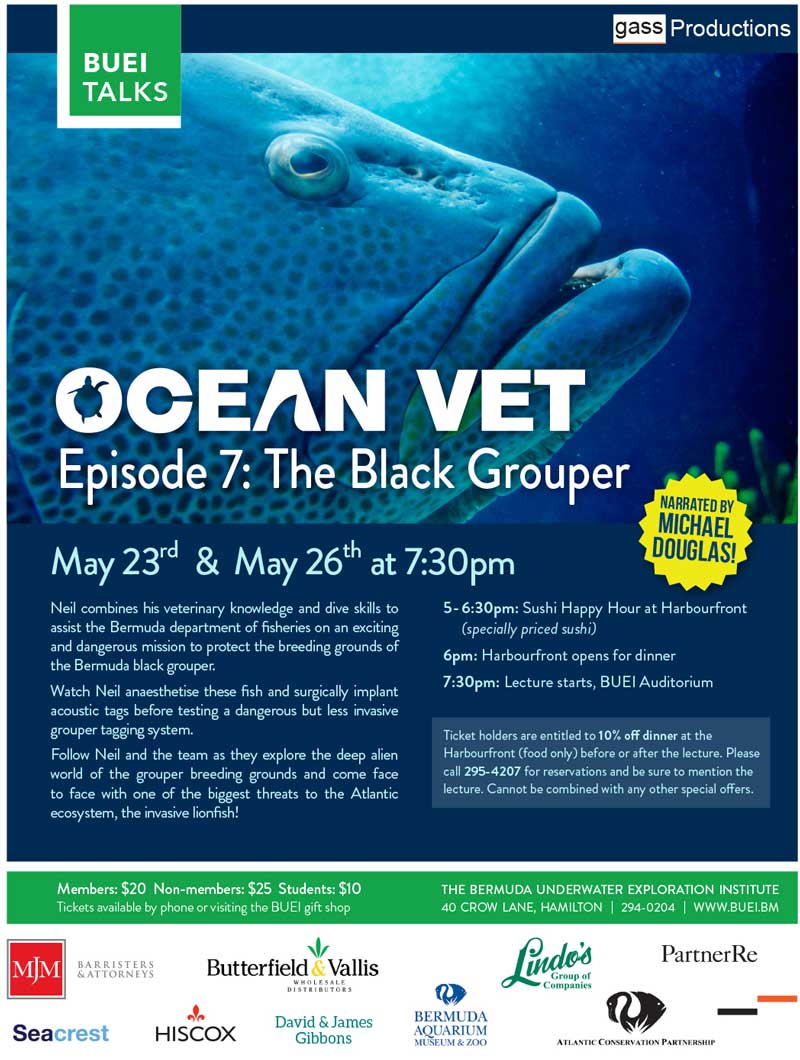 Read More About
Category: All, Entertainment, Environment