The Bermuda Underwater Exploration Institute [BUEI] and Gass Productions will present episodes seven and eight of "Ocean Vet" at the BUEI Talks series on Saturday, October 22.
The screening of the episodes – titled "The Black Grouper" and "Night Sharks" and narrated by actor Michael Douglas – will begin at 7.30pm.
The event poster says, "Neil combines his veterinary knowledge and dive skills to assist the Bermuda department of fisheries on an exciting and dangerous mission to protect the breeding grounds of the Bermuda black grouper.
"Watch Neil anaesthetize these fish and surgically implant acoustic tags before testing a dangerous but less invasive grouper tagging system.
"Neil and Ocean Vet team embark on a study of shark species that come close to Bermuda beaches at night. Locals says you shouldn't swim in the sea at night, Neil and his team set out to understand why.
"Watch Neil complete a series of dangerous night dives in potentially shark infested waters."
Along with the screenings, a Sushi Happy Hour will be held at Harbourfront from 5.00pm to 6.30pm, with dinner opening at 6.00pm.
Tickets cost $20 for members, $25 for non-members and $10 for students, and are available by calling 294-0204 or visiting BUEI's Oceans Gift Shop.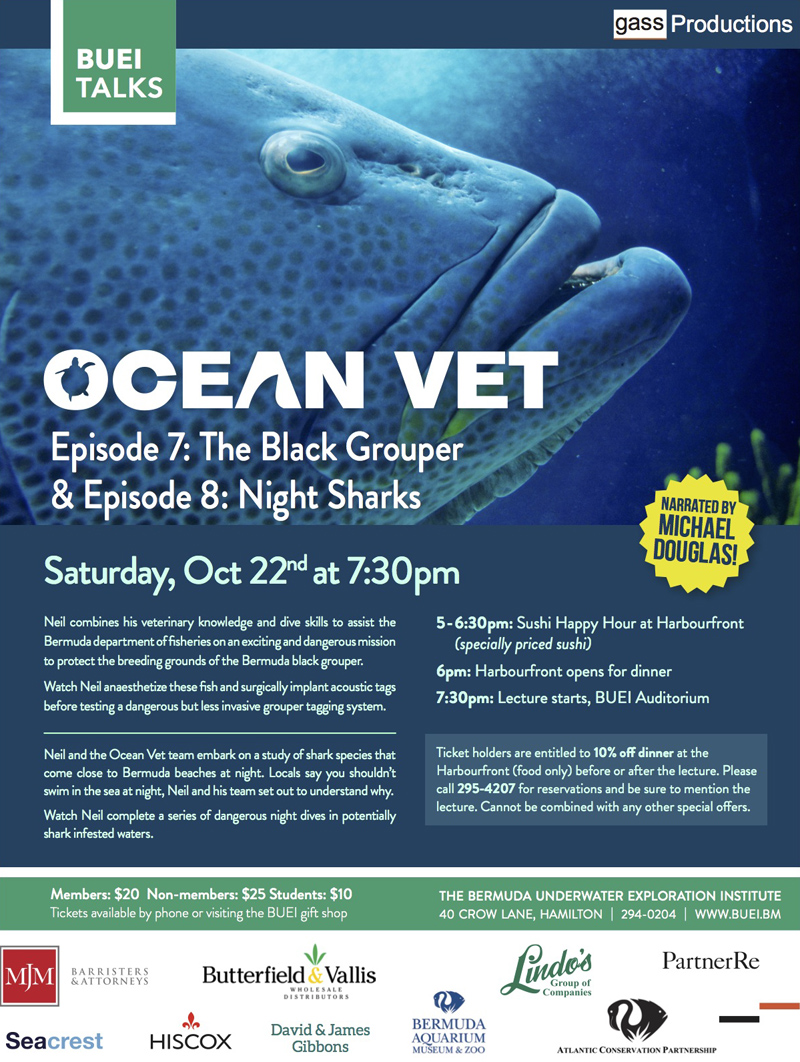 Read More About
Category: All, Entertainment, Environment