On Sunday [May 15] from 2:30pm – 6:30pm, the Loyal Hill Community Field [also known as Pig's Field], will be the venue for a Community Fun Day fund raiser called "Set It Off".
CedarBridge S4 student Jiqena Furqan is due to take part in a Raleigh Bermuda humanitarian expedition this summer and needs $2,000 to help offset some of the travel costs.
With the help of family, friends, and her boxing coach, Nathan Dill of The Bermuda Boxing Federation, they were able to secure the venue thanks to Keith Simmons, Chairman of The Loyal Hill Field Committee.
They hope that the community will come out to be part of this free event, that will feature various opportunities for them to make donations, or purchase goods that will help Jiqena to meet her fund raising goals.
Jiqena said, "I will be travelling to Costa Rica and Nicaragua on a 10 week expedition with Raleigh Bermuda and volunteering for Raleigh International. My departure is July 4 and I wil return on September 10.
"Raleigh Bermuda as well as Raleigh International is a great opportunity for me. It exposes me to my hidden strength and opens me to new things, new people from all over the world and encourages me to overcome challenges. People around the world will be coming together in our quest for personal development," she added.
"Raleigh International helps to build, sustainable change and strengthen environmental issues and community problems in rural areas and I am proud to be a part of it."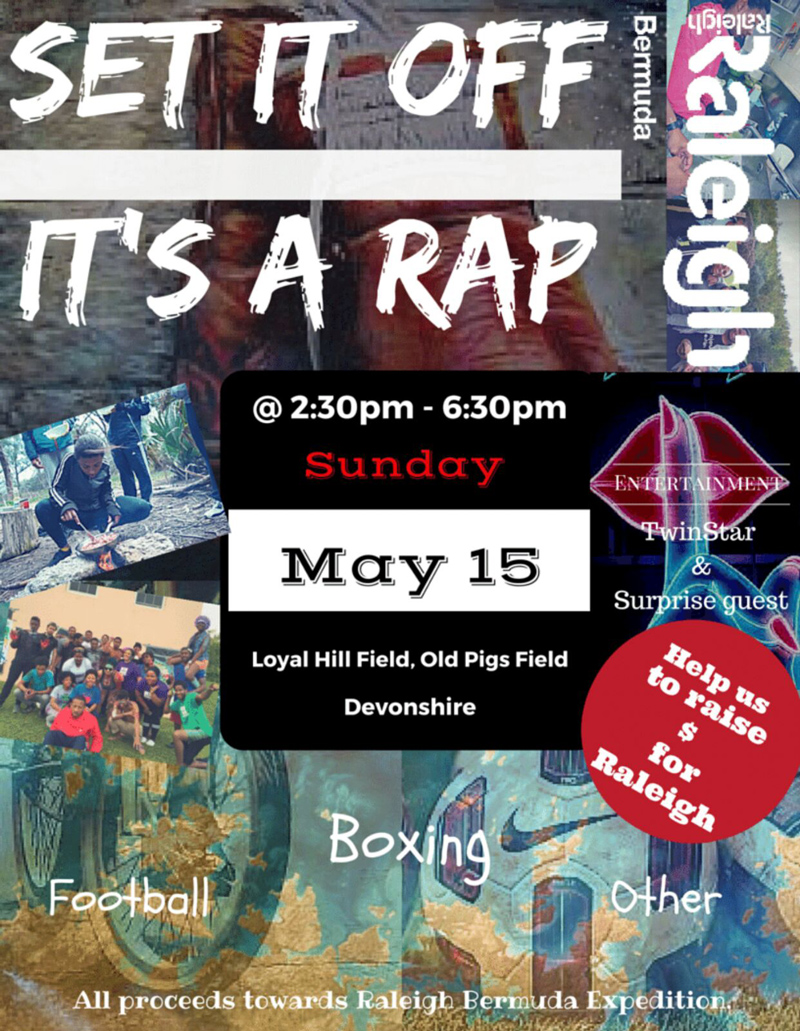 Her boxing coach, and President of the Bermuda Boxing Federation said, "On the Sunday there is no entry charge, there will be a donation bucket and people are asked to contribute any amount to help to offset her travel costs.
"We hope to have a football game gym vs gym – or whatever teams can be created. There will be open sparring which will see coaches, cornermen and some of the best fighters you never see competing in friendly sparring against each other.
"Snacks, water, and juices will be on sale, music by Brotha Richie of Trinity Sound, alongside Twinstar, sponsored by Bermuda Boxing Federation. Special thanks to The Loyal Hill Community Committee & Soul Food Promotions."
"Glitz & Glam Glitter Tattoos will be there, and Soul Food Promotions have reached out to some local artists to also provide some live entertainment during the event as well. So far reggae artists, Hype Type & Diamond I, have been confirmed to perform, with some other artists to be confirmed by Saturday.
"There will also be outdoor table tennis tables there, and other fun activities for those in attendance to enjoy. We are telling people to bring their lawn chairs, blankets, children, loved ones, and be ready for some family fun for all to enjoy!
"This is an event that is being held in a venue known for hosting some of the biggest dances, and community events over the years, and marks the revival of this space being used to promote positive movements, community, family, and supporting the next generation of world changers.
"We are asking that those that know Jiqena, or may want to learn more about what Raleigh Bermuda has to offer other young men and women on the island, to please come out and support financially, or otherwise."
Jiqena and her family said they would like to thank everyone that has shown support for her endeavour and that have contributed to help make this event a success, including the BBF, The Loyal Hill Community, Soul Food Promotions, the BEDC, and many more.
Read More About
Category: All, Entertainment, News