Microsoft and their Bermuda based Gold Partner, Fireminds Ltd will be hosting a Trusted Cloud Keynote event on June 8th, 2016 at 5:30pm at Ideation House, 94 Pitts Bay Road, Waterfront Properties.
The Trusted Keynote will be delivered by Marlon Fetzner, Microsoft's Director of Corporate, External and Legal Affairs, and Renatto Garro, Microsoft Partner Technology Strategist.
Both speakers will lead an in depth discussion on data residency and cyber security in the cloud, issues which are of key importance to many businesses in Bermuda's international business sector.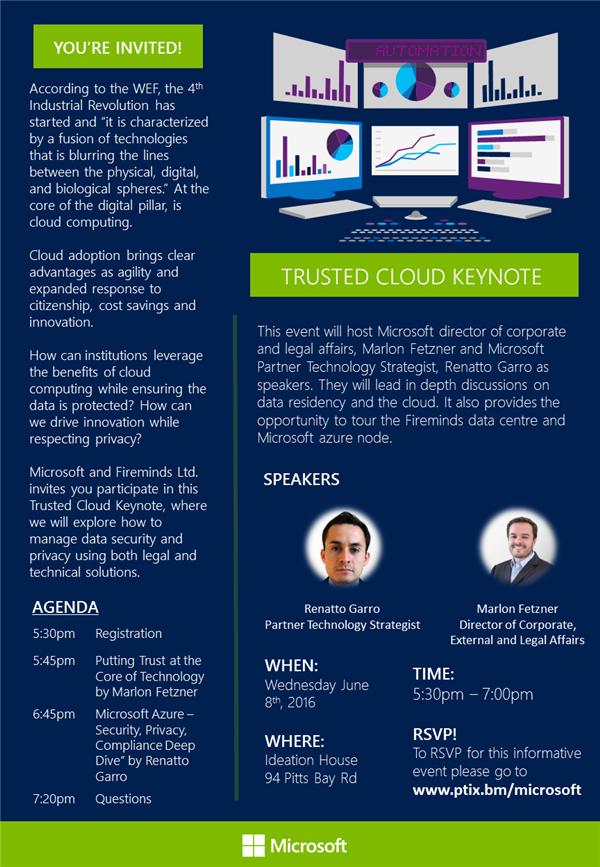 Fireminds CEO Michael Branco remarked, "The Microsoft Trusted Cloud Keynote, is a great way for people to gain insight into all that the Microsoft cloud has to offer. Cyber security is a topic of focus in 2016 for all businesses, as are the questions of where is your data and how is it protected?
"Whether you have chosen to store your data in a private server, private cloud or public cloud, organizations question the safety of their data. Microsoft has worked very hard to ensure that the Azure Cloud platform data remains protected and adheres to international audit standards.
"For the Bermuda market, the requirement for data residency can be heightened for some businesses, thus this keynote address is a great opportunity to hear about cloud security and interact with industry experts."
In addition to the keynote address, guests will also be able to tour the new Fireminds data centre. Space is limited and tickets are required for entry, so attendees are encouraged to register for this free event at www.ptix.bm/microsoft

Read More About
Category: All, Business, technology