As one of four students that is marking a successful completion of the Dual Enrolment Initiative, Sophia Hamilton joins Kyrsten Burrows, Dejanee Hill-Edwards, and Taiyana Allen in celebrating the historic occasion as they graduate with both a high school diploma and an associate's degree in the same year.
The four students formed part of the Class of 2016 at Bermuda College on May 19, and will do so again at their respective high schools in June, having studied at both institutions.
In the third spotlight of these exceptional students, we look at Sophia Hamilton, who attends CedarBridge Academy and Bermuda College, and recently received acceptance from Curtin University in Perth, Australia into their CPT Program for the Fall 2016 semester.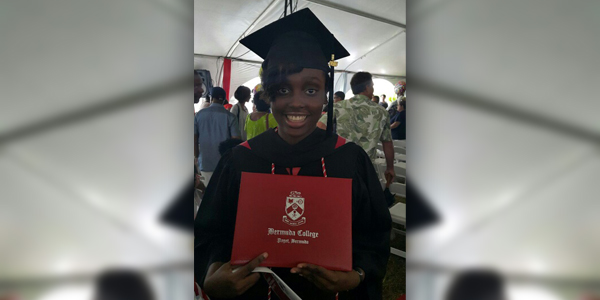 Miss Hamilton told Bernews, "I first became involved in this program in 2014. I believe that it was prior to 2014 that I found out about the programme and was very interested. Before the fall 2014 semester, I took the CPT and passed, which allowed me to enter the programme.
"It has taken so much work and dedication that words cannot explain the struggle that I have been through. I can remember countless times where I was up till 4.00am studying and woke up at 5.00am to study some more. I can even remember crying at one point. The amount of work was not primarily from my high school, but it was mostly from the college.
"My two years have been rocky, especially my first year. Despite what some people believe, Bermuda College is hard and it depends on the courses as well. I never expected the college to be so challenging, because I used to just fly by in high school.
"I hope that this will be a stage in my life to bring me closer to my dream of becoming a Registered Nurse. I do not have the finances to go to university, but I am stepping out in faith, trusting that God will make a way.
"I am 18 years old and was born on January 31, 1998. I faithfully attend the Southampton SDA Church and am the 2016 female winner for the Spiritual Leadership category in the Outstanding Teens Award Ceremony. I love God and my family. It was through various community service events that I was able to come to the conclusion that my aspiration is to become a Registered Nurse.
"I love to care for others, and I feel that through this career and I may have the opportunity to give back to Bermuda. I also want to provide for my parents. They both have given up so much for me, so that I could go to university. Attending university is huge in my family, since I will be the first to attend in my immediate family.
"As I stated before, I am praying for the scholarships so that I could pursue my dreams and eventually help others.
"Academically, I put in 100 percent and most times even more than that. I have always achieved Principals or Honor Roll Status and my aim is to strive, grow and succeed.
"I will be attending Curtin University in Perth, Australia. I know that that choice is unusual, but it took a lot of praying to make that decision. I only applied to Curtin and McMaster. McMaster University did not answer at all. I did not even get a rejection letter.
"So I figured that it was God's way of pointing me in the right direction. Also, I was looking for a new adventure and a new experience. I have been to the US, Canada and the Caribbean and I wanted to experience something different.
"I am a prefect, member of the National Honors Society [NHS], National Society for High School Scholars [NSHSS], volunteer for Agape House, volunteer for Bermuda Cancer and Health, volunteer for the Southampton SDA Give-Away, assist with Southampton SDA Deacons cupboards.
"In addition I am a Superintendent at my church, where I plan programs for Sabbath school preliminaries, am an usher, was a deaconess, am a part of my church's communication department, specifically EasyWorship, and where I operate the monitors in the church. Additionally, I direct the children's choir for my church and I love what I do, because it is all to honor and glorify God's name.
"I would love to give special thanks to my teachers and counselors: Ms. Angelita Outerbridge, Mrs. Kenya Crawford-Anderson, Ms. Necheeka Trott, Ms. Joanne Anderson, Ms. Simone Baptiste and Mrs. Clindel Lowe. Furthermore, I would like to thank Mr. Dwayne Caines, who helped me to choose a career by giving great advice, and he truly helped to steer me in the right direction.
"In addition, I would like to thank my parents, church family, extended family, my best friend Ore Bademosi and special friends who include Sihle Sharrieff Hayward, Taiyana Allen, Marissa Trott, Keirra Phillips, and Erin Fleming who have truly been there for me and always had something positive to say.
"If it was not for all those and many others, I would not be where I am today. God has placed these special people in my life to help me through various journeys.
"I wish the best of luck to the next dual enrollment students and I wish them all the best. Also to my fellow dual enrollment students [Class 2016], I wish them all the best in their future endeavors."

Read More About