The Bermuda Cricket Board has announced the players selected for the Hiscox U11 and the Bank of Bermuda Foundation U14 East v West All Star Games, taking place on Saturday, June 11 at the National Sports Centre, North Field.
The Hiscox U11s start at 9.00am and the Bank of Bermuda U14s start at 1.00pm.
President of the BCB Lloyd Fray said, "I would like the congratulate the players selected to take part in the All Star games this year. The All Star games showcase some of Bermuda's best and most committed players.
"I would like to thank all the parents and coaches who have volunteered their time ensuring the success of both leagues and Barritts for providing the water and Powerade for all our youth cricket events."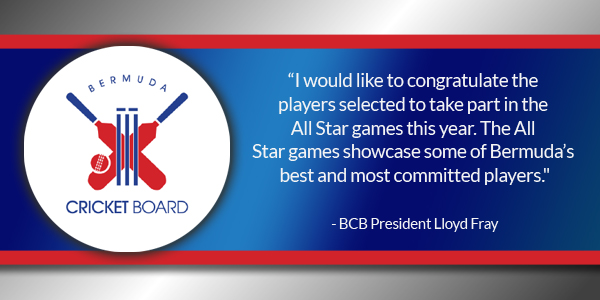 "This past weekend demonstrated the growth and development of our leagues with a record 182 U11 children taking part in the Hiscox Skills and Drills Tournament. Hiscox continues to be a major supporter of youth cricket and these results confirm the growth of our great sport.
"The Bank of Bermuda Foundation 14&Under League has also been a success this year with competitive games taking place each weekend and some clubs having enough players for two teams.
"I would like to thank the Bank of Bermuda Foundation who continues to support this League which serves an important age-group, providing the opportunity for Bermuda's youngsters to enjoy cricket in a disciplined environment that contributes to their well rounded personal development.
"The BCB would like to thank Hiscox and the Bank of Bermuda Foundation for their continued support of youth cricket in Bermuda."
Hiscox U11 – East v West All Star Teams
East
Aciram Burgess – Cleveland CCC
Zeri Thomlinson - Cleveland CCC
Riley Robinson - Prep Stars
Jaidyn Robinson - Prep Stars
Adio Deshields - Bailey's Bay Red
Juttore Burgess - Bailey's Bay Red
Gianni Burgess - Bailey's Bay White
Keyan Webb - Bailey's Bay White
Shaquille Roberts - St. David's CCC
Christopher Pitcher - St. David's CCC
Nigerie Ming - St. George's CC
Gianni Santucci - St. George's CC
Jaureese Douglas - Flatts VRC
Keegan Jones - Flatts VRC
Rosie Simmons - Axis Angels
West
Chance Eve - Western Stars SC
P.J. Aguire - Western Stars SC
Noel Johnston - Warwick Academy
Luke Horan - Warwick Academy
Kieran Richardson - Rangers SC
Odori Hodgson - Rangers SC
Dionte Dowling - PHC Black
J'Kai Berkeley - PHC Black
Kaya Lambert - PHC White
Kauai Evans - PHC White
Kieron Place - Warwick Workmen's Club
Nijae Aberdeen - Warwick Workmen's Club
Stefan Jones - Somerset CC
Mason Robinson - Somerset CC
Chanz Goodwin - Axis Angels
Bank of Bermuda Foundation U14 - East v West All Star Teams
East
Nirobi Mills - Bailey's Bay CC
DeNyi Thomas - Bailey's Bay CC
Jarryd Richardson - Bailey's Bay CC
Dean Simons - Cleveland CCC
Jabari Darrell - Cleveland CCC
Tybrae Robinson - Cleveland CCC
Aaron Paynter - St. David's CCC
Christen Lugo - St. David's CCC
Solomon O'Connor - St. David's CCC
Hunter Outerbridge - Flatts VRC
Logan Jones - Flatts VRC
Tyler Hurdle - Flatts VRC
West
Tai Cariah - Somerset CC
Jazir Warner - Somerset CC
Jermal Proctor - Somerset CC
Kace Wales [wk] - Somerset CC
Ori Wilson - Warwick Workmen's Club
Dominic Sabir - Warwick Workmen's Club
Ajani Lee - Warwick Workmen's Club
Jamar Stovel - Warwick Workmen's Club
Cody Simmons - Western Stars SC
Jahziah Steede - Western Stars SC
Jamori Manders - Western Stars SC
Zakai Wolffe - Western Stars SC

Read More About